Libraries can look forward to being community beacons in that integral way only libraries can, through thoughtfully chosen materials, fun programs (whether virtual or in-person), and stellar readers' advisory. 
Libraries with Linked Library Enrichment (the companion to Linked Library Service) will appreciate how NoveList content, from our fiction and nonfiction Recommended Reads lists (including the many awards lists we track) to metadata such as our story elements can make it super-easy to start 2021 with kick-butt reading suggestions for your communities, presented in a variety of ways. Leverage the fact that many will be searching from home this spring. Make sure to direct that searching you *know* is happening to your catalog. 
One easy way to do this: embeddable widgets, which translate into a vivid, colorful book image carousel that patrons can click through to your catalog. Consider these ideas 'kits' for using NoveList content to promote the programs and services you'll be providing in early spring. 
Romance for February 
Whether you're in camp Valentine's Day or more of the anti-mindset, no matter! Embeddable book carousels make effective ways to leverage interest in trending shows/books. Make fans currently streaming the frothy series Bridgerton (based on the series by Romance author Julia Quinn) happy! Create social posts highlighting other Regency Romances. Search for the list, Regency Rogues, for on-point choices.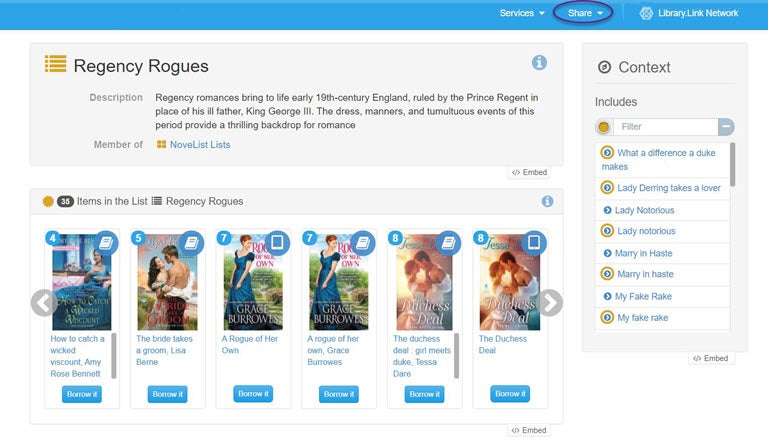 Other story elements to search then build carousels around in February: 
Chaste (stories with romantic relationships that focus on the emotions of the characters minus any sex) 
Romantic (titles with strong romantic elements but not necessarily a happily-ever-after sitch) 
Steamy (more detailed; think Bridgerton!) 
Find them by searching the category section of your linked data domain page. Click on the embed icon below the carousel to embed it on your library's website.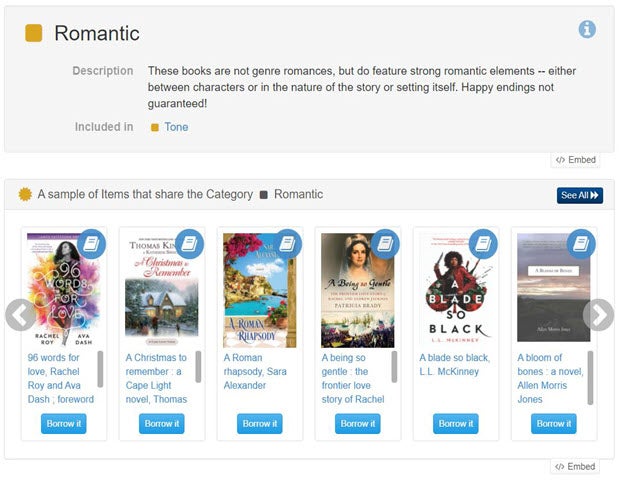 Diversity 
What can be more welcome now than helping readers find literature to provide mirrors and windows? Point your readers to the characters and literature to reflect them and their lives all year-round while also helping readers gain insight into lives unlike their own. Your go-to: NoveList's page of Diversity Resources, including a variety of Recommended Reads lists plus other resources.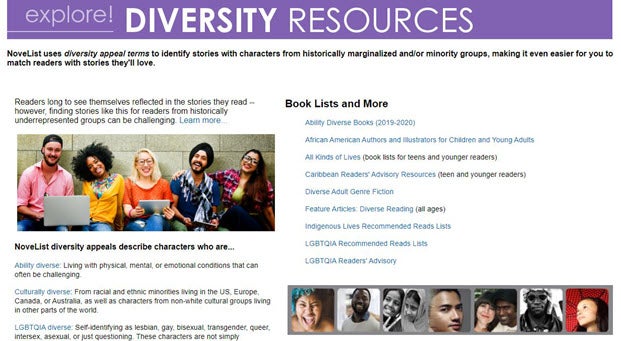 Facilitate identifying desired titles with these story elements by searching category from your linked data domain page: 
Own Voices (titles in which the protagonist and the author share a marginalized identity) 
Ability diverse (titles with characters who live with physical, mental, or emotional conditions that can be challenging) 
Culturally diverse (titles that may have characters from racial and ethnic minorities as well as characters from non-white cultural groups) 
LGBTQIA diverse (titles with characters identifying as lesbian, gay, bisexual, transgender, queer, intersex, asexual, or questioning) 
Religiously diverse (titles with characters who follow or have a background in a religion other than Christianity) 
Create a carousel to embed on your website or post to social media. Voila!