Your library has limited funds to spend on resources. NoveList is important to help make sure your readers have access to the kind of books they want to read, but how do you ensure your staff and patrons fully utilize tools like NoveList?
Through your website — where the information appears on your library's website and how you characterize the benefit provided.
Pennington Public Library had one of our favorite examples. When they redesigned their website, they made it bright and easy to navigate while showing off library resources. When they launched their new site, they featured NoveList. If you like what they did, we have more suggestions below.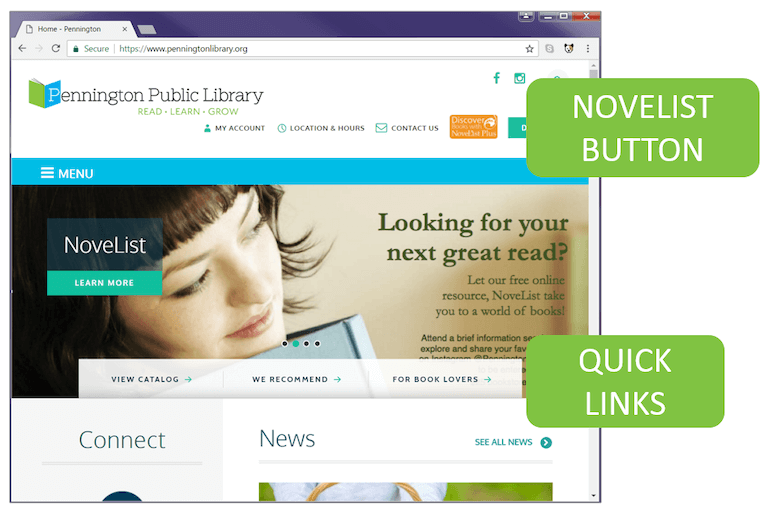 Put NoveList on your website, where your readers go to look for books
Is NoveList located where the people looking for books go for suggestions? Of course, the catalog is the first place readers go, which is why we created NoveList Select for the Catalog, but there are other ways to make NoveList easy for readers to find. Make sure they know to associate NoveList with finding great books!
Call NoveList something other than NoveList
Don't bury the payoff for your readers! We love the name NoveList, and librarians respond to it, but readers may not know that it is their best tool for finding an awesome book. If you need permission to call NoveList something else, you have it! Let your patrons know what NoveList has to offer them, and they'll be more likely to click and search.
Example: The Kansas City Public Library makes the payoff of NoveList clear in their "Readers Services" menu with the text, "Looking for your next read? Try NoveList."
Make searching NoveList easy
NoveList Select for the catalog isn't the only way to make it easy for readers to search NoveList. You can add a search box directly to your website. We have provided some simple instructions for creating a search box like this.
Create an easy-to-remember URL
Help a reader out! A descriptive, helpful URL ensures they don't have to work so hard to find that excellent resource. The one that makes you slap your head and say, "That was the website I was looking for!" 
Example: Kansas City Public Library's NoveList URL is http://www.kclibrary.org/novelist. It's easy for a reader to remember, easy to type in, and easy for a reader to find in their search history. Plus, their NoveList page has information for readers on the best way to use NoveList and what it offers them. 
NoveList is more than a research database
Make NoveList easy to find with phrases like:
Find a good read
Books and more
For readers
Reading suggestions
Reading resources
Communicate to your patrons that NoveList offers them more, and put books front and center on your library's website.