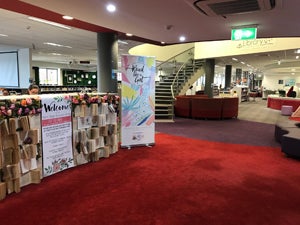 Overview
Located in Brisbane, Queensland, Australia, St. Rita's College enrolls more than 1,000 girls in grades 7-12. The school library, known as the Nano Nagle Resource Centre, encourages students to broaden their exposure to a wide range of digital and print information resources and to apply higher order thinking skills in choosing the most relevant information.
To support its mission, the library subscribes to several EBSCO databases: Australia/New Zealand Reference Centre, Australia/New Zealand Points of View Reference Centre, History Reference Center, Science Reference Center, Literary Reference Center and Poetry & Short Story Reference Center. Tying all the library's resources together is EBSCO Discovery Service (EDS), a powerful single-search research platform that integrates seamlessly with St. Rita's Accessit library management system to provide an intuitive user experience.
Students are showing more quality in their research.
Solutions
Prior to EDS, students searched the library's catalogue and databases separately. According to Head of Library Kathryn Schravemade, the process wasn't very efficient. As a result, many students were turning to internet search engines such as Google.
"I wanted to provide students with academic resources as easily as I could," Schravemade said. "I wanted them to get all of their information in as few clicks as possible."
After evaluating several discovery platforms, Schravemade selected EBSCO Discovery Service (EDS), primarily for its ease of use. "EDS was the only [product] that had a combination of everything I wanted," she said, adding that students were already familiar with the EBSCOhost interface from having used Australia/New Zealand Reference Centre Plus.
When Schravemade began the effort to implement EDS, her previous library catalogue provider did not want to integrate its platform with EBSCO. That prompted her to switch to a library management system from Accessit.
"We got really lucky that Accessit was happy to work with EBSCO," Schravemade said. "There were a lot of phone calls between EBSCO and Accessit, which I'm very grateful for. I just explained to them as best as I could what I wanted, and they made it happen. It was amazing."
The fruits of that collaboration led to the development of a unique library management platform that not only tracks holdings and circulation but also allows users to apply catalogue searches to the library's entire e-resources collection, which includes 10,000 e-books and dozens of databases. A user can enter her keywords in the search box on the library home page to return catalogue results, select OneSearch from the left-hand panel, and then click EBSCO to initiate the same search in EBSCO Discovery Service (EDS).
"What I'm teaching the students is that once they get to the [native EDS interface], they can go in and refine their search. Once they learn to filter in one [EBSCO interface], they can filter in any [EBSCO interface]," Schravemade said. In contrast, Google offers very few options for filtering results, she added, and the credibility of those results can be questionable. "We're selling [EDS] as easier than Google, because you don't have to do as much research on the validity of your sources."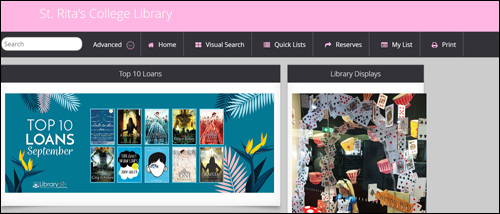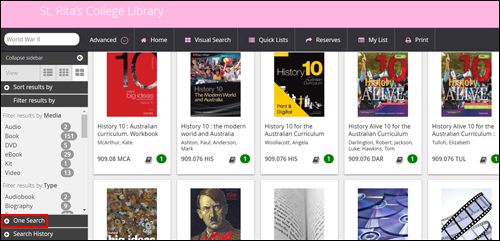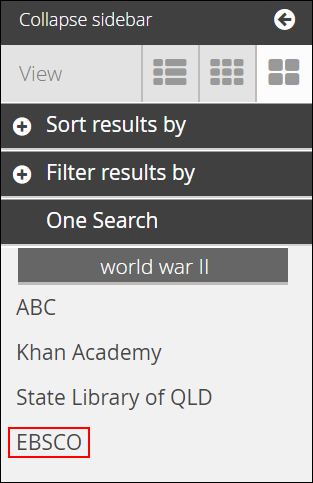 The library officially launched EDS in the fall of 2017, at the start of the school year. To promote the tool to students and teachers, Schravemade placed a colorful banner ad on the library home page's rotating image carousel.

In addition, Schravemade hung posters in the library and promoted OneSearch on social media. She also held in-service training sessions for faculty, recruiting EBSCO training specialist Kylie Peckham to assist. Schravemade said she recognizes how important teacher buy-in is to the success of EDS, so she has made a point to visit as many classes as she can to demonstrate the tool while both students and teachers are present.
"I think every staff member is promoting it with their kids," she said, noting that the tool has already been embraced by St. Rita's science and social science departments. "They're on board with [EDS] because they recognize how easy it is."
Benefits & Results
The integration of EDS with Accessit has produced a variety of benefits, most notably a marked increase in database usage. Last year, the library's EBSCOhost platform saw 8,406 full-text downloads. Since launching EDS, that number has skyrocketed to 22,188 — representing a more than 260 percent increase.
"The kids are using EDS more than they're using Google," Schravemade said, adding that the increase in use is helping her demonstrate the value of her EBSCO databases, many of which include popular Australian sources. "Students are showing more quality in their research," she said, and since EBSCO's citation tool is helping students build their references more quickly and easily, "we're also seeing better bibliographies."
The limiters in EDS have also been useful to students, particularly the publication date limiter which lets users narrow search results to within a specific date range. Currently, Year 9 students at St. Rita's College are researching recent environmental disasters.
"We don't have a lot of nonfiction books that are current on these disasters because, by the time they're published, they're out of date," Schravemade explained. "That's where EBSCO is a real winner because you've got current information that [students] can access now."
Meanwhile, Year 11 students are searching newspaper content in EDS for a media project that requires they use articles published only within the last 12 months. In addition to using the date limiter to narrow search results, students can use the publication limiter to pinpoint articles in specific newspapers, such as The Age and The Australian.
"A lot of news is online now, but to access more than two articles, [students] have to pay," Schravemade said. "They now know they can get the articles on EBSCO for free. They might see the article on a newspaper website, won't be able to access it, then come to EBSCO and get it there."
Exposure to EDS during high school has more far-reaching benefits, too, Schravemade said. "The majority of our students will go on to university," she explained. "More and more universities in Australia are using databases and EBSCO, so getting our students used to it now means that's one thing that will be easier for them when they go to university."
EDS has also made life easier for the library staff at St. Rita's College. "EBSCO was really willing to work with our library management system. They always were," Schravemade said. "It was just finding a library management system that was willing to work with an outside source. [EBSCO is] very happy to communicate [with Accessit] on new features and other things like that, which is great. The support has been fantastic."