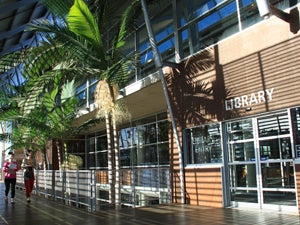 Overview
Located in Sippy Downs, an hour north of Brisbane in Queensland, Australia, the University of the Sunshine Coast (USC) is a public institution that enrolls roughly 10,000 students and offers more than 100 undergraduate and postgraduate study programs in a variety of disciplines from business, law, and tourism to engineering, education, and humanities.
According to Library Systems Coordinator Meredith Mooi, nearly 80 percent of the USC Library's holdings are digital. In 2007, the University implemented a federated search product that failed to deliver on its promise; librarians were disappointed with the tool's lack of functionality. In February 2014, after several years of monitoring other Australian academic library discovery layer implementations, USC purchased EBSCO Discovery Service (EDS), a robust library research platform that enables users to unearth vetted, scholarly resources using a single search box. Since then, the Library has been able to better promote its resources, increase usage, and provide students with an easy-to-use starting point for research.
Discover is a place to start. It's designed to promote our resources, and it's designed to give students the most relevant results.
Library Systems Coordinator
University of the Sunshine Coast
Challenges
The catalyst for implementing a discovery service was two-fold. First, the Library wanted to offer students a user-friendly place to start their research. Second, they wished to better promote the Library's robust collection of digital resources which includes 192,000 e-books, 84,000 e-journals, and 370 databases.
In 2009, the USC Library upgraded to a next-generation catalog, but wanted to monitor the market closely before implementing a discovery layer. In 2013, after drafting a systems roadmap, the Library requested and received funding to evaluate discovery layers and implement a product. Mooi assembled a project team that included herself, three faculty librarians, the information and research services coordinator, the library resources coordinator, and the library manager.
The project team spent seven months analyzing a number of discovery service products, including EDS. According to Mooi, several key factors went into their evaluation, including the vendor's ability to provide top-notch technical support during the implementation phase and beyond.
"I am a technical systems team of one," Mooi said. "I knew it would be quite impossible for me to integrate the service with our library catalog. I would need technical support to make that happen."
In addition, the service would have to offer superior relevance ranking that would deliver high-quality academic content in the search results. The team evaluated each discovery layer's metadata coverage, comparing it against the Library's holdings and determining how easily they could provide access to content not included in a central index.
"We wanted to really delve deeply into the [discovery layers] to see how they worked and [identify] their benefits and limitations," Mooi said, adding that the project also aligned with the Library's professional development goals. "We used this project as a skill-building and team-building opportunity. Our evaluations were extremely thorough, but that was important for us to do because, as we went through it, we got a sound understanding of each system. It was a journey for all of us."
Although EDS is an affordable research solution, Mooi said cost was not a factor in the team's decision to purchase the tool.
"We were completely open-minded," Mooi explained. "We were focused on the product quality. What were the results? How technically viable was the system for our library? We had a budget, and we had a fair idea of what discovery layers could cost. But the cost wasn't a factor; we really focused on the product and what it could give us in terms of what we were looking for."
For the University of the Sunshine Coast, EDS was the solution.
Solutions
The Library selected EDS in late 2013 after a trial period that allowed them to test the product with their own metadata. EBSCO Discovery Solutions Engineer Alvet Miranda was able to set up Real-Time Availability Check (RTAC) so that the availability of a resource within the Library displayed properly in the search results.
"Alvet was committed to making our trial as indicative of what a full implementation would look like, so that was a bonus," Mooi said, adding that other discovery vendors were not able to get RTAC to work as well as EDS.
Customization & Branding
The Library also took advantage of several customization options to add convenience and useful functionality to the EDS interface while maintaining the look and feel of the institution's website.
First, the Library home page features a simple search box branded with the institution's green and white colors. A drop-down menu enables users to narrow their search by keyword, title, and other parameters. The search results screen is branded with the institution's logo and colors, and brief records are centered on the page with customized facet headings on the left.
"We wanted something that was very clean," Mooi said. "It's a very professional, clean interface."
The search results page also includes a number of custom widgets. Students can get help using Discover, search Google Scholar, or explore LibGuides. Miranda, the EBSCO engineer, was able to adjust the LibGuides widget so that only subject guides that relate to the search are displayed. In addition, the eBooks widget developed by Miranda for USC only appears if an eBook is among the search results.
In addition, the Library wanted the ability to promote its subscription databases that are not currently included in EDS, such as LexisNexis Australia, which contains law content. To solve this particular challenge, Miranda created for the Library an "Item Match Placard" widget, which recommends databases depending on the search terms entered. Miranda refined the widget so it could also search on complete phrases. The widget's XML configuration file is hosted on the Library's server so staff can easily update the content. The file currently includes 41 of the 370 databases in the Library's collection and hundreds of terms and phrases.
"We can put in as many or as few databases as we like, and we have complete control over what terms we put in," Mooi said. "The trade-off with having more control is that [we] have to put more work into it, but we'd rather make sure it's promoting what we want and capturing all the terms that students are likely to search."
Known as "Discover" among USC students and faculty, EDS officially launched on February 24, 2014. The Library opted to allow anyone to search the interface and see results; however, remote users will not be able to access full-text content without login credentials.
"In the context of Australian universities, we've been one of the very last libraries to implement a discovery service," Mooi said, adding that the Library has benefitted from talking to colleagues at other institutions about their discovery implementations, their successes and missteps. Staff and student feedback has also been critical. "We've put a lot of work into the user interface to make sure that it's as relevant and useful as possible."
Promotion & Training
To promote Discover, the Library displayed balloons, handed out pens and Frisbees printed with the Discover logo, and ordered Discover polo shirts for staff members to wear at the beginning of every semester.
Discover training is included in information literacy courses which target first-year students. In addition, students can sign up for "Getting Started with Discover" training sessions or watch 90-second YouTube tutorials on topics such as finding journal articles, using search limiters, and evaluating sources.
Benefits & Results
During USC's first semester with Discover, the Library experienced more than 200,000 full-text downloads. Mooi said she and her colleagues will be looking at specific database usage in the coming months and collating data from a user search behaviors study they conducted in August. In the meantime, she is confident that Discover is helping students to feel more successful in their research.
"Discover is a place to start," Mooi said. "It's designed to promote our resources, and it's designed to give students the most relevant results."
To learn more about EBSCO Discovery Service, or to request a free trial, click here.