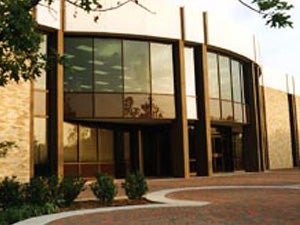 Overview
Founded in 1906 in Abilene, Texas, Abilene Christian University (ACU) offers 71 baccalaureate majors in more than 125 areas of undergraduate study, in addition to a number of graduate programs. A private institution, ACU serves 4,600 students, including 800 graduate students, who come from nearly every state and 43 nations.
In 2011, ACU's Margaret and Herman Brown Library partnered with the Abilene Library Consortium to implement EBSCO Discovery Service™ (EDS), a powerful library research platform that allows users to search across the majority of an institution's holdings at once. In addition, the library subscribes to EBSCO Cloud Services, which delivers end-to-end support for EDS and EBSCOhost apps. One of these apps, the Curriculum Builder API plug-in, has enabled ACU to enhance the EDS user experience and increase the library's profile among students and faculty.
Our time should not be spent playing around in EBSCOadmin, working with widgets. Our time should be spent working directly with the students on how to use our resources.
Associate Dean for Library Services
Abilene Christian University
Challenges
After the 2011 launch of EDS — known as "OneSearch" on the ACU campus — the library saw a marked increase in database usage.
"The faculty and students took to EDS very quickly," said Mark McCallon, Associate Dean for Library Services. "We immediately began looking for ways to integrate other tools into it."
The challenge was finding a solution that would not burden the institution's busy information technology department.
"Our IT department is not into hosting applications, so it was important that we find vendors that are willing to host those applications for us," McCallon explained. "When I had the opportunity to hear about EBSCO Cloud Services, I really jumped on that. It was exciting."
Solutions
When ACU first launched Canvas, its learning management system, many EDS users would mistakenly copy and paste browser URLs into their course reading lists or bibliographies. But because URLs in EDS are not permanent, the links would break. According to McCallon, this often frustrated users.
The Curriculum Builder API Plug-in, which is hosted in the EBSCO Cloud, streamlines access to EDS content right from Canvas. To create a list of required readings, faculty members go into Canvas, create a new module, and select EBSCO as the external tool. Once the module is created, an EDS basic search box appears and they can begin looking for articles to add to their reading lists.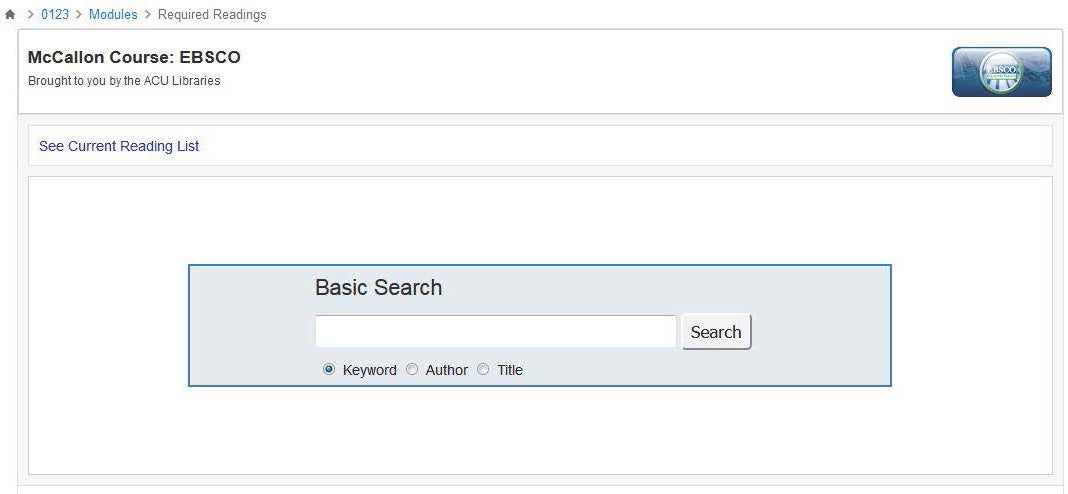 From the search results page, faculty members click an "Add to Reading List" button for each item they wish to include. Once they've added their items, they can click "See Current Reading List" to review their selections. Students who access course reading lists in Canvas simply click an article title for the detailed record and a link to the full text. Faculty members also have the option to import items into Canvas from an EBSCO folder or from an existing reading list, which saves them from having to conduct the searches again the following semester.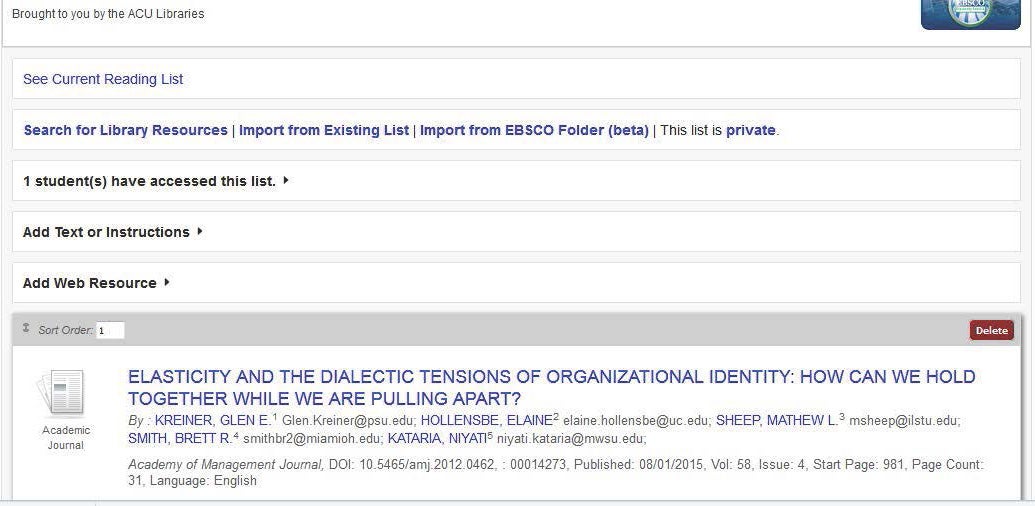 In addition, single sign-on technology allows users to access EDS from Canvas without having to authenticate again.
"EBSCO has made some enhancements lately that are just fantastic," McCallon said, citing the new Curriculum Builder feature that indicates how many students have accessed a reading. "I'm really excited to show faculty this."
McCallon said he has participated in several "Canvas Camp" training sessions with faculty to show them how they can use Curriculum Builder to generate class reading lists.
"EBSCO Curriculum Builder has been a fabulous resource," McCallon said. "It gives the library a seat at the table in our online learning environment. We're really bringing the library into the classroom."
Benefits & Results
McCallon said Curriculum Builder has been well-received by both ACU students and faculty members, including Dr. Lorraine Wilson, Professor of Kinesiology and Nutrition. Wilson is now using Curriculum Builder to add articles to her course pages.
"I was shocked at how quick and easy it is to find and prioritize journal articles for my students to read, whether I search by a title, an author or keywords," Wilson said. "The sort order feature helps students know what is a required reading and when they have a selection choice. This is great!"
Since implementing Curriculum Builder, the library has also been able to better track the use of its resources. Previously, when faculty members would access articles in EDS or other library databases, they would download the PDFs and post them to their course pages. Even though 25 students may access the PDF, it would not get counted in the library's EDS usage statistics.
"We no longer have these rogue PDFs running around," McCallon said. "Faculty members have really recognized that, if they want to help out the library, they need to be using Curriculum Builder and not just downloading PDFs all the time and posting them to their courses. Using Curriculum Builder allows us to count those statistics. We've seen a spike in our usage because of that."
Finally, the ability to host Curriculum Builder and other EBSCO apps, such as LibGuides and Google Books Preview, with EBSCO Cloud Services has placed less strain on ACU's IT department, McCallon said. Most recently, McCallon enlisted the help of EBSCO engineers to write code that would enable ACU faculty members to include an EDS search box on their course assignment pages. Since the library already subscribed to EBSCO Cloud Services, there was a place to host the new search box code. In addition, when EBSCO hosts app code, updates occur automatically. In contrast, institutions hosting app code on their own servers need to perform updates manually.
"It's kind of out of sight, out of mind for me — I know it's going to work," said McCallon, who does not consider himself technologically savvy. "If I have a problem, I don't have to go into EBSCOadmin and try to find a work-around for it. The response has always been so great with EBSCO. The staff there has been fantastic."