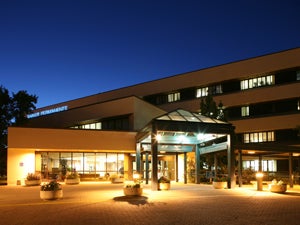 Overview
Headquartered in California, Kaiser Permanente is a non-profit integrated health plan that serves nearly 10 million people from 38 hospitals and more than 600 medical facilities in eight states and the District of Columbia. Library resources and services are available to all Kaiser Permanente employees nationwide, including nearly 18,000 physicians and almost 50,000 nurses, as well as allied health professionals such as physical therapists, nutritionists, respiratory therapists, clinical educators, pharmacists, psychologists and other mental health specialists. The Library also serves health educators, quality and risk specialists, medical department directors and hospital administrators.
In 2015, the Library implemented EDS Discovery Health, a powerful library research platform that brings the majority of an institution's resources into one simple search. According to Library Services Manager Beverly McLeod, PhD, MLIS, the new tool — known as OneSearch among Kaiser Permanente's employees — has helped to alleviate user frustration and ensure research success. In addition, the number of article retrievals has risen dramatically, ensuring a greater return on the Library's e-resources investment.
In the testimonial below, McLeod shares in her own words how the organization promoted OneSearch to users.
OneSearch presented the promise of transforming frustrated users into satisfied independent searchers.
Customer Testimonial
by Beverly McLeod, PhD, MLIS
Challenges
Kaiser Permanente's healthcare professionals need access to published research on a wide range of topics in order to provide the best care for patients, stay current in their field, prepare for licensing exams, create clinical guidelines and best practices, develop educational programs, evaluate medical procedures and devices, improve operations efficiency, and inform strategic business planning.
It is a common experience among librarians to spend considerable time and effort urging people to use the resources that we purchase on their behalf. Users who pay heed to our encouragement are frequently frustrated because they still cannot easily find what they are looking for. As trained librarians, we can cope with the non-intuitive and widely varying processes required to search various databases, but the lack of simplicity and standardization presents a barrier for regular users. Few are willing to invest their time and effort climbing such a steep learning curve.
Solutions
A new product's best promotion is its attractive and easy-to-use interface, and OneSearch presented the promise of transforming frustrated users into satisfied independent searchers. Before releasing the product, we aimed to make it even better for our users. Working collaboratively with EBSCO's support staff, Library Director Eve Melton and her project team achieved the following:
customized the interface so that it would appear simple and easy to use
included relevant databases in the search, reinforcing the promise implicit in "one" search
created a logo, a simple tagline, and a brief description to reinforce understanding of OneSearch's capability
added a carousel of other key resources and library links to make the interface even more convenient for users
Promotion
After ensuring that the product's interface and functionality were the best they could be, our library marketing committee began promotional efforts. Our first target was an internal audience — our three dozen library professionals who work in locations throughout California and Oregon. We conducted an hour-long demonstration webinar session for all librarians and other library staff so that they would be familiar with OneSearch and able to respond to user questions as well as promote the product in the course of their daily interactions with health care employees.
Our external promotional efforts have been focused on making employees aware of OneSearch and communicating that the product is easy to find and easy to use. These efforts included the following:
placing links to the product on the national portal most frequently used by employees
embedding the OneSearch search box prominently on the library website home page
distributing a branded email announcement and flyer via company, local, regional, and national intranet newsletters
posting an announcement in the library newsletter
creating a dedicated OneSearch "infocard" that is easy to hand out at various venues
using the logo and a consistent simple tagline message across various promotions
adding the logo and tagline (linked to the product) to librarians' individual email signature lines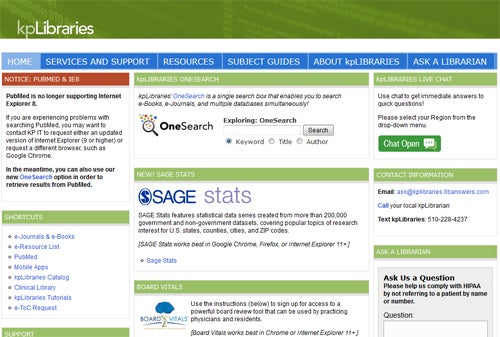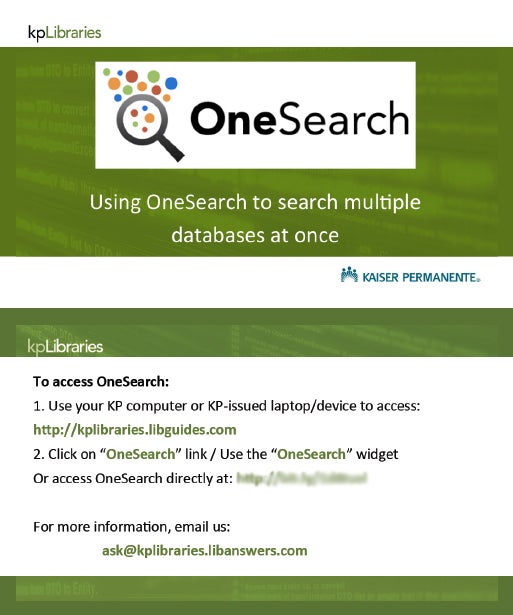 Benefits & Results
OneSearch became popular with users as soon as it was launched. It has been very well-received by our healthcare professionals, who are able to find information on their own much more easily — thanks to EBSCO's user-friendly interface. In contrast to our previous federated search tool, which received about 100 uses per month, OneSearch sees an average of 125,000 searches a month. And significantly more users also access our e-books and databases; more than 6,000 articles are retrieved each month through the OneSearch interface. OneSearch has empowered our users in their search for information and it has conferred the added benefit of making many of our resources more visible to a wider audience — so people actually use the materials that our organization has paid for.
Learn more about EDS Discovery Health or request a free trial