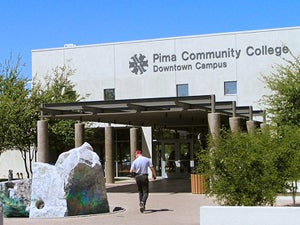 Overview
Located in Tucson, Arizona, Pima Community College serves approximately 15,000 full-time students pursuing associates degrees and certificates in fields such as nursing, education, business, science, engineering, trade professions and many more. Nearly 7,000 of these students take online classes in D2L, the institution's learning management system (LMS). Pima Community College features six campuses and a library collection of more than 30,000 EBSCO eBooks™ and 23 EBSCO databases, all accessible via EBSCO Discovery Service (EDS). Known as "MegaSearch" to students and faculty, EDS allows users to search across a majority of the library's resources at once using a single search box.
In 2015, Pima Community College began subscribing to Curriculum Builder, an LMS plug-in from EBSCO that enables faculty to bring the library's quality databases, e-books, and other digital resources from EDS directly into the online learning environment. Since then, Curriculum Builder has increased use of the library's resources and decreased the cost of materials for students.
I knew [Curriculum Builder] was going to make our faculty more apt to look for the wonderful resources we have.
Challenges
According to Keith Rocci, Library Director of Pima's Community Campus, college textbook costs are on the rise. Yet a number of students who attend Pima Community College cannot afford the added expense.
"Community college students are the dreamers; they are pursuing higher education to better themselves," Rocci said. "The classes are really not that expensive, but when you add a $60 textbook for a class that's $210, that's a lot of money to a young person."
To remove the cost of materials for students, Rocci began purchasing EBSCO eBooks™ with unlimited licenses and encouraged faculty to use them in their courses. He also set out to develop courses that use only library resources.
"EBSCO and our other databases and vendors offer scholarly information that is already used in the curriculum," he said. "I wanted to ensure those resources are being used, and I wanted to make access to them seamless."
After watching Kutztown University's video about using Curriculum Builder to build reading lists in D2L, Rocci reached out to his EBSCO Sales Representative to arrange a trial. "I [knew] this was going to make our faculty more apt to look for the wonderful resources we have," he said.
Solutions
In the Spring of 2015, Rocci taught an eight-week class in Pima's teacher preparation program. He used the class to trial Curriculum Builder. He searched EDS for texts related to the course topic (assistive technologies) and created a reading list in his course module. Students were assigned to read two articles each week. The class was a success, and Rocci was able to convince his library colleagues to support the purchase of Curriculum Builder.
Now that Curriculum Builder has been rolled out to the entire faculty, the tool is starting to catch on. Currently, 24 percent of faculty members who teach online courses are using Curriculum Builder.
 
"Our adjunct faculty were early adopters," Rocci said. "They jumped on it."
Although faculty members can build their own reading lists, many still come to Rocci for help. Recently, a faculty member requested materials on child labor laws of the early 1900s. Within 15 minutes, Rocci was able to identify quality resources in EDS, create a reading list in D2L, and pull the readings into her course module with Curriculum Builder. The reading list, which is saved as a "pathfinder" in D2L, can be used by other instructors teaching the same class and can be modified in future semesters as needed.
Rocci said the college is revising course curriculum to utilize more of the library's e-resources.
"We [now] have a class on the Holocaust that is a Curriculum Builder class, per se," he said. "We have four eBooks in it, numerous articles and there are no costs to the students outside of the tuition."
Benefits
According to Rocci, the benefits of using Curriculum Builder are three-fold. First, the tool is encouraging faculty to leverage more of the library's e-resources which means a greater return on investment. Second, students are saving money by not having to purchase expensive textbooks. Finally, Curriculum Builder provides easy access to authoritative library resources, ultimately helping students to become better consumers of information.
"They're not having to search the web if their faculty member is leveraging library resources, which we know are credible," Rocci said. "It helps them become more information literate, more efficient in evaluating information. If you're exposing them to these scholarly publications in Writing 101, which is their gateway class to college, it's going to save them time. Maybe they don't go to the web immediately. Maybe they say, 'The library has the database, so I'll give that a shot.'"