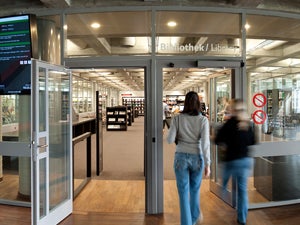 Overview
Founded in 1898 as a business academy, the University of St.Gallen (HSG), Switzerland, now offers bachelor's, master's, and doctoral degrees in the fields of business administration, economics, law, social sciences, and international affairs. With a collection of more than 600,000 bound books, 100,000 eBooks, 30,000 licensed electronic journals, and subscriptions to 115 commercial databases, the Library sought a research tool that would integrate its catalog and its electronic resources into an easy-to-use single-search interface. In January 2012, the Library implemented EBSCO Discovery Service™ (EDS), known as "Metasearch" to the University of St.Gallen community which includes nearly 10,000 students, faculty, and staff. Since then, the Library has seen a marked increase in the number of searches and full-text downloads
Our users like the new and more encompassing search experience of EDS.
Challenges
Prior to EDS, the University of St.Gallen Library did not have an integrated search platform; instead, the Library used several products from different vendors, all with varying user interfaces. As a result, the search process did not meet students' expectations. In addition, because they could not search all subject databases at once, students were inevitably missing out on relevant content.
To overcome these challenges, the Library sought a research tool that would not only integrate as many of the Library's e-resources as possible into a single-search interface, but also improve usability and retrieval performance.
Solutions
In 2011, the University of St.Gallen Library formed a small implementation team and began a trial to evaluate EBSCO Discovery Service (EDS), a robust library research platform that provides users with access to an institution's entire collection via a single, customizable entry point, thus creating an experience that is comprehensive, fast, and familiar.
Dr. Ulrich Weigel, Head of Service Center Information Resources, said EDS offered clear advantages over other discovery services, in terms of quality, precision, and familiarity. In addition to enabling the University to seamlessly integrate the library catalog, EDS offers high-quality metadata and superior indexing for subject-specific research databases which allows the Library to maximize its return on investment.
"Overwhelmingly, researchers and students alike wanted the integration of subject databases and the library catalog," Weigel said. "We think that exploiting the indexing quality of the subject-specific databases within a discovery environment is rather unique to EDS."
Furthermore, users were already familiar with the EDS search interface because the University subscribes to several EBSCOhost databases.
"They can transfer this know-how to EDS, and it works in the other direction as well (EDS to EBSCOhost)," Weigel said.
The University of St.Gallen Library launched EDS, branded as "Metasearch," in January of 2012.
Benefits & Results
Since implementing EDS, the University Library has seen an increase in the use of its electronic resources. In 2012, the overall number of full-text downloads was 50 percent higher than those seen in 2011. In addition, EDS has increased use of the Library's EBSCO e-resources through SmartLinks+, a feature that triangulates the availability, ownership, and location of full text. When a library subscribes to e-journals or e-journal packages via EBSCO and one or more research databases on the EBSCOhost platform, SmartLinks+ can be automatically enabled to connect users to all of the library's full-text content from EBSCO.
Although Weigel does not know how Metasearch has impacted research grants, research outputs, or course marks, initial reaction suggests that users are happy with the amount of time they are saving with EDS.
"Overall feedback [has been] really positive and encouraging," Weigel said. "Our users like the new and more encompassing search experience."
However, he said, refinement of the tool is still an ongoing process.
"One has to aim at constantly improving the performance, integration of sources, and trying to match the results (usually a lot) even better with the information needsof the users," he explained. "This is certainly a task for the library team but perhaps an even greater challenge for EBSCO because it has to assure system reliability, increase performance, improve functionality, and further integrate the vast number of resources that are available in academic institutions."
To learn more about EBSCO Discovery Service, or to request a free trial, click here.