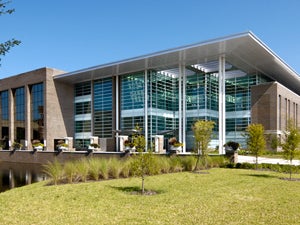 Overview
Located in Jacksonville, the University of North Florida (UNF) offers undergraduate and graduate programs in the fields of health, business, engineering, and education, as well as the arts and sciences. The University's Thomas G. Carpenter Library serves approximately 20,000 registered patrons — including students, faculty, and staff. With 800,000 volumes in its physical collection and 287 subscription databases, the library sought a way to surface more of its diverse content. In October of 2011, the library launched EBSCO Discovery Service (EDS), a robust, customizable research platform designed to integrate all of the library's resources and unearth professional, vetted content with speed and simplicity. Since implementing EDS — known as "OneSearch!" at UNF — the library has seen a significant increase in the use of its electronic resources and a considerable decrease in costs associated with Inter-Library Loan and MARC subscriptions for journal titles.
With EDS we have made a whole lot more content more easily accessible [...] If we can deliver that content as easily as possible, students can spend less time sifting through stuff and more time becoming what it is they want to become.
Director of Library Systems & Technology
University of North Florida
Challenges
According to Michael Kucsak, Director of Library Systems and Technology at UNF, the library's federated search product was too slow and could not take advantage of all of the individual databases' metadata. Subsequently, users were not always getting a comprehensive list of search results.
In addition, the library website required users to click through several pages to find what they wanted. To access a database from the library home page, students would have to first click on a subject link. They would then be brought to a list of databases relevant to the subject. From there, students would have to go into individual databases and conduct their searches. Kucsak explained that many users are not diligent or patient enough to persist when they don't immediately find what they're looking for.
"By the time they clicked two or three times to get to the database we recommended, they were probably ready to go to Google," Kucsak said. "That's a lot of potential loss, and we felt like we needed to address that."
Meanwhile, the library sought a way to increase the use of its electronic resources. Since users are no longer relying as much on the library's physical collection, financial support for these resources has dwindled, Kucsak said. He and his colleagues did not want to see electronic resources suffer the same fate.
"We believed our electronic resources had not realized their full potential, [so] we wanted to make them more available … [particularly] the little diamonds in the rough," Kucsak said. Although UNF students were accustomed to searching the library's larger databases, they did not always think to look at some of the smaller databases that might contain information relevant to their research. For example, Kucsak explained, an art student might never look at a science database. "Broadening the access and getting more diverse content to our students was definitely a major goal," he said.
Finally, library leaders aimed to reduce the dependence on Inter-Library Loan and instead direct patrons toward the abundant resources available within the Library's own collection.
"It's bad enough when they go to an unreliable source," Kucsak said. "But they may go to a source that we don't subscribe to when one of our own sources would have provided that information as well … We'll spend money to borrow [information] that we could have provided using a different in-house resource. That's a terrible thing."
Solutions
Implementation
In the Spring of 2011, the Library Dean formed a Discovery Task Force to identify business requirements and research potential solutions. Kucsak, who served as project coordinator, said the team consulted with other university libraries that had implemented web scale discovery platforms and were even able to test some of the sites.
The task force then determined several key business requirements. The Library sought a web scale discovery service that would quickly return relevant search results, offer links to full-text articles that were both reliable and obvious to the user, and allow users to combine facets. In addition, the system must easily integrate the library's metadata, provide usage statistics for all of the library's electronic resources, and clearly indicate which resources were and were not available in the library.
After evaluating discovery products from several vendors, the Discovery Task Force began trialing EDS during the summer of 2011.
"We thought the EDS interface was attractive," Kucsak said. "Compared to some of the other vendors, we found that EDS did a better job of finding your search term as the subject, rather than just an exact title match."
The Discovery Task Force, as well as several reference librarians, spent the next two weeks scrutinizing EDS. The group collected and analyzed several hundred search results, placing the data in a spreadsheet where they measured it against the library's business requirements.
"I don't think we ever put a system through the kinds of rigors that we put this system through," Kucsak said, noting that during testing, EBSCO content resolved 99 percent of the time.
The clear ability of EDS to deliver relevant results with obvious, reliable links to full-text was critical in UNF's decision to purchase the tool.
"We're making a promise to our patrons," Kucsak said. "They have an expectation that when they sit down and type in a search term that the search result is going to be relevant. They're not here to search; they're here to find."
In addition to EDS, the Library purchased EBSCO A-to-Z®, LinkSource®, and a number of EBSCOhost® databases. The implementation took 30 days, and EDS officially launched on October 18, 2011.
Customization & Branding
A customized EDS search box — aptly named OneSearch! — is prominently displayed on the Carpenter Library home page. The top of the results page is branded with a UNF logo featuring the osprey mascot, as well as a hyperlink back to the library's home page.
"We were able to take advantage of an attractive results page interface," Kucsak said. "We did some minor things that would make students believe they haven't left UNF."
Before EDS, library users had access to roughly 800,000 volumes. Since implementing EDS, users now have access to 350 million items.
"With EDS we have made a whole lot more content more easily accessible," Kucsak said.
Although the search results page has been customized to return records for only those resources available in the library's collection, researchers who feel that 350 million is still insufficient can simply remove the limiter and get a whole lot more.
"We are far more capable of delivering what a student wants than ever before, so we should not be guiding them to things beyond our virtual walls," Kucsak said. "We can tell them to uncheck the box and search beyond us, but we didn't want to do that by default. We wanted the opportunity to satisfy the informational needs of our patrons using our own subscribed resources."
To authenticate remote users, the library has long used EZProxy, which integrated well with EDS. Patrons can conduct searches, get results, and view detailed records without having to first log in. It is only when they try to download copyright protected materials that the system will ask them to enter a user name and password.
"This is a far more elegant approach than the old method of trying to drive people to a log in page before they begin the process," Kucsak said. "We used to get a lot of calls from users having problems getting to the content. That's all but gone now."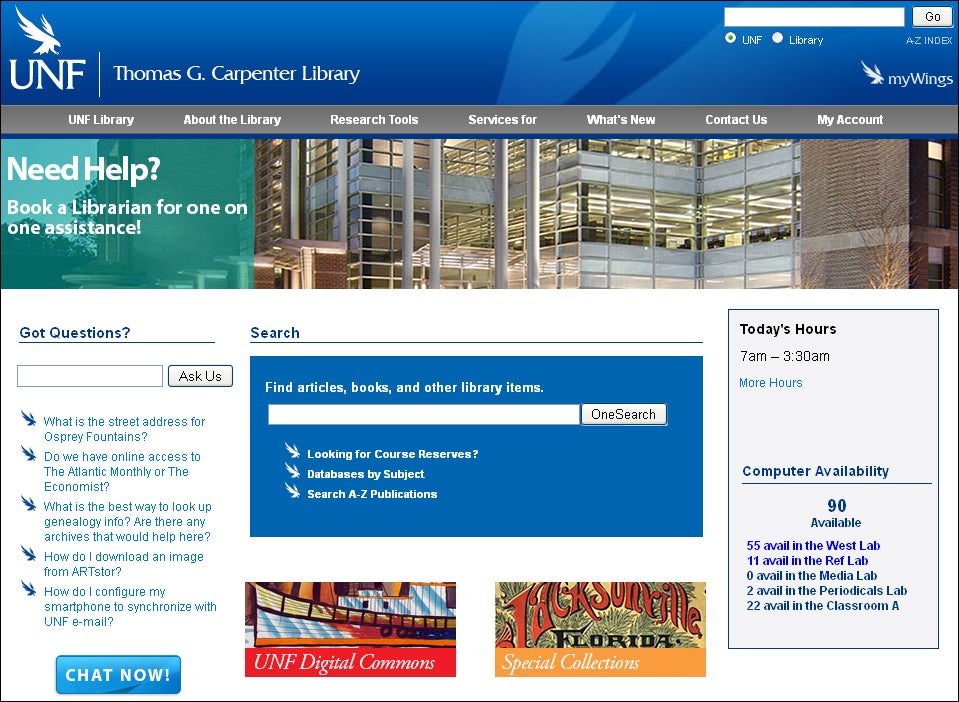 Promotion & Training
To promote OneSearch! to its patrons, the Library hung colorful posters designed by EBSCO. In addition, reference librarians handed out information flyers, and the tool was publicized at faculty meetings.
"We've done quite a bit to enlighten users," Kucsak said. "I'm not sure it took a lot of announcement. When you make it your primary search interface, that's what they're going to use."
In terms of training, librarians offered instruction sessions to students and faculty. Additionally, the Library Instruction department posted to the library web site a LibGuide that walks users through five easy steps in finding content using OneSearch!
The biggest obstacle that librarians faced was helping patrons to realize that they could simply search for an article in EDS. They no longer need to search for the e-journal in A-Z and then search the journal for the article. The process has been simplified.
"Training really wasn't on how to use the tool as much as [it was] on breaking down the attitudes and expectations that people have," Kucsak said. "The positive results of implementing EDS were realized pretty much immediately."
Benefits & Results
In the first five months after deploying EDS, the Library saw full-text downloads of its electronic resources increase by 76 percent. Kucsak noted that use of NewsBank – an EBSCO partner that provides access to hundreds of newspapers and periodicals – has skyrocketed. In fact, he said, the number of full-text downloads increased by more than 1,000 percent.
With EDS, the Library has been able to add more eBook content as well. Robb Waltner, the Library Dean and Head of Acquisitions, discovered was how quickly he could load eBooks into EDS, making content almost immediately accessible to patrons.
"This was actually an expectation Robb had as part of the Discovery Task Force, and it (and he) was a major driver behind getting this system," Kucsak explained. "Ease of access isn't just about search and retrieval; it's about loading the content on the back end. It can take weeks or even months to get physical content into our old catalog system and only hours to get eBooks into EDS."
Last year, the Library added 120,000 eBooks to its collection.
"We could never have added that many print books to our collection; we're not that big," Kucsak said. "Making [eBooks] available for full-text download in EDS was like flipping a switch."
Meanwhile, Inter-Library Loan expenses dropped 43 percent in the first seven months after implementing EDS. The Library has also eliminated subscriptions to MARC records for journal titles, which Kucsak estimates will save the Library thousands of dollars each year.
"We're now capable of saying that the value of the documents we deliver exceeds the total cost of library operations," Kucsak said. "I could not have said that a year ago, at least in terms of document delivery. That number was less than our total budget. This year it's significantly more. So that helps justify our existence."
The next step, Kucsak said, will be to integrate dynamic content into Blackboard, UNF's course management system.
"If we can deliver that content as easily as possible, students can spend less time sifting through stuff and more time becoming what it is they want to become," he said.
To learn more about EBSCO Discovery Service, or to request a free trial, click here.