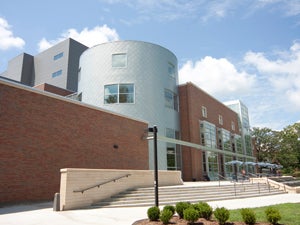 Overview
Morris Library is the main library for Southern Illinois University (SIU) Carbondale, which enrolls almost 18,000 students. The library holds more than 2.6 million volumes, 50,000 electronic journals, 220,000 e-books, and more than 3.6 million microform units. In addition, the library provides access to I-Share, a consortial catalog of nearly 13 million unique bibliographic records representing the holdings of 86 libraries that belong to CARLI (Consortium of Academic and Research Libraries in Illinois).
In 2012, Morris Library launched EBSCO Discovery Service (EDS)—known as OneSearch to SIUCarbondale students. In addition to seamlessly integrating the I-Share catalog, EDS contains a robust base index and offers users a fast, single-search experience. With EDS, researchers are unearthing more of the library's subscription content and helping the institution to realize a higher return on its e-resources investment.
EDS' central index offered the best coverage of our subscribed resources.
Electronic Resources Librarian
Southern Illinois University Carbondale
Challenges
For several years, the Morris Library at Southern Illinois University Carbondale used Webfeat, a federated search product. According to Electronic Resources Librarian Andrea Imre, the product did not meet expectations.
"Webfeat never really became popular among patrons and staff because, like other federated searches, it had a very slow response time," Imre explained.
In 2009, Imre and her colleagues began researching discovery services, taking their time to identify the product that would meet their needs and budget.
"We kept an eye on the market," she said. "Earlier it was just not the right time, either because we couldn't afford it or the products didn't deliver the kind of Google experience that patrons were expecting. In time, the products got more developed, and the pricing became more affordable."
Solutions
In 2012, the library was ready to move forward. Imre said that there were four main features she and her colleagues required of a discovery product: It needed to (1) be fast, (2) offer a clean, easy-to-navigate interface, (3) provide a robust central index, and (4) seamlessly integrate I-Share's catalog records.
"We wanted to make sure that any discovery service we introduced would be able to integrate all the items that were in the consortial catalog," Imre explained. "With a flat collection budget, it is increasingly important to rely on consortial resources and to allow patrons to easily access content."
Imre and her colleagues evaluated a variety of discovery products, including ProQuest's Summon, OCLC's WorldCat Local, and ExLibris' Primo, but they ultimately selected EBSCO Discovery Service.
"I think the other products just didn't deliver on some of the aspects that were important to us, such as the base index," Imre said. "EDS' central index offered the best coverage of our subscribed resources."
Imre added that EBSCO worked well with her library team and consortial staff to ensure a successful implementation.
"EBSCO was helpful in figuring out the best way of presenting all of the information and the best way of feeding the catalog data into EDS," she said.
EDS, renamed OneSearch, is branded with SIU Carbondale's logo and maroon and white school colors. The library team customized the interface to include an Ask-A-Librarian widget as well as a link to the library's subject guides page. They also configured their OpenURL link resolver, powered by SFX, to connect users with items not physically located in the library. Users simply click on the link resolver button and are brought to a page offering links to full text when the item is available, the library catalog, or the Interlibrary Loan request form.
The University launched OneSearch in the Fall of 2012.
Benefits & Results
One benefit of implementing EDS is the speed with which newly purchased content appears in search results. For example, SIU Carbondale purchases EBSCO eBooks via YBP. According to Imre, e-book records appear in EDS search results within 24 hours of the order being placed. Imre also praised the ability of users to access EDS content and download e-books using their existing My EBSCOhost account.
"The integration with EDS and the familiarity of our patrons with the EBSCOhost platform, and especially the MyEBSCOhost user account, makes EBSCO a great platform," she said. "If you want to download e-books, you can use that one EBSCO account that you've already created in EBSCOhost. You don't have to create yet another account in order to download or check out an e-book."
Imre said EDS has been particularly helpful to undergraduates. "Once they're on the library website, they don't need to figure out which of our more than 100 databases they need to choose from to do their research. They just go to one place," she said. "It makes it easier for them to start research."
The library conducted a pop-up survey in EDS in November of 2012. Results showed that the majority of users found what they were looking for via EDS, with 86 percent stating that they would use EDS again.
Graduate students are also praising EDS. "Research has never been easier," said one. "It is so nice not to have to run around and check several different databases in hopes to access a certain slice of information. Having everything integrated has been wonderful all semester long."
To learn more about EBSCO Discovery Service, or to request a free trial, click here.