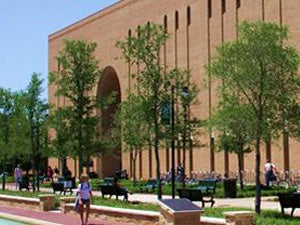 Overview
Serving approximately 27,000 students, the University of North Texas (UNT) Libraries offer a robust research collection of more than seven million print and digital items. In 2012, to reduce service charges and facilitate the connection of expenses with usage data, the Libraries moved most of their journal and e-journal package subscriptions to EBSCO. Then, in 2013, the Libraries began subscribing to EBSCO Usage Consolidation, an affordable, easy-to-use tool that enables libraries to collect, consolidate, and report on COUNTER-compliant usage data for all online resources, regardless of vendor. In addition, the Libraries purchased EBSCO's Usage Loading Service which obtains usage reports and loads them to the institution's EBSCONET Usage Consolidation account. These services, along with the real-time data available in EBSCONET Subscription Management, are helping the UNT Libraries to identify and eliminate high cost-per-use resources in response to substantial budget cuts.
Cost-per-use is a key measure of efficiency...The hardest part [is] gathering the data. We used Usage Consolidation heavily and the integration with EBSCONET to help with that data gathering.
Collection Assessment Librarian
University of North Texas
Challenges
According to Collection Assessment Librarian Karen Harker, when the UNT Libraries faced their first major budget crunch in 2012, library staff recorded usage data in spreadsheets and manually gathered cost data from the Integrated Library System (ILS) to calculate cost-per-use.
"We also had gathered usage data from the ILS for our print journals, which was used to justify converting most of our print to electronic-only subscriptions," Harker explained. "That is the only data we used that year, and most of our budget cuts were absorbed by the elimination of print subscriptions and other low-hanging fruit."
In the fall of 2013, the UNT Libraries learned that they may have to cut another $1.7 million from their materials budget in order to cover the cost of employee benefits. In response to this latest challenge, Harker spearheaded an in-depth analysis of library resources to determine which ones could be eliminated with the least impact. This time, knowing the Libraries would have to generate a more extensive list of resources to cut, Harker looked for a tool that would streamline the collection of usage and cost-per-use information.
"Cost-per-use is one of the key measures used to compare [resources] and make selections," Harker said. "It is a key measure of efficiency. We wanted a way to quickly have that cost-per-use data at hand."
Solutions
After evaluating the usage reporting tools of both EBSCO and Serial Solutions, Harker ultimately chose EBSCO Usage Consolidation because it offered the services she was looking for in an affordable package.
"EBSCO gave us a really good price and the flexibility of loading usage ourselves," she said, referring to EBSCO's Usage Loading Service. Although Harker is not sure whether the Libraries will need to use the service again, she likes having the option. "We have graduate assistants, so we wanted to be able to choose the option of loading or not loading."
Once the data was loaded, Harker and her colleagues began gathering usage statistics and cost-per-use information for roughly 30 e-journal packages. They also recorded price changes in the last five years to account for inflation. In addition, they examined the distribution of title usage for large packages, any overlap between databases and packages, usability and ease of maintenance. The data they collected over several months ultimately helped them to compile a list of resources for potential elimination.
"It's very much a recursive process," Harker said. "The hardest part was gathering the data. We used Usage Consolidation heavily and the integration with EBSCONET to help with that data gathering."
Benefits & Results
EBSCO Usage Consolidation has helped Harker and her colleagues to identify a handful of journal packages that could be cut from the library collection with minimal impact. For example, one of the packages they analyzed contained eleven titles. These titles experienced an average of seven uses per year over three years, ultimately costing the UNT Libraries $208 per use.
"Another thing we've seen with some packages is that use is concentrated in just a few titles with little or no usage of the other titles," Harker said. She pointed to a package of 1,250 titles; of those, 1,145 experienced zero uses in three years. "This is a case where we need to get only the titles that our users use, not the whole package."
EBSCO Usage Consolidation has also helped Harker and her team to identify the resources they definitely want to keep. "There were a few that we looked at that were very efficient," she said. "Their usage was widespread across the entire package, and they had a very low cost-per-use. So these would not be wise to change."
Harker said she is now awaiting feedback from subject librarians who are evaluating the ease of use, breadth, and uniqueness of each resource. This information will be merged with the quantitative data, which will then be used to generate a prioritized list of resources to retain. Next, the subject librarians will take these lists to their faculty and solicit their input. Finally, the Collection Development unit will work with the faculty and the subject librarians to finalize the list, looking for alternative resources to balance the collection.
"We're going to go down the list until we hit the magic number," Harker said. "Hopefully it will pay off for the university and for the library in that what we cut will not have as big an impact as it would have if we had to make cuts without this information."