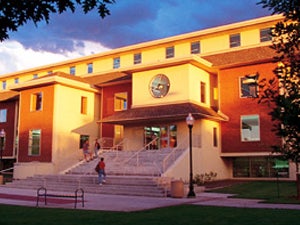 Overview
Regis University, located in Denver, Colorado, was founded in 1877 and is one of 28 Jesuit colleges and universities in the United States. Regis has an FTE of 8,700 and offers a wide array of undergraduate and graduate programs available through five colleges: Regis College, College of Contemporary Liberal Studies, Rueckert-Hartman College for Health Professions, College of Business and Economics and College of Computer and Information Sciences. Dayton Memorial Library is the main library for Regis University, providing a full range of online and on-campus library services and resources to students, faculty, staff, alumni and community members. There are 12 Reference and Instruction Librarians with different assigned subjects at the library, as well as a Head of Media Services, a Collections and Resource Management Librarian and an ILS Librarian. Each has a role in collection development to help serve the full range of programs available at the library.
Challenges
Librarians at Dayton Memorial use many different methods to select books for the library. Some solicit feedback from the departments that they're responsible for, then use those requests to make specific selections and to find similar items as needed to round out the collection. Many also look at Booklist, New York Times Book Review, subject-specific mailers and other resources available to them. The library has also been a long-standing GOBI customer. However, when Kim Medema, Collections and Resource Management Librarian, arrived at the library almost two years ago, she found that few of the librarians on staff were digging into the collection development tools that were available in GOBI. In addition, she found that some notification profiles that had been set up in GOBI were several years old, while others were not delivering as many results as they had in the past. It was clear the librarians were not using GOBI to its full capabilities.
Solutions
Medema recognized an opportunity to help the librarians maximize the collection development resources that were easily accessible to them in GOBI and ultimately simplify their collection development processes by reviewing some of the features in GOBI. For instance, she distributed "Did-You-Know" emails to library staff pointing out specific features in GOBI including Spotlight Lists. It turned out that Spotlight Lists were one of the collection development tools in GOBI that the librarians at Dayton Memorial were unfamiliar with, so Medema was excited to share with them how the resource could help them find books more easily. Specifically, she showed them CHOICE Outstanding Academic Titles e-book and print books lists, as well as the subject area lists.
"When I see that the monthly Spotlight list is a subject area that we have here, I always send that to the person," Medema said. "Last month was chemistry, so I sent our librarian in charge of chemistry that list. That's been really helpful."
Medema also spent time with staff one-on-one to walk through helpful features such as notifications. To help improve the quality of the notifications, she showed the librarians how to adjust their profiles in GOBI.
"For example, our modern languages bibliographer took over that subject area last year, and when she was looking through the profile, there were some call numbers ranges for languages that we don't teach here anymore." Medema explained. "We tweaked that so that her notifications were more specific to her needs."   
For people who are less experienced in collection development, Medema found it helpful to adjust the Library of Congress ranges so that librarians could see more titles specific to their subjects of interest. For some of the more experienced librarians, or those with broader subjects to cover, notifications have become another tool in their librarian's toolbox.
Benefits & Results
Re-acquainting and re-training Regis librarians with GOBI's pre-curated lists and customized notifications have allowed them to maximize the GOBI collection development tools that were under-utilized in their library. Now that librarians are aware of the value of Spotlight lists, they can browse lists of books by not only subject area, but also by the different categories available through GOBI, including Best-selling E-Books, Key Reviews and Award Winners. By adjusting the notification profiles at the library, librarians are now seeing a more qualified list of titles that fit their specific subject areas, so they can select from a list of newly published titles that match their criteria.
Medema credits her knowledge of these features and her trust in GOBI Library Solutions to her working relationship with her Collection Development Manager, Kim Anderson, and the prompt and personalized attention she receives from her Customer Service Representative, Kathleen Hammond.
"Whenever I've had to reach out to [Kim] about complicated things, he has always offered to come do tutorials for me or for anyone on staff who might benefit from it. He's always been extremely friendly and extremely available," she shared. "I emailed [Kathleen] a few weeks ago, because I put something through our main account and it needed to go bypass and she took care of me right away. Everyone's great."