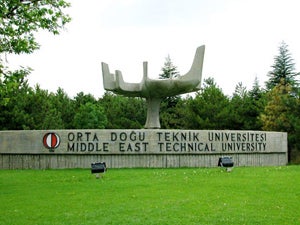 Overview
Founded in Ankara, Turkey in 1956, Middle East Technical University (METU) features undergraduate and graduate programs in the natural and social sciences. Serving a population of more than 25,000 students and faculty on three campuses, METU's robust library collection includes 430,247 printed texts, 150 databases, 59,900 academic e-journals, and 117,713 eBooks. By implementing EBSCO Discovery Service (EDS), METU has succeeded in making its library holdings even more accessible to students and faculty. Since the February 2011 launch of EDS, overall usage of the library's online resources has increased dramatically.
EDS has increased our statistics dramatically when compared to federated search. Subject-specific databases, that haven't had large [numbers] of users, have been used much more since the implementation of EDS.
Associate Library Director
Middle East Technical University
Challenges
Emre Hasan Akbayrak, the library's associate director, said METU aimed to improve the quality of its library services, enhance the use of its library resources, and meet the high expectations of a growing number of users.
"We need to think about new generations' needs and to become a reference point for all of our users from all ages and fields," Akbayrak explained.
In addition, because METU's collection is so large, it was important to have a discovery tool that would allow users to access the most relevant results from a single entry point.
"Researchers at METU needed a fast, effective, and sophisticated product," Akbayrak said. "[A federated search product] was too basic to meet our needs."
EBSCO Discovery Service (EDS) provided METU with the solution it needed.
Solutions
Implementation
Under Akbayrak's tutelage, a group from METU's e-Resources department formed a project team to determine the library's needs. They then contacted various service providers to arrange product demonstrations. Upon choosing the discovery services option, the group gained trial access to EDS—as well as other discovery tools—for testing purposes. They also solicited feedback from colleagues at other academic institutions. The project team wrote an evaluation report comparing EDS with other discovery tools. They sent the report to administrators, who ultimately selected EDS because of its speed, simplicity, and superior relevancy ranking methodology.
"EDS is more suitable for our library than other products," Akbayrak said, adding that EBSCO's reputation in the market also impacted METU's decision. "EBSCO's efforts to continuously improve the product [have also] made us happy."
Akbayrak said the most important aspect of the implementation process was the seamless integration of the library's purchased content with EDS. However, due to METU's high number of subscription e-resources, content set-up still continues.
Customization & Branding
Customization and branding were also key steps in the implementation of EDS, said Akbayrak. "We received professional help from EBSCO's local office and our institution's IT department for branding and customization," he said.
METU Library's home page features a customized search box called METUnique Search. When librarians decided to name the search box, Akbayrak suggested METUnique.
"METU is a unique university in Turkey," he explained, adding that METU has been one of the world's top 100 universities for many years. "For that reason, I thought that [the search tool's] uniqueness should be mentioned in combination with METU."
EBSCO Implementation Specialist Ugurcan Ozkan agreed, adding that many of the university's students are involved in academic clubs that encourage the use of the library's resources. "METU is unique for both its success and the opportunities it provides to students and other members," Ozkan said.
In addition to appearing on the library's home page, a METUnique Search box with EDS logo and full-text limiter appears on each LibGuide page.
Although content set-up and content control are still in progress, METU has integrated a number of widgets and custom linking options to Turkish columns, blogs, METU LibGuides, METU Library Tweets, METU News, and Ask a Librarian.
Training & Promotion
During the implementation process, local representatives from EBSCO held a training seminar for METU administrators and library educators. Librarians from various departments – including reference, acquisition & cataloguing, and electronic resources – attended the seminar.
METU promoted the library's new discovery tool by hanging posters at several locations around the library and announcing it on LCD screens.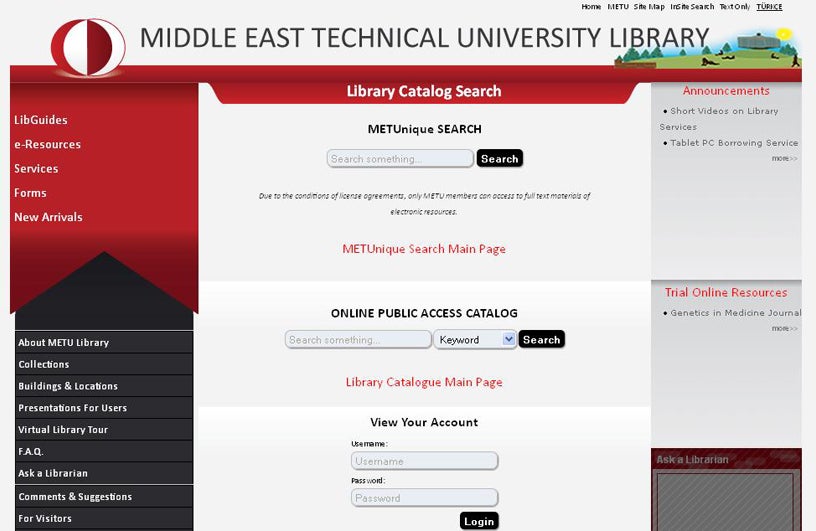 Benefits & Results
Ozkan said that METU provides the highest internet speed of all universities in Turkey, and internet access is available in the campus dormitories. So even when students conduct their research outside the library, they can quickly access METU's electronic resources using the METUnique Search box.
According to Akbayrak, library usage is "very high," with the number of searches topping four million in May 2012, a little over a year after implementation.
"EDS has increased our statistics dramatically when compared to federated search," Akbayrak said. "Subject-specific databases, that haven't had large [numbers] of users, have been used much more since the implementation of EDS."
To learn more about EBSCO Discovery Service, or to request a free trial, click here.