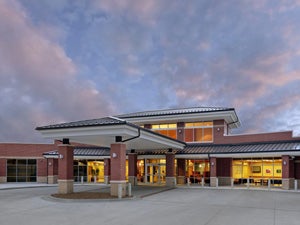 Overview
Located in central Kansas, Memorial Hospital of Abilene is a 25-bed critical-access hospital offering inpatient and outpatient services including 24-hour emergency care, general surgery, physical and occupational therapy, cardiac rehabilitation, geriatric behavioral health care, diagnostic radiology, respiratory therapy and much more. The hospital is part of a larger system that also includes home health and hospice services and a long-term care facility. The organization employs nearly 300 nurses.
In November 2016, Memorial Hospital of Abilene began subscribing to Nursing Reference Center Plus, an evidence-based point-of-care resource designed specifically for nurses that provides quick and easy access to the most current information on diseases, medications, best practices and more. This information supports patient care, patient education, as well as the development of hospital policies and procedures. In addition, the tool's Continuing Education Modules offer nurses a convenient way to complete required contact hours.
Our nurses are able to get what they need quickly, and that's what they like about Nursing Reference Center Plus.
Memorial Hospital of Abilene
Challenges
When Chief Nursing Officer Brenda Moffitt came to Memorial Hospital of Abilene in 2014, she discovered the small critical-access hospital needed to improve upon its evidence-based practice and policy writing. The nurses she managed relied on print textbooks for point-of-care information, and access to evidence-based literature was limited.
"As soon as those textbooks are printed, they're out of date," Moffitt said. "I have always been in organizations where I've been able to get my hands on the evidence-based practice literature. But when I came here, it wasn't available."
In addition, Moffitt explained, the patient census at a critical-access hospital can vary from high to low. Memorial Hospital of Abilene's policy states nurses can't be cut from a shift due to low census more than once per pay period.
To make the case for bringing an evidence-based tool to the hospital, Moffitt convinced the hospital CEO that nurses on duty but not assigned to patients could spend their shifts writing much-needed policies and procedures or completing continuing education units.
"I was able to show our CEO that we could be educating our nurses while they were here on low census," Moffitt said.
Solutions
In late 2016, after evaluating Nursing Reference Center Plus and one other clinical decision support tool, Moffitt was able to get her nurses and the CEO behind purchasing Nursing Reference Center Plus.
Implementing the tool was simple. Nurses can access the resource right from the hospital intranet. To promote Nursing Reference Center Plus, Moffitt announced it in the employee newsletter and arranged for an EBSCO Training Specialist to come on-site and teach nurses about its content and features.
"Once it got installed, we just told our nurses as they were rewriting policies that they needed to include updated references on every policy," Moffitt said. "As they were in there looking at the references, they found other things that they were encountering on a daily basis, and so they just started using it. It has been like a snowball down a hill. We have so many nurses using it, and they love it. It has been an amazing evolution at our hospital."
Moffitt said the content in Nursing Reference Center Plus has been helping the hospital address risk management cases. For example, following an insulin error, Moffitt assigned the unit's nurses to read up on insulins in Nursing Reference Center Plus.
"It's a unit that doesn't give insulin frequently, so it was really helpful," Moffitt said, adding that she will also assign readings to nurses whenever there is a hospital policy change or she finds information that she knows they will find valuable.
The hospital has also used content from Nursing Reference Center Plus to draft a fall prevention plan.
"We had a high fall rate," Moffitt explained. "Since we created our fall prevention plan, we've gone two quarters with no falls on our inpatient unit, and our geriatric psych unit has seen only one fall."
In addition, Moffitt said, the videos and competency sheets in Nursing Reference Center Plus have been highly beneficial. The videos are less than two minutes each and provide quick visual refreshers on a procedure or topic. The competency checklists benefit both nurses and nurse managers. The nurses can refer to them for step-by-step instructions for completing a procedure, while nurse managers can use them to evaluate the skill competency of their nurses.
"Our nurses are able to get what they need quickly," Moffitt said, "and that's what they like about Nursing Reference Center Plus."
Benefits & Results
Usage statistics show that Nursing Reference Center Plus has experienced 1,600 logins since it was launched. Moffitt said even seasoned nurses who were at first reluctant to use the tool have embraced it.
"If a nurse of 20 or 30 years has done something the same way for all those years, and has never had a bad outcome, why should she change?" Moffitt asked. "I can tell her about the evidence, but I'm just a Kansas girl, what do I know? She's not going to believe me. But if I can show her the evidence-based resources and what the better outcomes are, she can read [them] for herself."
Moffitt said she has enjoyed observing the positive impact Nursing Reference Center Plus has had on the nursing staff.
"I think it's one of the best benefits we give to our nurses," she said.