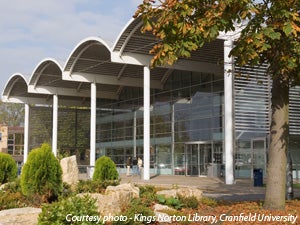 Overview
With campuses in Cranfield and Shrivenham, England, Cranfield University enrolls more than 4,600 post-graduate students from around the world and employs more than 1,500 faculty and staff members from 60 countries. A leader in its contribution to global innovation, Cranfield University offers post-graduate degree programs in management, aerospace, agrifood, defence and security, environmental technology, and manufacturing and transport systems. To support its mission "to generate and transform knowledge," the institution maintains three academic libraries — Kings Norton Library, Barrington Library and the Management and Information Resource Centre (MIRC) — each with unique and robust library collections. These collections include a total of more than 300,000 titles, including 25,000 e-books, 29,000 e-journals, and 120 databases.
In January 2014, Cranfield University implemented EBSCO Discovery Service™ (EDS), a powerful library research platform that enables users to find professional, vetted resources with the speed and simplicity of a commercial Internet search engine. Branded as "SearchPoint," EDS is helping the institution to meet the unique information needs of its post-graduate researchers.
What impressed us about EDS was the speed with which new content arrived in the database.
The Path to EDS
Prior to implementing a discovery service, users of Cranfield University's library resources could only search each subscription database individually. According to Systems Librarian Kathy Sadler, the UK's Ministry of Defence, a key stakeholder at Cranfield, requires the institution to offer a cross-searching tool. This, coupled with the institution's desire to provide researchers with a better platform for known-item searching, led them to begin evaluating discovery products in 2013.
In addition to providing a single search box, the new tool would need to integrate the library catalogue and display search results from current issues of the most heavily used academic journals. In each discovery service, the evaluation team conducted side-by-side searches of the 10 journals most important to the institution's researchers, and EDS came out on top.
"What impressed us about EDS was the speed with which [new] content arrived in the database," Sadler said. "Our researchers are looking for up-to-date information. They want to know that the most recent articles are available."
However, Sadler said, not everyone was eager to implement a discovery service. Many of her colleagues felt that Cranfield's students — many of whom are accustomed to very focused research — should be using the full capabilities of native databases such as Scopus® rather than using a simplified tool that does not include all of the institution's subscription resources. Some felt the potential to miss good information was too great. Others thought the library budget would be better spent on more e-journals.
By refining the institution's EDS setup, Sadler was able to assuage many of their concerns.
Branding & Customization
Kings Norton Library and MIRC were the first to launch EDS, followed by the Barrington Library. EDS is branded as "SearchPoint" across all of the institution's libraries, but each library has its own EDS profile, meaning that each library's EDS interface has a unique look and feel and has been customized to include the content and features that best serve its user group.
In each implementation, Sadler said the institution decided to focus EDS on library materials only. They changed some of the default settings and disabled any databases containing resources not included in the institution's subscription. In addition, they improved the relevance ranking by elevating the library catalogue and set the Available in Library Collection limiter as the default.
"Customers ought to be able to get the content that they're looking for," Sadler explained. "By defaulting our EDS to 'library collection only' we are providing an arena where people can trust that their searches will lead to full text or hard copy."
To support known-item searching, Kings Norton Library's EDS home page defaults to the guided Advanced Search screen, which allows researchers to create more targeted searches by using field codes. "We expect our customers to be looking for fairly detailed information based on author or title," Sadler said.
Since some publisher content is not currently indexed in EDS, Sadler said, not all of the institution's databases could be integrated into the single search. To solve this challenge for Kings Norton Library, a library used primarily by scientists and engineers, Sadler created a number of widgets that appear in the third column of the search results page. These widgets provide users with direct access to important resources, such as Scopus, NASA and Zetoc.
"We can tailor what appears in each profile to the people using it," Sadler said.
In addition to providing a variety of flexible customization options, EDS integrates well with various Integrated Library Systems. The Kings Norton and MIRC libraries use the SirseDynix Symphony ILS, while Barrington Library uses Koha, an open source ILS. In both cases, "the implementation was an extremely good experience," Sadler said.
Benefits & Results
Sadler says she has yet to win over everyone with EDS, as there are still some librarians who prefer to teach the individual databases and the library catalogue.  But they continue to make improvements. Recently, Sadler requested feedback from one of her library colleagues who was initially skeptical about EDS.  She told Sadler that she now likes EDS and would be teaching it in her classes this fall. The librarian has since joined Cranfield University's EDS Development Group.
"Native databases are brilliant, but EDS has its place," Sadler said, pointing out that even seasoned researchers need to start somewhere. "EDS is useful as single search from the library webpage, as it includes both the library catalogue and institutional repository and is a simple way to surface quality e-resources chosen by the library from a variety of respected sources."
In the coming months, Sadler plans to launch a dedicated EDS profile for alumni. She explained that many academic resource licenses do not allow students to continue using them after they have graduated. To serve this population, Cranfield University subscribes to a set of databases licensed especially for alumni who wish to stay current in their fields, enhance their careers, or pursue lifelong learning.
"Cranfield prides itself in being forward-thinking in looking after its alumni," Sadler said. "We wanted to provide a one-stop search for all the databases together. Our alumni are busy people and if we can help them whilst saving their time […] then we will be very happy."