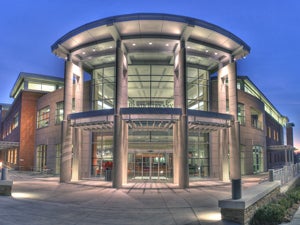 Overview
Located in Northwest Arkansas, Fayetteville Public Library serves 73,000 card holders across a 55-square-mile geographic area. To support the information needs of its patrons, the library maintains a collection of more than 283,000 items, including 28,000 e-books, 13,000 audiobooks and 58 databases. To simplify access to these resources, the library implemented EBSCO Discovery Service™ (EDS), a powerful library research tool that unifies the library's collection in one index. At the same time, the library launched a responsive new website powered by Stacks, a web-hosted content management system (CMS) built specifically for libraries. The integration of Stacks, EDS and the institution's Polaris ILS delivers an intuitive user experience that allows patrons to quickly find books, articles, movies, library events and much more with one simple search.
About 90 percent of patrons aren't aware of all the resources the library subscribes to. The real power of Stacks is exposing all those other items we want people to discover.
Fayetteville Public Library
Challenges
Prior to Stacks, Fayetteville Public Library hosted its website on an internal server. The website was static HTML, so only a programmer could edit the code. IT Director Lynn Yandell, who was hired in 2008 to administer the library's 50 servers and networks, estimates he spent at least 40 percent of his time updating content on the website, which included a web page that listed all the library's e-resources alphabetically.
"Our site was a nightmare to maintain due to all of the style sheets involved," Yandell recalled. He was also the only one who could update the website's event listings. "It was dozens and dozens of emails, back and forth, every single day. It just wasn't sustainable. I knew I wanted some kind of content management component so that others could edit and add and keep things current."
Furthermore, to reduce the storage footprint on the library's data center, Yandell wanted a web-hosted CMS that would seamlessly integrate the library's ILS, Polaris. Yandell considered other options, such as WordPress and Joomla, but neither could integrate the ILS without additional development work.
Finally, Yandell sought to improve the user experience. "We wanted to give the community things that they didn't know they needed," he explained. "They didn't really think about or know to think about incorporating the collection, or their patron account, into the website itself. So that was a technology that I wanted. I wanted to be able to expose our collection and push our collection every way we can."
The ideal solution proved to be a combination of EBSCO Discovery Service (EDS) and Stacks, a turnkey, responsive web platform with plug and play integrations and mobile apps connected in real time.
Solutions
Stacks integrates both the Polaris and EDS APIs to serve targeted content and enrich the research experience. From the Fayetteville Library home page, users can type keywords in the search box and then select Catalog, Online Articles, Materials (both catalog and EDS), or Bento Search from the drop-down menu. The default Bento Search searches EDS, the library catalog and website content and delivers relevant results grouped by category — such as events, e-books, audio or "everything." These blocks of content can be easily rearranged and the library can configure how many of each result type are presented in the search results view.
Yandell called the Bento Search the most "powerful" feature of Stacks technology because it brings together everything the library offers in one search.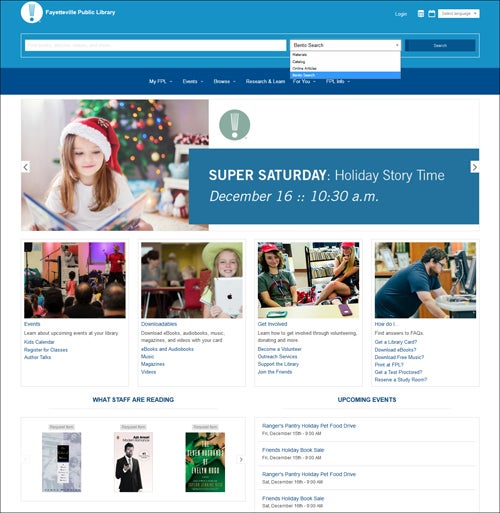 Building the library's web pages was easy with Stacks' drag-and-drop layout. From the dashboard, Yandell could create and reorganize the various elements of the library's web pages quickly and easily while ensuring a responsive user experience on any mobile device. Yandell chose fonts and colors that aligned with the library's branding guidelines, added his library's logo in the upper right corner, and uploaded images that a professional photographer took of actual events and patrons at the library.
"This platform is very easy to customize," he said. "You don't have to have any technical skills to change the look and feel and rearrange things."
During the holidays, the library included a banner image carousel across the top of the website home page to promote special or ongoing events. Stacks allows administrators to easily remove images from the carousel, insert new images, or remove the carousel component entirely.
Yandell said he also likes the flexibility of the events management feature, which allows librarians to create events or program listings, manage registrations, track attendance and generate reports from the Stacks dashboard. For events with external registration URLs, librarians can override Stacks' internal registration system.
"This is a really neat feature," Yandell said, explaining that sometimes the library hosts an event facilitated by a third party. "Our patrons may find the event on our calendar, but we can send them over to the third-party site to register right from the Stacks event entry."
With Stacks, the responsibility of updating website content no longer falls exclusively on Yandell's shoulders because he can now assign user roles to other staff members. Librarians who have permission to edit static pages, contribute calendar listings, or update book carousel images will see only those modules in their Stacks workspace.
"It's so simple to maintain the content," Yandell said, adding that the content editor is a lot like Microsoft Word. He said Stacks is also easy to manage. "Anybody, any librarian, could take over as the administrator of a Stacks site. It's pretty great."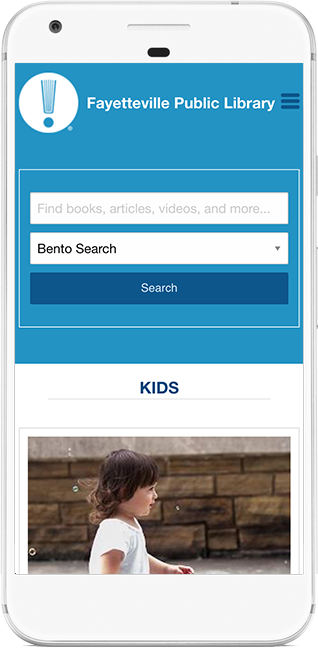 As a beta partner and early adopter of the Stacks technology, Fayetteville Public Library has provided feedback for enhancing the tool's features and functionality. Yandell said he enjoys the collaborative relationship with Stacks.
"They're a really good bunch," he said. "They're very responsive, too. If I find something that doesn't work or isn't working as expected, they're always quick to jump on it."
Benefits & Results
Since launching the new Stacks website, Fayetteville Public Library has seen a spike in usage, which means a greater return on the library's e-resources investment. Yandell attributes the increase to the more intuitive website interface.
"People noticed right off the bat the different searching capabilities, and we got some real positive feedback about how cool it is that the Bento search looks for journals and periodicals and videos and e-books and even the events," Yandell said. In addition, he said, the new categorization of resources by subject area under the Research & Learn tab makes it easier for patrons to find what they're looking for. "If somebody wants to learn a foreign language, they don't know that the resource we subscribe to is called Mango. But they can come in here [Research & Learn] and find it that way."
Stacks has also helped to streamline library workflows and increase efficiency. Since he has been able to delegate the tasks of creating and updating library website content, Yandell has more time to fulfill his other duties: maintaining the library's phone system, voiceover IP, physical security system, automated materials handling system, public computers and much more. "There's a lot to take care of," he said. "I'm looking to push more things into the cloud."
The move to Stacks has also freed up time for Yandell to focus on the library's upcoming expansion project which will see the physical space increase from 88,000 to 170,000 square feet. The library plans to add a state-of-the-art innovation center and expand its Ozarkansas Tool Library, which lends everything from gas-powered garden tillers to log splitters.
For Yandell, the decision to implement Stacks was easy, and he enthusiastically recommends the platform to any library looking to alleviate the need for their own servers, move to a user-friendly CMS, or surface more items in their library collection.
"About 90 percent of patrons aren't aware of all the resources the library subscribes to," Yandell said. "The real power of Stacks is exposing all those other items we want people to discover."