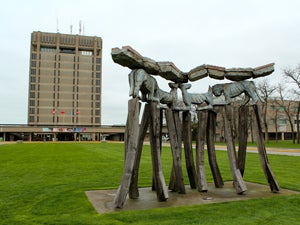 Overview
Opened in 1964 in St. Catharines, Ontario, Brock University offers undergraduate and graduate degrees in a variety of disciplines including business, education, humanities, the social sciences, and the applied health sciences. The institution, located twenty minutes from Niagara Falls, enrolls 18,000 students and employs 582 faculty and staff members. To assist these users with their research, Brock University's James A. Gibson Library offers access to 452 subscription databases, more than 30,000 full-text electronic journals, 835,474 books and government publications, almost two million eBooks, more than 32,000 sound and video recordings, and almost 670,000 microforms. With such a large collection, the Library wanted to find a research platform that would improve users' discovery of these resources. In addition, the library sought to enhance the research experience for its users with a more intuitive interface. To achieve these goals, the library implemented EBSCO Discovery Service (EDS) in September of 2012.
Challenges
According to Monica Rettig, E-Learning/Liaison Librarian, the Library had three main objectives in implementing a web scale discovery service. First, the Library sought to improve discovery of library collections, especially subscription databases that were being buried or siloed in format- or platform-specific information architecture.
Second, the Library wanted to provide a better research experience for users – particularly undergraduate students – by creating an intuitive and refreshed interface with functionality that met contemporary expectations of a search environment.
Finally, library leaders wanted to implement a discovery service that would be compatible with the Library's existing technical infrastructure.
Solutions
Implementation
Library administrators established a Web Scale Discovery Implementation Team in December of 2011. The team, consisting of Rettig and four of her colleagues, was asked to compare two discovery products – including EDS – and select one. Once the selection was made, they would need to implement the tool by September of 2012. The project was divided into three phases: Evaluation & Selection, Implementation, and Maintenance.
The first phase of the project involved gathering information, evaluating the services, and making a selection. The team contacted other academic libraries that used EDS or the other vendor's web scale discovery service. They gained guest access to test how the platforms functioned. Meanwhile, they conducted usability testing of the Gibson Library's existing tool to understand users' needs and behaviors. The team then determined that the Gibson Library's new web scale discovery service would have to
deliver fast search response times,
allow for customization, branding, and modification,
recognize natural language search behavior,
intersperse local catalog records in search results, and
rank the relevance of search results in an appropriate and vendor-agnostic way.
"There are so many decisions to make when implementing EDS or any discovery service," Rettig said. "Usability testing helped us guide our decision making."
The Discovery Team chose EDS because it would allow them to achieve their objectives without overhauling the Library's technical infrastructure. The system also easily integrated their catalog data. And since the library had previously subscribed to Academic Search™ Premier, students were already familiar with the EBSCO interface.
The Library held a beta launch of EDS – called "SuperSearch" by Brock University users – on September 1, 2012.
Customization, Branding & Access
The implementation phase allowed Rettig and her team to work with EBSCO staff in customizing the interface to meet the library's needs.
A home-grown search box, called "SuperSearch," appears prominently on the Library web site's home page and is branded with the institution's colors and logo.
Brock University provides free guest access to the library's web page. Anyone can conduct a search and get a list of results. Once users try to access subscription resources, however, they will be prompted to log in.
"It was important to us that community members could do a search," Rettig explained. "Our book content, our catalog is not locked down. It's for anyone to search. If we're going to promote EDS as the first way of accessing our resources, we want our community members to be able to look [information] up."
Users can also access the library web site from their mobile devices.
Promotion & Training
To announce SuperSearch, the Library launched a poster campaign across the Brock University campus. Rettig also encouraged Liaison Librarians to communicate the new tool to the faculty in their respective departments.
In addition, the Library initiated a Feedback Contest where users are encouraged to click a "Tell Us What You Think" button on the SuperSearch results page. The button brings them to a form where they are asked to share their experiences and opinions about SuperSearch. Those who fill out the form can enter a monthly drawing for a $25 gift card. The first month's winner received a gift card to the campus store. Next up: an iTunes gift card.
"It's our main way to push people to give us their feedback," Rettig said. "We've already made some changes [to SuperSearch] based on the feedback we've received." For example, in response to faculty inquiries about accessing the library's journal holdings, Rettig added a 'Search by Journal Title' widget.
Since the beta launch, the Library has not offered stand-alone training on SuperSearch. Instead, Liaison Librarians and Help Desk staff integrate theuse of SuperSearch into their user instruction. In addition, the library home page features a "What is SuperSearch?" link that brings users to an FAQ page. Users can also question librarians through email, phone, or online chat.
"Our hope in selecting a web scale discovery service is that it can be intuitive," Rettig said, "and you don't need to teach the tool."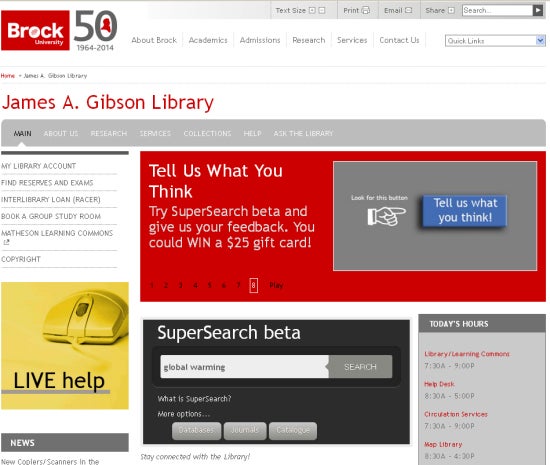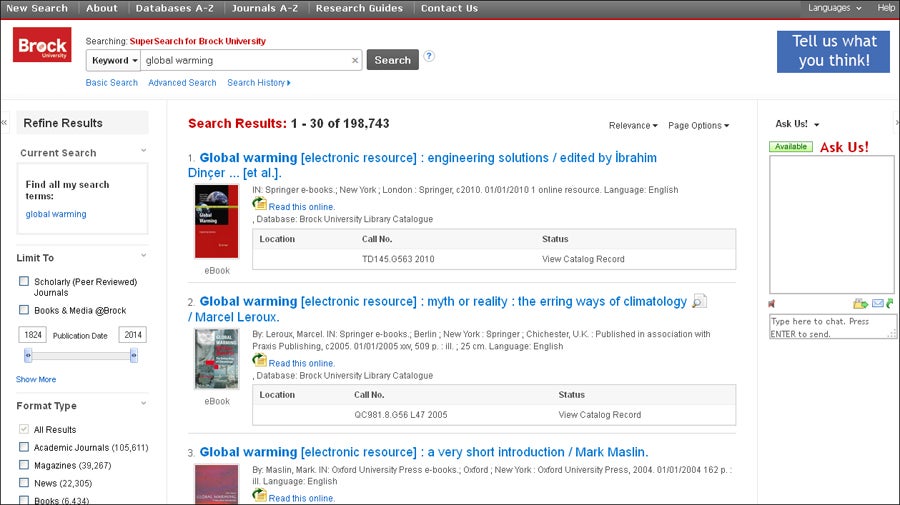 Benefits & Results
Although SuperSearch experienced more than 7 million hits in October 2012, it is still too early to fully assess the results. But Rettig is optimistic. She anticipates that the search experience will be more satisfying to users, in part because EDS can recognize natural language search behaviors.
The Library plans to begin phase three of the project in November by conducting post-launch usability testing.
"We're hoping to see some information that will help support the decisions we've made thus far," Rettig said. "The good part about being in the beta stage is that we're constantly trying to improve it."
In the meantime, Rettig said, sample feedback obtained from the SuperSearch Draw has been promising.
"I love it!" said one undergraduate student. "Being able to search in so many ways is amazing, especially if you don't quite know what you want to find."
Another undergraduate said SuperSearch is "ten times easier" than going into the individual subject databases. "All you need is one search bar," the student said. "The first article I typed in came up at the top of the list."
Several faculty members are also pleased by the new tool.
"I am impressed with the quality and quantity of information it found," said one professor.
A colleague agreed, calling SuperSearch a "very nice system. It certainly makes literature searches that much more efficient. I have been pleasantly surprised by this; it ties together the format of journal searches and book searches very nicely."
To learn more about EBSCO Discovery Service, or to request a free trial, click here.