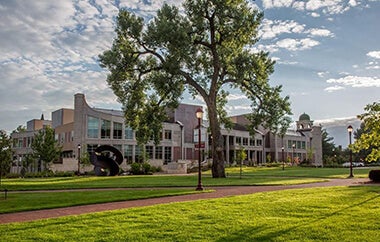 Overview
Located in Denver, Colorado, the University of Denver is a private institution of higher education offering undergraduate, graduate, and extensive study abroad programs. In addition, the university is recognized as a Very High Research University (or "R1") by the Carnegie Classification of Institutions of Higher Education and has been recognized as one of the top 100 colleges in the United States.
The library employs 20 librarians and a total staff of 65. To support the research needs of 10,000 full-time students and faculty members, the university library maintains a robust collection containing 3.2 million e-books, 1.6 million books and 1,000 databases.
Challenges
Historically, the team would utilize analytics to do one-off projects or to answer a single question. The task was so labor-intensive and reactive that staff would gather data for the one need and then move on. The library always felt the need for a more holistic approach to data — about the relationships among collections, services, spaces and users. It was the complexity of the questions they wanted to answer which involved mapping relationships between fields of different schemas in a multilayered way which many simplified analytics tools or reports can't process.
According to Michael Levine-Clark, Dean of the University of Denver Libraries, "We have been good at collecting a lot of data from various streams of sources (EZProxy, our ILS, ILLIad, Springshare, Banner, vendor statistics, etc.), but we've struggled to combine data from various platforms in various formats for deeper analysis to show comparative trends and patterns to help us make better decisions. […] We needed to have a data analytics tool that allowed proactive decision-making."
Solutions
Over a decade ago, as usage data expanded with growing electronic content, it also became compartmentalized in vendor platforms. This was the beginning of the library's search for an analytics platform. Most reporting features within administrative platforms only represented content and often these tools were labor-intensive. EBSCO reached out to Levine-Clark to participate in a focus group about what might be useful in an analytics platform, especially with expansion to combining more than just collections usage data.
"I was excited by the conversations in the EBSCO focus groups and thought it could help us solve some of our problems with managing data," Levine-Clark said. "In a sense, we were choosing a novel innovative platform and not a system from among multiple options. We viewed it as choosing whether or not to invest our time in helping develop this platform. Because it had such promise and was the first tool I had encountered that matched my vision for what a library analytics tool should be, we decided it was worth our time."
Over the following months, the library staff partnered with the Panorama product team to explore use cases and develop solutions including ease of reporting, integrations of multiple types of library and institutional data, and — most importantly — the opportunity to be at the forefront of leading-edge technology in the library space. The result of the collaboration is Panorama, a modern analytics platform that combines different library and campus data sets to enable holistic insights.
Benefits & Results
During the Panorama launch process, Levine-Clark and the implementation team scrutinized the data to ensure they were mapping the details to the correct data dashboards.
"The Panorama team is very collaborative and supportive," Levine-Clark said. "They are always willing to incorporate new data sources and explore new connections of data to build more complex analyses to help tell our library's story."
Panorama not only streamlines disparate data sources but also includes dynamic visualization dashboards that allow librarians to uncover trends and dive deep into complex data. As a result, the library noticed a couple of anomalies in acquisitions budget data, such as outliers in expenditures that could be re-coded into the correct fund codes or subject areas. The team was also able to surface bad data from the source systems very well.
"A great example was that one of our highest circulating 'books' during one stretch of time was a hammock," Levine-Clark noted. "That's right, we loan out hammocks for the students to hang on in the quad while they're studying, and we found that the item record was coded as a 'book' rather than 'equipment,' so we were able to correct that immediately."
The library is looking forward to incorporating Panorama into their workflow and leveraging a platform with secure data practices, automatic streamlining of data and dynamic visual dashboards.
"When considering whether to invest in a library analytics tool, think about all of the times you've pulled together data to try to answer a particular question and then imagine what it would be like to have that data available for you ahead of time," Levine-Clark said. "Instead of only being able to answer a specific question (and sometimes not even being able to do that), you can use the data to identify questions you may not have even known to ask."
Ready to take the next step?