What if I told you that training your library staff can and should be exciting? Research has shown that people retain information better when the learning experience is enjoyable and memorable. Whether you're onboarding new staff or having a professional development day at your library, use these five tips to make your next training session unforgettable. 
Add an icebreaker to ignite the conversation: Asking a fun icebreaker question at the beginning of the training can be a great warm-up activity to get everyone relaxed and ready for the training session ahead. You'll likely learn something new (or even surprising!) about your coworkers, and you'll have the perfect segue to your training. Also, keep the questions short enough that the icebreaker round gets done quickly.  
Get the ideas flowing: We've all been there, sitting in a lengthy training session, doing nothing but listening for hours on end. It's difficult to learn and hold onto new information when the training lacks interaction. Small group projects and discussions are easy interactive elements to add to ensure that participants are actively involved in the learning process. 
Recently my colleague, Angela Hursh, facilitated a group training activity where she asked participants to use sticky notes for brainstorming ideas. The notes were then placed on a large board where everyone could read them. This activity led participants to get up from their chairs, move around the room, engage in conversation, and feel more engaged and inspired as they worked collaboratively with others in the session. 
At Learn with NoveList, we use an online bulletin board called Padlet, where participants can anonymously publish their thoughts, discuss trends and issues concerning their library, and share images, videos, and files on virtual sticky notes. The board becomes a big repository of crowdsourced information that library staff can use as a reference later.  
Another great way to keep the training session interactive is by using polls. You can gather staff perspectives on a certain concept in real-time time. You can also use the results of the poll to engage in a broad discussion with your staff. 
Include short videos: It's no secret that videos are a valuable way of communicating information. Projections from earlier this year anticipated that 82 percent of internet traffic in 2022 would consist of video content. On average, there are over one billion mobile video views per day. What does that mean? People love watching videos! 
@gwlibrary

We couldn't not make a video with this *bop* of a song
Embed short, relevant videos into your slide deck and play them during the training to generate discussion. It will capture your audience's attention immediately, and they will have something else to watch instead of just listening to someone talk for a long period. 
Gamify the learning: When educational training activities are engaging and fun, learners are more willing (and excited!) to participate. At Learn with NoveList, we have added elements of games to our courses to make them interesting. Learners collect points as they progress in a course. With every course completion, they attain new skill badges and rise to the top of their leaderboards. This brings an element of excitement to the learning journey.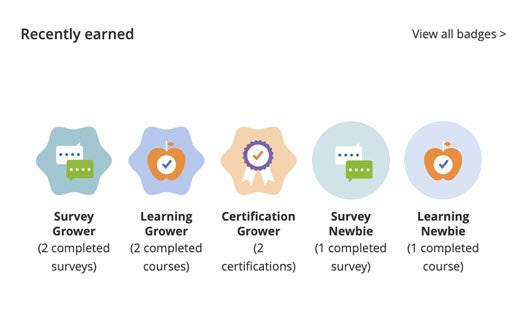 Don't skip the reflection exercise: End your training on a powerful note by providing your staff with an opportunity to reflect on the knowledge they've gained, the skills they've developed, and the learning processes they have experienced from the training. Use sticky notes to identify the most significant idea or takeaway they've learned from the training session. An ending moment of reflection helps everyone see the silver lining of professional learning and development. 
Finally, training should not be monotonous! It is a huge opportunity to strengthen the skills of your library staff. So, make the experience delightful and inspiring for your staff members.
Naima Rashid is a Learning Strategies Consultant at NoveList. She is currently reading Mostly Dead Things by Kristen Arnett.