Our customers tell us one of their biggest challenges right now is attracting people back into the library, with program attendance still far below pre-pandemic numbers. They wonder aloud if it's because patrons are still tentative about gathering in large numbers indoors. After all, they've trained their patrons to use curbside pick-up for not only books but for at-home programs like make-and-take crafts. And even with hybrid program options, getting those cheeks in seats has been tough. They'll hear a lot of interest but then they have a small turnout. Why is that? And how can libraries tie their collections to their programs?  
I chatted with Leah White, one of our graphic designers at NoveList, about this challenge of increasing program attendance. Based on what we heard from customers and her own library experience in promoting programs, Leah developed a three-part e-blast series to get more people to your programs, engage them with your collection, and help increase your success with future programs. 
Step one: More isn't better. Better is better.
Consider making this year's programs more relevant to your community's interests rather than trying to beat last year's stats on the number of programs offered. That means your library will have fewer but more impactful programs. Try a poll on social media to gauge what people would clear their calendars to attend. Talk to your community partners. Who's doing what, when, and on what topics could you partner? Steal a few clever ideas from other libraries. Programming Librarian is a good start. Great content for a well-planned program will set up your promotions for success. 
Step two: Get them signed up.
People are more likely to show up for something they're committed to attending and can make a difference in increasing your turnout. Requiring registration sends the message, "This event matters and will be popular, so be sure to save your seat." The most effective way to make sure everyone knows about the event and can sign up easily is to send an e-blast to patrons who might be interested in the program. LibraryAware makes it easy to set up subscriber interest groups for targeted emails.
Does this program have a more general appeal? If you gather e-mails at library card signup, pull that list, and send your e-blast to everyone. Or take my colleague Angela Hursh's advice: "With changes headed to Twitter and the ever-changing algorithms across social channels, everyone should build their email list because it's our best chance to reach everyone in the community. Allow opt-ins for everyone, even people without a library card." (Check out Angela's Marketing Foundations course on Learn with NoveList for more strategies). With LibraryAware, there are no limits to the size of your subscriber list, so you won't pay extra to reach everyone. Use a clear headline that registration is now open, an eye-catching image or graphic, succinct text about what attendees will learn or do, and event details like date, time, and place. Most of all, add a button to click to register, which is way more effective than just linked text.  
Step three: Remind them to attend.
I don't know about you, but "so much to do, so little time" is my theme song. It's likely the same for your patrons. Send a second e-blast to those who registered with a reminder about the program they signed up for and links to add the event to their calendars. And yes, promote your library newsletter where they can find more events. Repetition, repetition, repetition. It works!  
Step four: Connect them to your collection and get feedback.
Your third e-blast will go to attendees and is a great chance to suggest books and other resources for ongoing learning and inspiration. Be sure to show those book jackets – remember, keep things visual! LibraryAware provides millions of book jackets and DVD covers you can pop in and link to your collection in just a few clicks. Was the event recorded or offered as a hybrid program? Share a link. Then use a brief survey to learn what people thought of the program and what they'd like to attend in the future.  
Step five: Stop, look, and listen.
Before barreling into your next program promotion, take a good look at what worked well and the feedback your attendees offered. Sometimes a program doesn't get great attendance for reasons beyond your control. Often, though, there are clues if you'll pause, look over your survey results, and talk with other staff or partners who attended the program. This extra step will make all the difference in your future programs.  
No designer on staff? That's where LibraryAware makes all of this even easier. All three e-blasts in two different looks are available now in our new Drag & Drop Email Editor. Just search "Event Promotion" to see them. Or select any of our professionally designed e-blast templates as a starting place to create your own e-blast series. Too many results? Use our Collections filter to refine your results by "Events and Programs."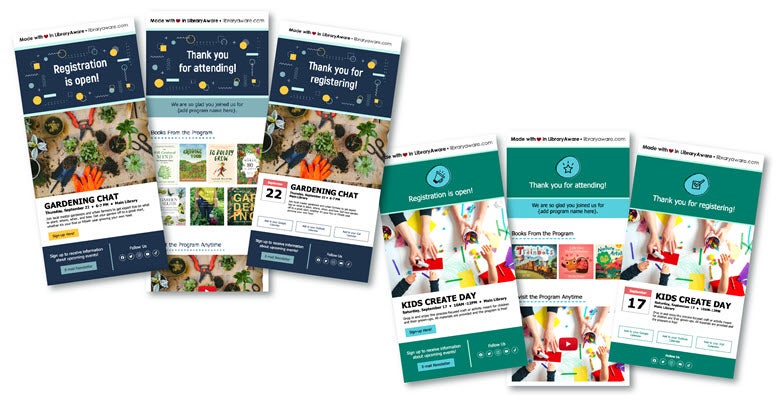 With just five steps, you'll be able to fill more seats at your programs. We'd love to see what you create and hear how well it helped your library. Share your success story with us!  
Kathy Lussier is the Manager of Engagement & Services for NoveList. She is currently reading Firekeeper's Daughter by Angeline Boulley.