Want to know when your favorite author releases a new book?  Sign up for an author alert and let NoveList do the heavy lifting for you.  
Let's say you adore the author Isabel Allende, and you've just finished reading The Soul of a Woman. You think, "Wouldn't it be great if I could get notified when new titles by Allende are added to NoveList?" We have you covered! 
Type AU Isabel Allende in the search bar. (AU is the field code for author. For more tips on using field codes, check out our handy field codes cheat sheet). Then click on bell icon (Create alert for this search) on the search results page.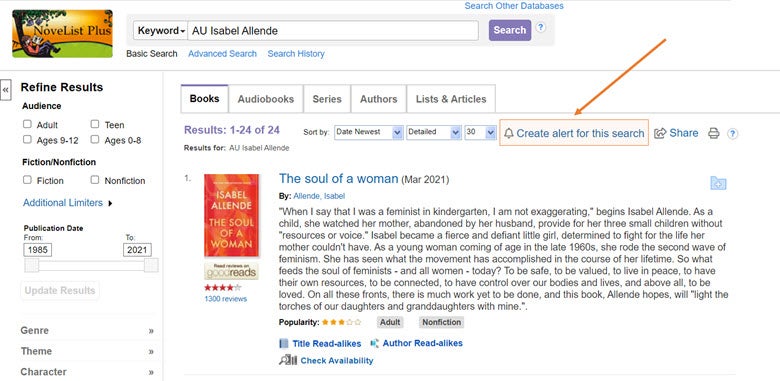 You'll see a pop-up screen, asking you to sign in to create your alert. You'll choose how often to receive the alert and the type of format in which you'd like your titles to be listed: either brief or detailed. Then select the time frame to get alerted to newer titles within the last month, two months, six months, or a year.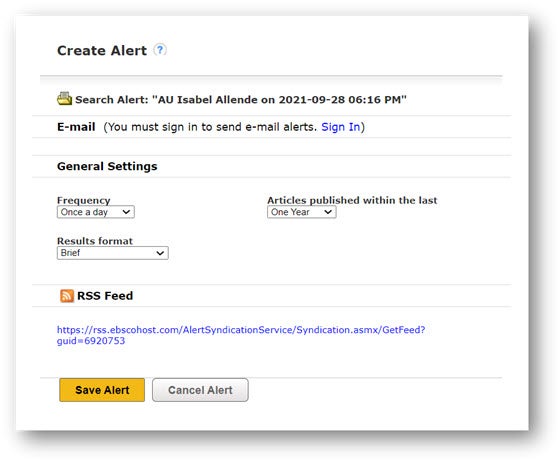 If you'd like to get an alert about a specific series, you can use the series field code ST and then the name of the series. For example: ST Legacy of Orisha to get notified when book three in Tomi Adeyemi's spectacular Legacy of Orisha trilogy arrives in the database.  
Let NoveList keep you ahead of the curve so that you can keep your displays, reading lists, and patrons up to date. 
Jen Heuer Scott is Marketing Specialist for NoveList. She is currently reading The Soul of a Woman by Isabel Allende (Coincidence? I think not!) and is eagerly awaiting Allende's new novel, Violeta.