The past year has been a challenge, and we all need some respite. For many of us this comes in the form of superheroes. While serious fans look forward to Free Comic Book Day on the first Saturday in May, this year (the 20th anniversary of FCBD) the powers-that-be have decided to move the date to August 14th in hopes it can be held in person.  
In the meantime, your patrons are going to need a little something to tide them over.  Most recently fans have gotten some fodder with movies like Wonder Woman 1984 and TV series like WandaVision, and will likely see Black Widow, Shang-Chi and the Legend of the Ten Rings, Zac Snyder's Justice League, The Falcon and the Winter Soldier, and Loki before FCBD. 
Given the abundance of requests for superhero comics and stories you will inevitably be getting from your patrons, let NoveList make your job a little easier (we're like Alfred giving an assist to Batman). Fans will tell you that not all superheroes are created equal and may be very specific depending on their feels. Since books featuring superheroes have unique characters, settings, and storylines, we created themes to provide you with better recommendations. Love WandaVision? While Wanda is human and Vision is an android, both could be considered Human 2.0 (this theme gets double duty as a science fiction theme). Getting ready for The Falcon and the Winter Soldier or Zac Snyder's Justice League? Search for Assemble! Looking forward to Black Widow FINALLY hitting theaters? Natasha "Black Widow" Romanoff would be labelled No power, still super.  
A full list of our super themes can be found in The Secret Language of Books, but here's a list of some of the more common ones (no x-ray vision needed): 
Assemble! – TEAM – Together Everyone Achieves More (and stops more villains too). (adult, teen, ages 9-12) 
Multiverse encounters – Wait – you mean there are two of us? (adult, teen) 
Cosmic and mystical beginnings – Part superhero, part wizard or god. (adult, teen, ages 9-12) 
Origin story – Gather round and learn how it all began. (adult, teen) 
Reboots and retcons – New storyline, new setting, new time period, new clothes, new attitude! (adult, teen) 
Born this way – Congratulations! It's a superhero! (adult, teen, ages 9-12) 
No power, still super – It takes hard work to get to be this good. Now, if you'll excuse me, I have a million push-ups to do. (adult, teen) 
Sidekick spotlight – Sidekicks get a promotion. (adult, teen) 
Super-families – Families that fight together, stay together. (adult, teen, ages 9-12) 
Super subversive – Watch these superheroes undergo a major change in disposition. (adult, teen, ages 9-12) 
For the patron who wants to know how a superhero came to be, search: TH origin story 
Combine themes to help those very specific patrons. For example, search: TH born this way AND TH Assemble! 
Superheroes appear in materials at all age levels. To limit your search to a specific audience level, add the field code RL. For example, to find materials with superhero teams for ages 9-12, search: TH Assemble! AND RL 4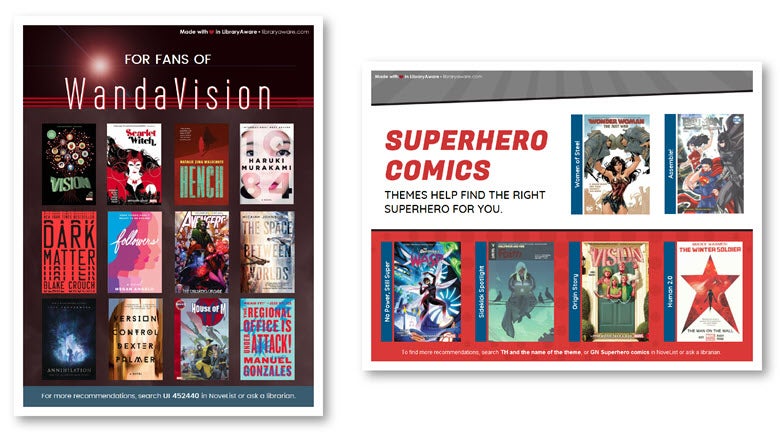 Now, pull your cape a little tighter (because we know librarians are the real superheroes) and help your patrons find the perfect read. 
---
Suzanne Temple is a Metadata Librarian II at NoveList.