Library staffers have a love affair with posters. We have so much to offer our visitors and only so many hours in the day. A well-designed sign is often our best marketing tactic.  
The advent of digital signage has been a revelation for libraries. The ability to share messages on a digital screen, with its flexibility, has opened a new world of promotion for librarians. 
Digital signage in libraries is more than a marketing tactic though.  A report by Lavi Field Study found that digital signage decreases the perceived wait time at a business by about 33 percent. In other words, it keeps people standing in line pre-occupied and makes them feel like they haven't waited as long. So, if you have a busy library, digital signage can increase customer satisfaction at the checkout or reference desk. 
And while libraries are asking patrons to practice social distancing, wear masks, and limit the time they spend in the building, a digital sign can compel visitors to interact with library services or resources with minimal staff contact. You want your digital signage to lead to action. Here are some tips to help you create engaging and memorable digital signs.
Choose digital signage software system that gives you maximum flexibility. You want to schedule signs to appear and disappear on any day and at any hour you choose. You may want to show signs in only one part of your building, or in specific branches. The more flexibility you have in your software, the more effective your digital signage will be. 
Try to predict how visitors will interact with your screens. Spend a few moments observing the area where the digital screen is located. How do people move about the space? Does the screen catch their attention naturally, as they walk or wander, or do they intentionally have to look at it? 
This simple information will help you design a graphic that will capture attention and share information that your library users will retain. It will also help you to time your slides. Leave graphics up long enough to be read… at least 10 seconds per slide.
Consider your library's overall strategy when programming your digital signage. Most libraries use their digital signage to promote programs.  But your library has other strategic goals, like supporting early literacy or increasing circulation in a certain part of your collection. Your digital signage rotation should include a mix of general messages or evergreen content tied to your library's overall strategy. 
Don't forget to promote your collection on your digital signage. Use the screens at checkout to entice people waiting in line to choose one more book from the shelf.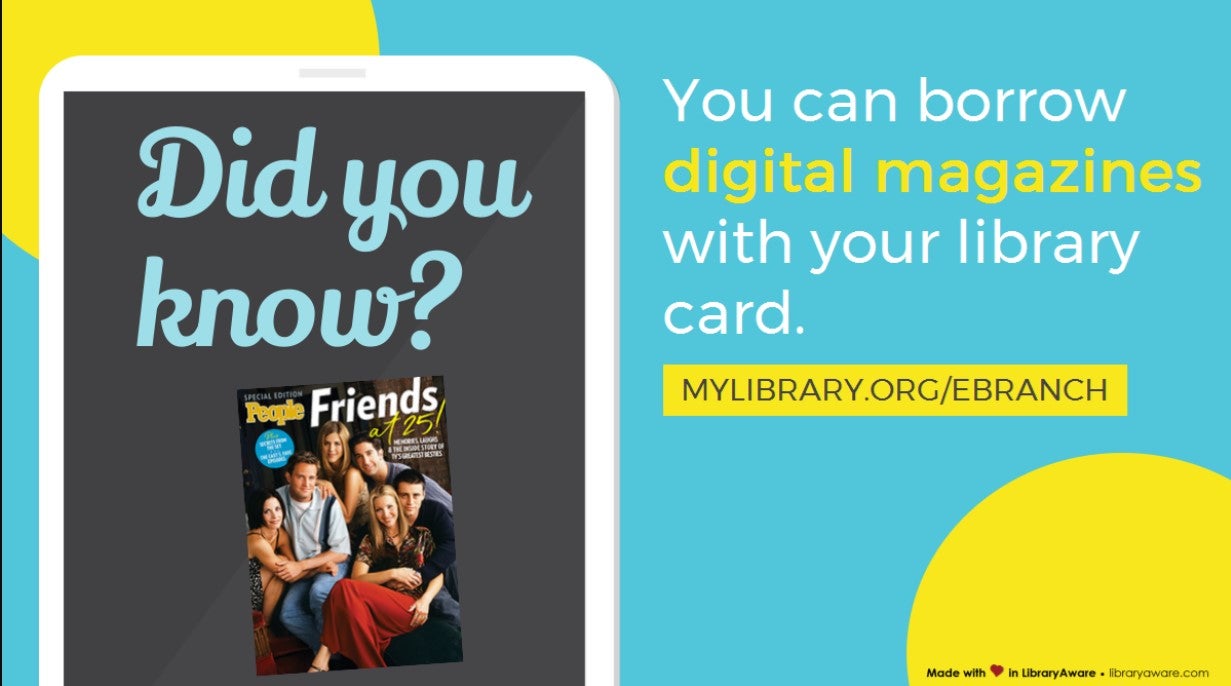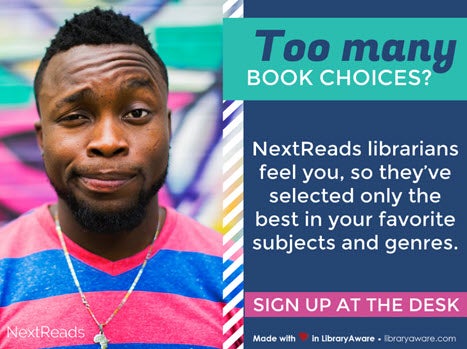 You can also use digital signage to convince people to come to the desk and sign up for your library newsletters or to register for an event. 
Pro tip: If you are a LibraryAware subscriber, you can create digital signage using widgets. Use the thousands of widget templates in LibraryAware to promote your events and books with event carousels on your website or digital signage on your library screens. A widget is a virtual container that holds one or more rotating images. The widget code can be added to most display screen software that accepts image URLs. 
To create digital signage, determine the size and aspect ratio you will need. After you edit your template, you can then save the item as an image and import it into your software.
Design your graphic with simplicity and impact. Library marketers often try to put all the information about a program or event on a slide. This makes the screen look cluttered and less inviting to the eye. The use of white space or negative space increases reading comprehension by almost 20 percent. So, if you are promoting a program, include only the bare details:  the date, time, and location, and a line that directs patrons to get more details from staff. Don't include a URL unless it's easy to remember.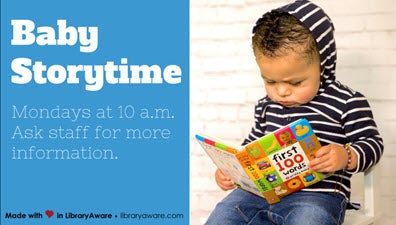 Use a large, simple font. Avoid library-specific words. For example, non-librarians read "magazines," not "periodicals." When's the last time you said "databases" in a conversation outside of a library? Use "online tools" or "e-resources" instead. 
Cut down on the number of slides you display. I know this seems completely counterintuitive. But if you focus your efforts on strategic programs or services, you'll see better results. Plus, people will only see two or three slides (unless your lines are really long!). Make those slides count. If you have a service that demands a large portion of your budget and solves a big problem for many of your customers, then put your efforts into promoting that service with digital signage.
---
Angela Hursh is Senior Engagement Consultant for NoveList. She is reading All the Broken People by Leah Konen and listening to The Memory Keeper's Daughter by Kim Edwards.