It's a digital world out there.  
That statement was true last September but it's even more true this September. Whether or not your library has opened its doors to the public yet, your patrons have (re)discovered all you offer online — ebooks, eaudiobooks, Flipster magazines, continuing education, book recommendations, and more. If your community is asking for it, chances are good that your library has been offering it online for years. And not only do you want your patrons to find your e-books, but you also want them to know that they are coming from you, their local library.  
It's a digital world out there and you want your patrons to see the library first — as the provider of reliable, credible, vetted resources.  
This isn't limited to resume help, health information, and voter information. When your community wonders who to ask for reading recommendations, you want the library to be the first resource that pops into their heads. That recognition is part of the year-round advocacy that pays off at budget time or when you have a funding measure on the ballot. 
Here are three ideas (and one bonus) to keep your library top of mind: 
1. Show up when your patrons search for books in Google. Linked Library Service and Linked Library Enrichment transform your MARC records into web-friendly formats. That's the technical what. The impactful why is that your library will show up in the knowledge panel with someone in your community searched for a book you own.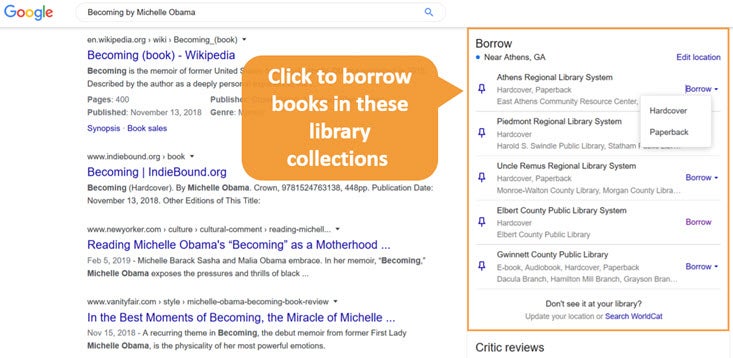 2. Include book recommendations in your newsletters. Designed with libraries in mind, LibraryAware makes this easy. Book jackets, publisher descriptions, links to your catalog — it's all included. NextReads, part of LibraryAware, makes it even easier. NextReads provides book recommendation newsletters to your patrons with little to no work on your part. They sign up to get recommendations about their favorite genres. An email goes out with your branding and links to your catalog. It's all designed to put the library first in the minds of your readers.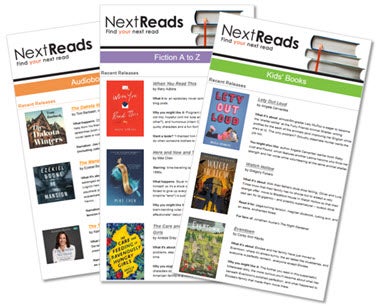 3. Turn your library catalog into a way for your patrons to discover new books while in their jammies with NoveList Select. Your readers turn to your catalog because they know they can get books. NoveList Select's recommendations, story mixer, awards lists, and more to help your patrons see that your library is the place for them to discover the gem they haven't read yet. 
BONUS: If you have NoveList Select and your library uses SimplyE, did you know you can add NoveList recommendations to your SimplyE app?  
Having your library show up first, making sure it's your library branding your patrons remember, and that it's your library experience your patrons think about does more than get great book recommendations in their hands. When bond issues come up, your community will think of your library first. When it's time to refresh job skills, your community will think of your library first. When that great small business idea strikes, your community will think of your library first. 
Your library offers great things. So, put yourself front and center. 
Jennifer Lohmann is the Director of Sales and Marketing for NoveList. She's currently reading Djinn Patron on the Purple Line by Deepa Anappara and listening to Everything Isn't Terrible: Conquer Your Insecurities, Interrupt Your Anxiety, and Finally Calm Down by Kathleen Smith.