The world of Narrative Nonfiction is vast. If you want to know something, feel something, explore a time, place, or culture, take a deep dive into the unknown or explore a favorite topic, Narrative Nonfiction has a book for you. I read broadly in nonfiction, picking and choosing books based on a current interest (the American Revolution, for example, or how data is used/abused) or a deep dive into biographies, science writing, or some other subgenre. Some nonfiction readers stay within a theme; I had one reader who would read anything, so long as the book was broadly about man versus nature. 
In the Crash Course in Narrative Nonfiction, Belinda Blue and I gave a broad survey of what's available to readers in Narrative Nonfiction, defining what Narrative Nonfiction is, what it is not, and books where the line between Narrative Nonfiction and just plain ol' nonfiction is blurred. We covered some of our favorite subgenres as well as good appeal terms to use when searching NoveList. If you didn't get a chance to join us live, you can watch a replay. And if you're looking for a suggestion of where in Narrative Nonfiction to get started, take a look at the five books Belinda and I recommended. 
Fuzz: When Nature Breaks the Law by Mary Roach
Mary Roach is a beloved science writer, known for her mischievous sense of humor, willingness to be a research project, extensive curiosity, and taste for the strange. Fuzz, her newest book, investigates the places where humans and wildlife bump into each other, asking questions like how forensics are used to understand which animal is responsible for an attack and what to do about birds at the Vatican. To say her books are light reads is to undersell her wit and the ethical questions she explores through her unconventional look at science. 
The Splendid and the Vile: A Saga of Churchill, Family, and Defiance during the Blitz by Erik Larson
Erik Larson is another prolific and prominent writer of Narrative Nonfiction. He writes about history, crime, and biography with a compelling, richly detailed style. Readers struggle to put his books down at night. The Splendid and the Vile is focused on the charismatic, quirky, and problematic character of Winston Churchill and his immediate circle as Britain tried to withstand the destruction of the Blitz and the fear of a German invasion at the start of World War II. 
Empire of Pain: The Secret History of the Sackler Dynasty by Patrick Radden Keefe
Empire of Pain is one of the best examples of how a great work of Narrative Nonfiction can appeal to a variety of readers with different interests. This book is the history of the Sackler family who invented, marketed, and sold OxyContin. Rather than focusing on the victims of the opioid epidemic, Keefe turns his attention to the villains of the story and how they maneuvered to dominate the market even as the dangers of the drug were clear. Empire of Pain is a business book, a family history, and a true crime story all wrapped up in a riveting, Godfather-style read. To quote my father after he finished the book, "I hope the Sacklers get prison wing named after them and get to spend the rest of their lives there."
The Body: A Guide for Occupants by Bill Bryson
Bill Bryson is an eclectic, funny author of science, biography, history, and travel. Like all his books, The Body is a great read for someone looking for humor as well as readers who love to dabble in different topics, learning a little about this and then a little about that. While never diving deeply into any one topic, he entertains the reader while informing them about body facts that seem like they should be false but aren't, dispelling popular myths, and exploring all that makes up the skin, bones, and organs that keep us all alive. 
The Warmth of Other Suns: The Epic Story of America's Great Migration by Isabel Wilkerson 
The Warmth of Other Suns is the sweeping story of the Great Migration, the time between 1915 and 1970 when almost six million Black people from the South fled north and west in search of a better life. What makes this book so powerful and so accessible is that Wilkerson turns her attention to people, following the lives of three main protagonists during three different phases of the Great Migration and underpinning the stories of Ida Mae Brandon Gladney, George Swanson Starling, and Robert Joseph Pershing Foster with hundreds of interviews of other participants in the Great Migration. Wilkerson is a powerful storyteller and beautiful writer, sinking the reader into the time, place, and events that drove this mass exodus.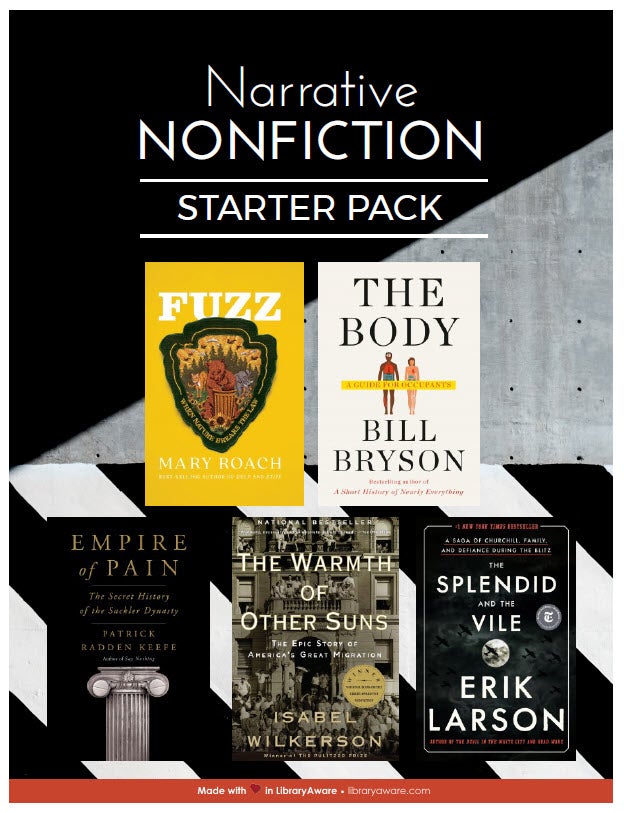 ---
Jennifer Lohmann is the Director of Sales and Marketing at NoveList. She is currently reading Ninety Percent of Everything: Inside Shipping, the Invisible Industry that puts Clothes on your Back, Gas in Your Car, and Food on Your Plate by Rose George.