2020 was different. Your jobs are different. Your lives are different. We'd like to give you the chance to explore some of those "other duties" you've taken on as libraries have closed, opened with restrictions in place, moved services online, and figured out how to keep serving your community while not knowing what tomorrow held. NoveList librarians and guests will discuss strategies for collection development, readers' advisory, and online programming. In between sessions, catch 15-minute microtrainings of how to apply some of the concepts speakers discussed to the products you have. This special event is open only to subscribers of NoveList products. During lunch, we will have highly interactive breakout sessions where you can discuss with colleagues strategies and solutions to the challenges you are facing right now.
As this event is open to NoveList customers and subscribers only, be on the lookout for an email from NoveList on January 13th. 
Then mark your calendars and get your cat and your tea and cozy up for a day of learning and sharing. Oh, and did we mention swag *and* prizes? Come to the NoveList Day of Learning and not only will you receive our digital swag bag but you can also enter our drawing for prizes including a grand prize of one RA Foundations professional development session for your library. 
Date: Wednesday, February 10th 
Time: 10 am – 6 pm Eastern Time (EST) Also available in GMT and AEDT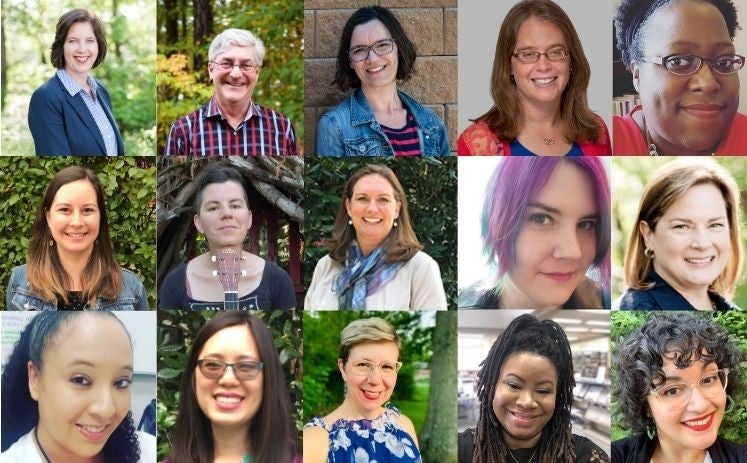 10:00-10:15 am Welcome from NoveList Vice President Danielle Borasky 
10:15-10:30 am RA Evolution:  Going to Where We Have Been Before
Duncan Smith explores how our future is contained in our past. The fundamental pillars of RA service: discovery, discernment, delivery have not changed but the ways we are providing these services has. The balance between these three has, and the relationships that these changes enable provide libraries with opportunities to reclaim their importance in the reading lives of their users. Sit back, relax, and enjoy this talk that bounces from Emily Post to Star Trek.
10:30-11:15 am Flip Your Focus and Think Like A Reader: RA Basics Renovated
Readers' Advisory is a service that has evolved from a transactional experience to a whole library conversation. Join Autumn Friedli and Becky Spratford as they share tips on how to encourage all staff to use their own love of their favorite books to help any patron find their next great read. Presented in four segments – Sharing Anything Whether You Read It or Not, Conversation Starters, The Art of the Handoff, and that final step, Inspiring All Staff to Help with RA Service – Autumn and Becky will share their easy to replicate and customize tips and tricks to providing vibrant and interactive service to all readers. 
11:15 – 11:30 am Microtraining: NoveList Plus
11:30 am-12:15 pm Islands in the Stream: Navigating the waters of Collection Development 
2020 was the longest, most topsy turvy year. You may have escaped it only to find you have new roles and responsibilities. If Collection Development is one of your surprise other duties as assigned, you are not alone! Robin Bradford and Kendal Spires will help make it both easier and enjoyable.
12:15-12:30 pm Microtraining: Core Collections
12:30-1:15 pm Digital Storytelling: Moving Your Storytime Online
Do you have questions about how to transition your storytime online? Join Amy Godfrey, of Little People, Big Questions: Conscious Storytime, and Brierley Ash, NoveList Metadata Librarian, for a presentation about telling stories using digital tools. Learn about different platforms available, advice about live versus prerecorded events, tips for engaging and interactive storytimes in a digital environment, and more!
1:30-2:00 pm Concurrent Breakout Sessions A
Space for these highly interactive breakout sessions is limited to the first 150 registrants. Breakout sessions will not be recorded.
Readers' Advisory: During the Pandemic and Beyond
Readers' advisory has been online for as long as there's been an online, but many readers newly discovered that they could ask their library for reading suggestions on Facebook or send an email to get personalized reading recommendations. Chat with other library workers about RA successes (and learning moments) during 2020 for ideas to bring into 2021.
 
Collection Development Challenges When Your Services are Limited
Collection development changed in 2020. The entire nation suddenly discovered that libraries have digital materials and usage skyrocketed. Libraries who have reopened found patrons clamoring for print again – or not wanting print materials at all. All of this means new challenges for collection development. Take this opportunity to chat with your colleagues about your collection development challenges and solutions and hear theirs as well.
2:15-2:45 pm Concurrent Breakout Sessions B
Space for these highly interactive breakout sessions is limited to the first 150 registrants. Breakout sessions will not be recorded.
Promoting Your Library's Collection
Facebook, Twitter, Instagram, digital browsing on your website, newsletters, form-based readers' advisory, book displays – the options for promoting your collection are vast. Hear from your colleagues and share your stories about collection promotion in a moderated discussion.
 
Programs, Events, and Services: How 2020 Will Inform 2021's Plans
In 2020 many library workers suddenly had to learn how to host book clubs, storytimes, author events, craft programs, and more virtually. All these new programs had to be promoted – online. Chat with your colleagues about what worked for your library, what didn't, and get ideas for your 2021.
3-3:45 pm Surprise! Contactless Browsing to Keep Readers Coming Back
Patrons are unable to browse the stacks at many libraries, making finding new reading material particularly challenging. If your patrons are in a reading rut or need a contactless (and fun!) way to discover new books, you'll want to hear from Elena Gleason about Hillsboro Public Library's wildly popular "surprise bundle" program. It's something your library can do, too! Elena and Kathy Lussier will also discuss ways libraries of all sizes are innovating new browsing experiences for their patrons, ranging from high-tech to no-tech.
3:45-4 pm Microtraining: NoveList Select Dashboard
4-4:45 pm Email Newsletters: Easy as 1-2-3
Learn the ins and outs of email marketing from Samantha Bonnette and Jessica Lin. Keep in touch with your patrons virtually and learn how to start your own email newsletter from creation to implementation to celebration. Understand your metrics and learn how to get more eyes on your library, services, and events.
4:45-5 pm Microtraining: LibraryAware
5-5:45 pm #Library: Digital Readers' Advisory
Need help reaching your readers? Explore tips and tricks for effective form-based and social media reader's advisory for all audiences from Monique Christian-Long and Yaika Sabat. From targeting different ages to finding the recommendations you need, you'll get an overview of how to help your readers outside of the library.
5:45-6 pm Closing remarks 
Hope you are as excited as we are for this event. We look forward to seeing you. Follow #NoveListDayofLearning on social.
---
Lori Reed is the Marketing Specialist for NoveList. She is currently preparing for 2021 by rereading The Bullet Journal Method: Track the Past, Order the Present, Design the Future by Ryder Carroll, and Getting Things Done: The Art of Stress-Free Productivity by David Allen.