With Summer Reading winding down, the new school year ramping up, and #LCSUM on the (very close) horizon, libraries have a lot going on right now. How do you develop programs, manage daily duties, and keep readers of all ages and interests engaged in reading at the same time? Let's catch up with the classic turned trendy reading challenge. 
Reading challenges have long been methods of keeping younger readers engaged over summer and holiday breaks or hitting 1000 books before kindergarten. However, reading challenges can provide a great opportunity to reach a wider audience – think Book Riot's Read Harder Challenge, Popsugar, or (perhaps the best) the NoveList Reading Challenge. In recent years there has been a steady increase in reading challenges that include a variety of prompts to get all types of readers to read all kinds of books and perhaps get out of their comfort zones.  
Forsyth County Public Library (FCPL) is a four-library system plus a bookmobile in Cumming, GA. Deputy Director Stephen Kight started an internal reading challenge in 2020 as a way to get staff reading more and reading a broader range. Many of the categories that first year focused on #OwnVoices and diverse reads as well as reading books set in less familiar locations. "It was a way to help staff broaden their horizons a bit more and become more familiar with some genres or subjects they may not have known as much about," said Jeff Fisher, Materials Services Manager at FCPL.  
In 2021, FCPL created a new reading challenge and opened it up to the public. Each month features a prompt (though some readers are jumping around the year, not necessarily reading in order).
Their full list is here:
Reread a Childhood Favorite or Read a Children's Book Published within the Last Five Years 
Read a Book That was Made into a Movie or TV Series 
Read a Book in a Different Format or Genre than You Usually Read 
Read a Book of Poetry or a Play 
Read a Book Published in the Decade You Were Born or the Decade you Started High School 
Read a Book By or About Someone with a Similar Background to Your Own 
Read a Book by or About Someone with a Different Background from your Own 
Read a Book you Discover by Using the Appeal Mixer Feature in NoveList Plus or the Media Mentions Feature in NoveList Plus 
Read a Biography, Autobiography, or Memoir 
Read a Book Discussed at an FCPL Booklist
Read an Award Winner or Nominee 
Read a Book on Your 'To Be Read' Pile or Give a Book You Didn't Like a Second Chance 
If you're thinking about starting your own reading challenge, Jeff Fisher has some advice for you. First, plan early. "Don't try to throw it together at the last minute," said Jeff. Even more importantly, "really involve a decent amount of people in the planning just to come up with some good categories and get some different perspectives."
So if you are wrapping up the year with your reading challenge, or looking ahead to 2022, here are some ideas to consider:
1. Create reading logs
Offer patrons book journals or reading logs to track their progress in your challenge. LibraryAware offers book journal templates that make it quick and easy to do. Just print out the professionally designed cover, back, and internal journal pages for patrons to pick up at your circulation or information desks or fold the pages into a booklet to hand out at curbside. Add the prompts for your library's challenge right in the journal!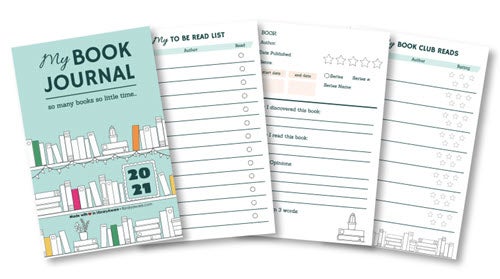 2. Use NoveList!
FCPL uses NoveList Plus features like Media Mentions and Appeal Mixer right in their reading challenge prompts. But you can use NoveList as your secret weapon for all kinds of prompts. For example, for "Read a Book by or About Someone with a Different Background from your Own," one search example would be AG Nonbinary AND AC Canadian (Please note: not one-size-fits-all 😊).
3. Promote, promote, promote!
Sharing news and regular updates on your library's blog and social media is a great way to engage your community and keep participants informed and involved. Announce the challenge and each month's prompt throughout the year in your library's newsletter. Take a look at how FCPL is promoting on their blog and Facebook:
4. Tie in to a display in the library
Some prompts provide great fodder for library book displays (or even virtual displays on your website). For example, for "Read a Book you Discover by Using the Media Mentions Feature in NoveList Plus," create a Books with Buzz display! Or, put together a display of award winners and nominees.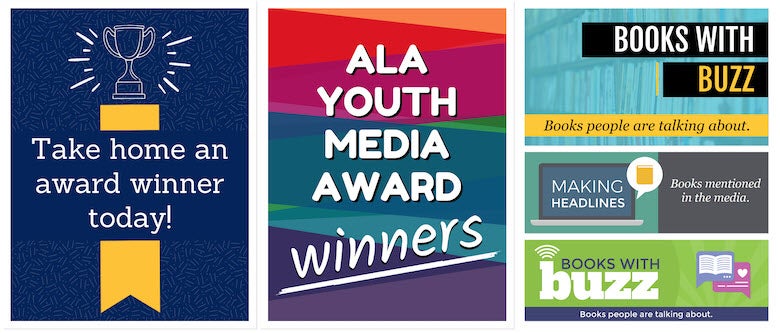 5. Feeling ambitious? Start a podcast!
Whether your doors are currently open or not, a podcast is a great way to reach readers. Unreadable by the staff at FCPL is used to share news, upcoming programming, and reading recommendations. In this episode they shared some details and discussion about their 2021 Reading Challenge: 
Molly Wyand is a Communications Specialist at NoveList. She is currently reading Shuggie Bain by Douglas Stewart for the prompt "Read a Book by or About Someone with a Different Background from your Own."