I know it's completely cliché, but nothing is cozier than a reading nook next to a window on a snowy day. Give me a pot of tea and a page-turner, and I'm in heaven, even when the temperatures dip below zero, as they sometimes do where I live in Ohio. Some people think winter is for the birds… but I love it. And for libraries, those cold winter days are a prime opportunity to showcase your library by organizing a Winter Reading Challenge.  
Winter reading programs are relatively new. While summer reading programs tend to focus on getting children to read and visit the library, winter reading programs are usually aimed at adult readers. These programs are a chance to encourage your readers to try new formats, like eBooks or streaming movies that don't require a trip to your branch. And your winter reading challenge can demonstrate the role your library plays in building community during a time of year that can be isolating for some.   
If you're looking to increase circulation or get your current cardholders to use their cards more often, winter is the perfect time. Here are seven steps to make sure this year's winter reading challenge takes the cake at your library.   
1. Pick a theme.
Let's start with the fun step! You want a theme with a clear look that evokes an emotion that relates well to the winter reading season: warmth, coziness, and the pure joy of a good book. Your theme should include graphics that you can use both in print and digital marketing. You want something that is recognizable to a reader. When they see your theme, they should say, "Oh, this is part of the winter reading challenge at my library!"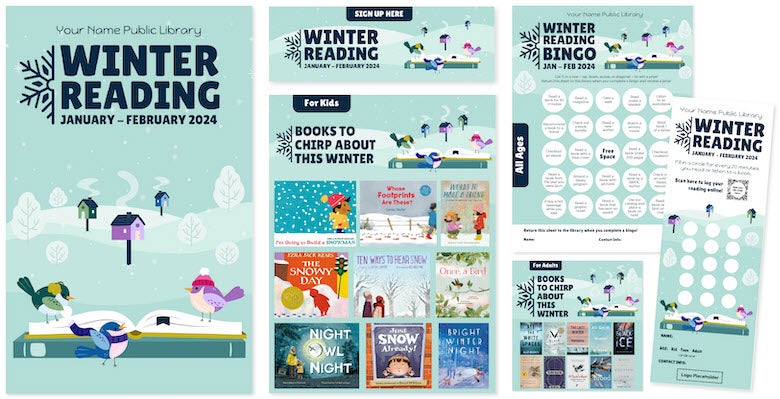 2. Make participation simple, fun, and rewarding.  
Don't ask your participants to jump through complicated hoops to earn a prize. Your winter reading challenge (and all reading challenges) should be straightforward: 
Read 
Log your reading 
Claim a prize
If you want to push participation in programs or use of other services, I suggest making that a bonus! Let people earn extra prizes or points toward prizes by attending programs, if that can be done safely (because driving in the snow and ice is a skill!). You can also reward people for watching a streaming video or listening to free streaming music, perfect for those who can't make it to your library. 
3. Create themed reading lists.  
This is where your staff can really have some fun and show off their expertise. Use NoveList to search for books set in winter, in a variety of genres. Make sure to include a few set in your town or city! You can also create an "anti-winter" reading list with choices for people who would like to read about someplace warmer! 
4. Drop the library card requirement.  
Dropping the requirement to get a library card sounds counterintuitive. But it opens your program up to a whole population of people who don't regularly use the library, particularly those in under-served communities. It makes your program more inclusive. And for those who can't make it to your branch because of the cold and snow, it's a goodwill gesture. Instead of asking that participants have a library card, ask for email addresses. Compile those non-cardholder emails into a subscriber group and send them a series of emails during the winter reading challenge that showcases everything the library offers. Then, after the program, send them an email with an online library card application form and ask them to join your community of library readers.  
5. Ask partner organizations to help you promote.  
Now is the time to "call in favors" with your partner organizations. Ask them to show support and help build your winter reading challenge. 
If you don't have partners, you can use winter reading to build partnerships (which will certainly be useful when summer reading time arrives!). Ask local realtors and rental agencies if they can hand out a winter reading promotional piece to prospective homeowners or new renters. Give information and promotional pieces to daycare providers, teachers, recreational centers, your local zoo, your local park board, and other civic organizations. You can even ask restaurants, winter gear, and sports stores to include a winter reading promotional piece in their takeout bags! 
6. Use your email list to its full potential.  
If your winter challenge goal is to increase the number of readers and the number of materials they read, then keep suggesting things for them to read! This is a great time to promote parts of your collection that don't get a lot of use, like online graphic novels, downloadable magazines, and your backlist titles. 
Send two to three suggestions to your cardholders every week during your winter program. Nope, that's not too many emails! Your readers will start anticipating your weekly recommendations. Use those emails to remind your cardholders to mark their reading logs and share what they're reading on social media or to a special email inbox. 
7. Put good customer service on display.  
Even with the snow and ice, a winter reading challenge will boost visits to your library. You'll also get more visitors to your website. Make sure you are friendly and respond to all comments and questions. 
Stress the importance of good customer service to staff, including those who work on responding to comments and questions via email, chat, and social media. Give them talking points to help them promote a few year-round services and challenge them to pick one to mention during every customer interaction. 
Put your expertise on display front and center on the website. Is your staff great at giving reading recommendations? Do you have an amazing e-newsletter? Are your videos fun and innovative? Use winter reading to promote the best of your year-round services and collection items.
---
Angela Hursh is the Manager of Engagement and Marketing for NoveList. She is currently reading Happiness Falls by Angie Kim and just finished listening to Tom Lake by Ann Patchett, which is her favorite book of 2023.