It's never too early to learn about social justice and the value of living in an equitable society. Introduce children to the concept that everyone deserves the same right and opportunities with a social justice storytime. Sharing books, rhymes, and songs that build empathy can also inspire our youngest learners. These positive experiences create a foundation for anti-bias attitudes and empower both children and their caregivers with everyday activism. 
This program offers a space for children to learn about themselves, others, and how we can all contribute to making the world a better place for everyone. In addition to traditional storytime elements like books, rhymes, and songs, a social justice storytime can include group discussions about the content presented. 
Best practices for a social justice storytime:
As well as promoting the program in-house, reach out to community partners like preschools, child care centers, food pantries, health care providers, and social service organizations to expand your audience.
In addition to books that champion overt social justice issues, include books with themes like fairness, belonging, and friendship. 
Embrace inclusivity by using books that feature gender-nonconforming roles or behavior, show variations of family types and include empowered characters from marginalized groups. 
Keep track of the books you read and look for gaps in diverse representation. 
When using flannel rhymes or stories which involve people, use a variety of skin tones, hair and eye colors, and abilities. Include clothing seen all over the globe. 
Similarly, when creating flannel pieces depicting homes, include mobiles homes, apartment buildings, and other types of dwellings. Not everyone lives in a single-family detached home. 
Play music in languages other than English to incorporate a variety of languages, tempos, and musical styles. 
It's crucial to allow time for discussion and reflection. Plan an extra 10 minutes into your program for this component. Allow space for them to form their own opinions rather than directing them towards a firm right or wrong answer. If children ask questions that catch you off guard, it's ok to say that you need more time to think about it. These honest and respectful discussions with children model positive behavior for caregivers in attendance, too. 
Find books for your storytime:
"Family" Recommended Reads Lists, Ages 0-8: These lists feature around 20 titles each and cover a range of families and family structures, including adoption, foster care, divorce, extended family, grandparents, and more. Search: ND Recommended Reads AND (SD Family OR SD Families OR Adoption OR Foster*) AND RL 8.
"All Kinds of Lives" Recommended Reads Lists, Ages 0-8: These picture books include families from the Latinx, Christian, Indigenous North American, South Asian, African American, Muslim, LGBTQIA, Multiracial, Immigrant, East Asian, and Disability communities. Search: ND Recommended Reads AND TT Family Lives AND RL 8.
"Celebrating Identity" Theme: This new theme includes joyful narratives that celebrate all kinds of diversity, including those within families. Search: TH Celebrating identity AND RL 8. 
"Antiracist literature": Books with this genre inspire a deeper understanding of racism and how to work against it actively. Search: GX Antiracist literature AND RL 8.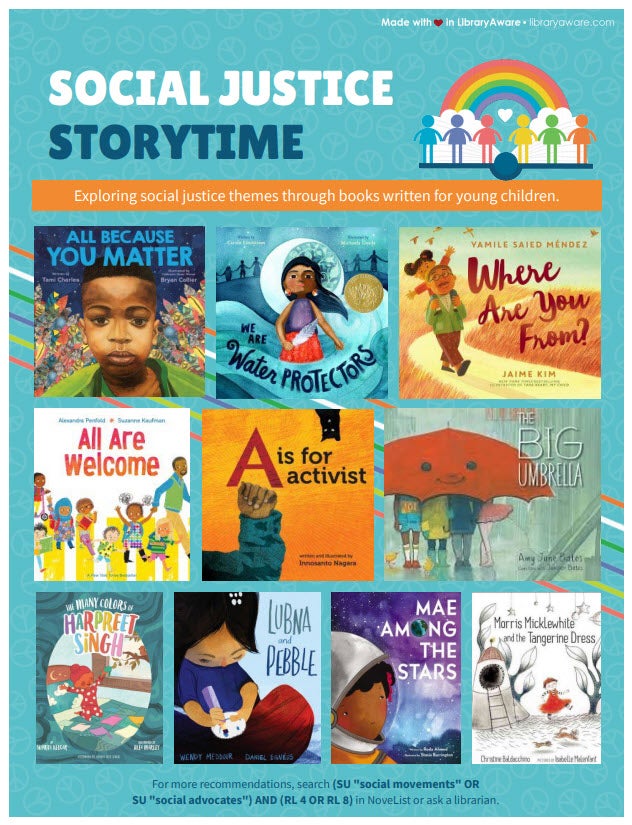 To find other resources for inclusive storytimes, try the search: DE "Programming" AND DE "Storytime" AND ND "Readers' Advisory" 
This article is a condensed version of an article in the NoveList database. Customers with access to the NoveList database can find the full version in NoveList with the search: UI 452345. 
---
Sophie Kenney is Assistant Manager of Children's Services at the Aurora Public Library (IL) and focuses on early literacy and diverse programming. She reviews for School Library Journal and Kirkus Reviews. She has served on several ALSC committees including the Randolph Caldecott Award and currently co-chairs the Equity, Diversity, and Inclusion Task Force.