Ever wonder what library users worldwide are searching for in catalogs just like yours? At NoveList, we've got the data. 
Here are December's top ten titles searched in library catalogs that include NoveList Select — the last list of 2021 and *another* one that features a #BookTok title:
The Lincoln Highway by Amor Towles
Wish You Were Here by Jodi Picoult
The Midnight Library by Matt Haig
Cloud Cuckoo Land by Anthony Doerr
The Judge's List by John Grisham
The Dark Hours by Michael Connelly
The Last Thing He Told Me by Laura Dave
Go Tell the Bees That I Am Gone by Diana Gabaldon
Mercy by David Baldacci
It Ends With Us by Colleen Hoover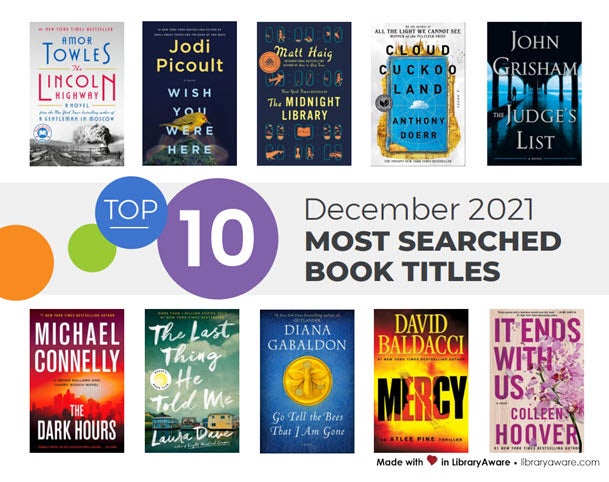 Libraries with NoveList Select can use our Analytics Dashboard to see their NoveList Select usage data from any web-enabled device, anywhere, any time. This dashboard provides a window into how your library's patrons are viewing and interacting with information in the catalog.
New to the NoveList Select Analytics Dashboard? Take a two-minute tour:
Sign up for a training
NoveList Select helps your readers find their next favorite book and helps you learn more about what your community is reading. Join us for an overview of the reader-focused features in your catalog and how to use the Analytics Dashboard to inform your collection development and promotion strategies.
Molly Wyand is a Communications Specialist at NoveList. She is currently reading A Ghost in the Throat by Doireann Ní Ghríofa.