Happy Halloween! We bet you can guess who not only cracked the list this month but shot straight to the number one spot…it's Britney, witch. There are lots of other shakeups on the list this month, with page-to-screen power on full display in spots two and three, and perhaps Maas has begun her reign as the new #BookTok queen?
Here are October's top ten titles searched in library catalogs that include NoveList Select: 
The Woman in Me by Britney Spears
Killers of the Flower Moon by David Grann

Lessons in Chemistry

 by Bonnie Garmus

The Exchange by John Grisham

Fourth Wing 

by Rebecca Yarros

Tom Lake

 by Ann Patchett

Demon Copperhead

 by Barbara Kingsolver

None of This Is True

 by Lisa Jewell

A Court of Thorns and Roses

by Sarah J. Maas

The Last Devil to Die

by Richard Osman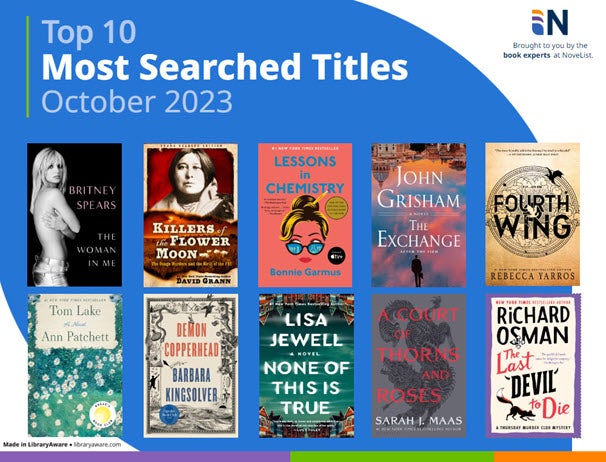 For a special Halloween Top 10 list treat, we crunched the numbers to see which horror titles saw the most catalog traffic this month. While there are a few surprises, this list is heavy on genre-defining classics and big names in horror, old and new(ish). What this might mean is for horror fans (and the horror curious), Halloween is an opportunity to revisit the classics. This makes it more impressive that Orlando's debut, The September House, and McMahon's Darling Girl hold their own amongst juggernauts of the genre, though both were recognized in LibraryReads.
Here are October's top ten horror titles (including ghost stories) searched in library catalogs that include NoveList Select: 
Fairy Tale by Stephen King
Frankenstein by Mary Wollstonecraft Shelley

Coraline

 by Neil Gaiman

How to Sell a Haunted House by Grady Hendrix

The September House 

by Carissa Orlando

The Haunting of Hill House

 by Shirley Jackson

Dracula

 by Bram Stoker

My Darling Girl

 by Jennifer McMahon

Out There Screaming: An Anthology of New Black Horror 

edited 

by Jordan Peele

The Shining

by Stephen King
Libraries with NoveList Select can use our Analytics Dashboard to see their NoveList Select usage data from any web-enabled device, anywhere, at any time. This dashboard provides a window into how your library's patrons are viewing and interacting with information in the catalog. 
If you have questions about setup or your organization's dashboard, email us at novelistselectsupport@ebsco.com. 
---
Sam Stover is a Senior Product Manager at NoveList. He is currently reading A Confederacy of Dunces by John Kennedy Toole. 
Molly Wyand is the Communications Specialist for NoveList. She is currently reading White Tears/Brown Scars: How White Feminism Betrays Women of Color by Ruby Hamad.