Every year, hundreds of my friends gather at the Library Marketing and Communication Conference (LMCC). Now in its sixth year, this conference is a place where library staff can learn and share ideas about the difficult but important work of promoting library services and collections, internal communications, accessibility, diversity, and more. 
LMCC was originally scheduled for Indianapolis, Indiana. But of course, the pandemic made that impossible. So, conference personnel created a virtual experience, which I was fortunate enough to attend. 
I missed seeing everyone in person, but the virtual conference had some advantages. More than 200 library staff attended the live event; others purchased the recordings which were offered at a reduced price, including many who said they would not have been able to attend otherwise. We enjoyed some lively chats during the sessions. And daily virtual breakout rooms let attendees congregate and talk through the lessons they learned. Here are my top five takeaways from this year's conference. 
1. Your community must be at the center of every library decision. 
Easy access to library services is more than just making sure branches are open and operational. Libraries must think about everything that may be a barrier to use. How easy is it for your community members to get a card? Does your library charge a fine for late materials? Are your library programs filling a community need, or is your library creating programs out of habit? The answers to these important questions are at the heart of good customer service. And good customer service is key to making sure libraries survive and thrive in tough times. 
2. Library accessibility is essential to equitable service. 
One in five people around the globe live with a disability. There are three straightforward ways to make your library marketing more accessible to these community members. 
First, create an accessibility statement and make it as easy for people to find as your circulation policy or standards of library behavior policy. Your statement should include information on the accessibility of your physical buildings, the accessibility of your vendor-provided services like e-books and databases, and your library's stance on service animals, support personnel, and assistive technology. Include contact information, so community members can report a concern or ask a question about accessibility. 
Second, make sure all videos on social media, YouTube, and your website are captioned. Finally, add descriptive text to all images on your website, social media, and in email. Be sure to really describe what is going on in the photo, so people using a screen reader can get the full experience of the image. 
Pro tip: LibraryAware subscribers can add alt text to images in e-blasts by clicking on the "Alt Text" button along the top bar of the editor. To add alt text to widgets, click on the image and then select "Alt Text" in the top right-hand bar of the editor.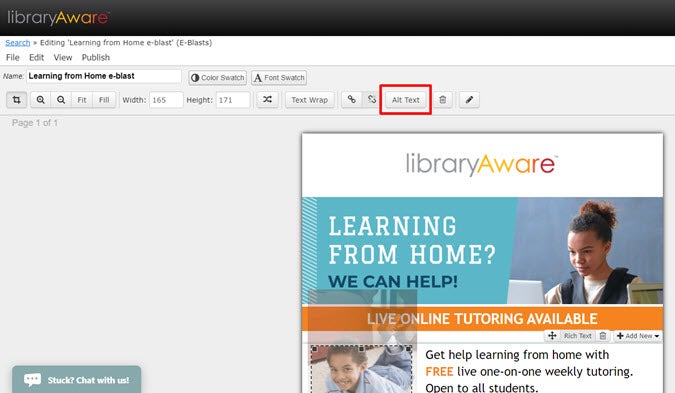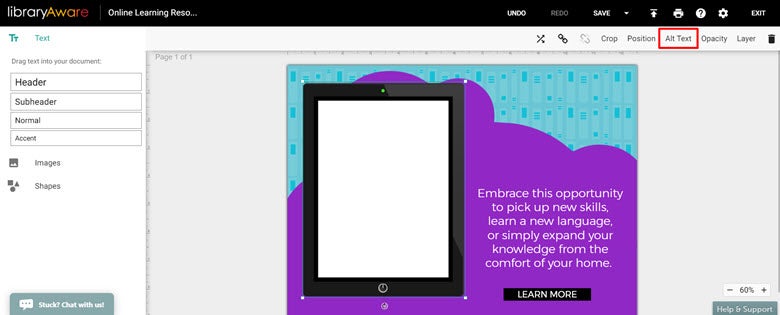 3. Libraries can take a stand during times of unrest. 
Many library staff members want to respond to calls for social justice in their community. They can do so in many ways, including creating empathy through book clubs and moderated small group discussions. Libraries can lead the way for productive conversations by sharing strategies for disagreeing respectfully and practicing good listening skills. It seems like a monumental task, but community members look to the library for a safe space to have these discussions. So, start small and stay focused.  
Pro tip: Use NoveList and pair SU with subject headings like "Black lives matter movement" or "income inequality" to find resources and books to help get the conversation started. 
4. Libraries can promote their digital resources to educate the public and combat disinformation. 
A crisis of trust affects all of us, and fake news sites are on the rise. But libraries have a powerful role to play in fighting back. Teach your community how to fact check everything they hear and read, even from people they trust. Engender a sense of questioning and excited curiosity in your patrons. And use your platforms like social media, e-newsletters, and your blog to empower your community to find sources and identify disinformation. Promote your online databases and resources and explain to your community how to use these sites to fact-check. A quick how-to video or a virtual program with a library staff member explaining basic principles of media literacy will go a long way to help stop the spread of fake news.  
5. Crisis communications planning is essential. 
At some point your library will face a crisis. It might be a transmittable disease, like COVID-19. It might be a power outage that lasts several days and closes several branches (that happened to my former library!). It may be more severe–a fire that destroys a branch, a violent argument between customers, or an administrator caught doing something illegal. 
As upsetting as it is to contemplate, your response to a crisis can be calm and measured if you plan. Take time now to make decisions about how you'll handle a crisis. Create a system-wide disaster communications plan. Decide who will be authorized to speak to the media on behalf of the library and how you will disseminate information in a timely manner. 
Pro tip: LibraryAware subscribers can use templates to create signs, graphics, and emails for communicating during a crisis. Type "COVID" or "utility" into the search bar to find templates. 
Angela Hursh is Senior Engagement Consultant for NoveList. She is currently reading Good Talk by Mira Jacob and listening to Between the World and Me by Ta-Nehisi Coates.