At a Glance
Athens Regional Library System
Athens, GA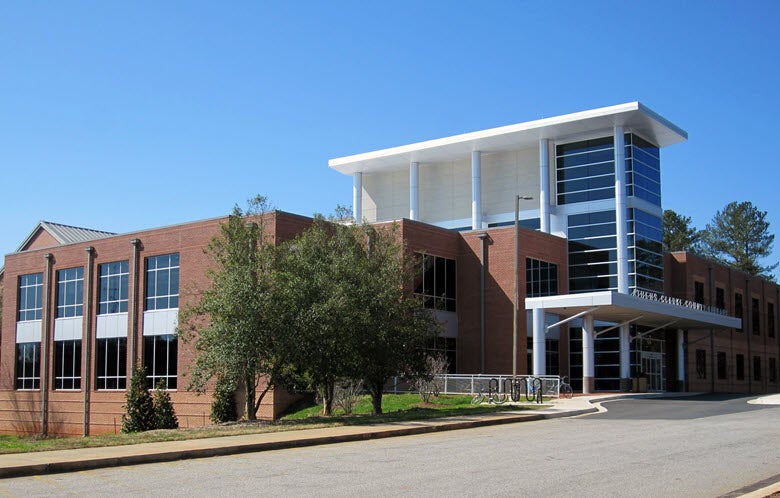 Overview
Athens Regional Library System is located in northeast Georgia and consists of five counties and 11 branches and resource centers. The total population of the area is just over 220,000 people. They serve a metropolitan area (Athens-Clarke County), a suburban community (Oconee County), and rural and farming communities such as Madison, Oglethorpe, and Franklin counties. Athens-Clarke County is also the home of the University of Georgia (Go Bulldogs!), meaning it also serves a student population of 65,000. 
The library headquarters, located in Athens-Clarke County, serves all of the other counties. Each county has its own budget, making the system operate more like a consortium. Valerie Bell is the Executive Director of the system. Rhiannon Eades is the Public Information Officer, serving the main branch in Athens-Clarke and assisting with communications needs around the region. 
Athens Regional Library System has subscribed to LibraryAware since 2013. Beginning as a part of a pilot program for LibraryAware from the Georgia Public Library Service, they have found that LibraryAware streamlined designing fliers and other marketing materials across their multi-branch system. And in 2020, they were able to leverage their LibraryAware subscription to tackle the constantly shifting needs of both patrons and staff during the pandemic, including communicating changes at the library, creating digital and print materials, transitioning to virtual collection promotion and programming, and engaging patrons in new and exciting ways.
The Pandemic/March 2020
Athens Regional Library System closed on March 15th, one of the first libraries in Georgia to do so. Before the pandemic, the staff was working towards making more virtual offerings but did not have a robust online presence. "All of that stuff moved into high gear," said Valerie. 
They knew that the website and social media would be the new means of reaching out to members of the community. Social media needed to get ramped up to get information out. "It was very important to me as a professional librarian to make sure that our public gets accurate information about COVID, accurate and efficient information and communication about the COVID virus," said Valerie. 
"LibraryAware has helped make communicating about our pandemic updates and our collection easier and more consistent because our materials have a cohesive look."
Public Information Officer
Athens Regional Library System
Once the library was closed, Valerie began working right away on a reopening plan and what that was going to look like. "It was an incredible time with very little sleep and a lot of work that needed to happen. But that happened across the country with libraries everywhere, so I didn't feel completely alone in that," said Valerie, "We were trying to be responsive to the needs of our community. Every time something changed, we were trying to that information posted."
Building an online presence
Like many libraries at this time, the staff were working from home, shifting everything to digital, such as beginning an online reference chat and digital library cards, to name a few. One week after closure, the staff at ARLS hosted their very first daily virtual storytime. "This was very impressive as we had never done this before. I'm really very proud of my team," said Valerie. 
One step towards creating a more robust online presence, that was already in the works before the pandemic, was building up a system-wide Intranet. It was a goal to create this as a way for employees across the region to have easy access to the same materials. The communications team could post flyers and posters there, allowing easy, consistent, and seamless communication and print on demand for all branches and branch staff.  "LibraryAware has helped make communicating about our pandemic updates and our collection easier and more consistent because our materials have a cohesive look," said Rhiannon.
"We recognize that our public gets their information from different sources, so we have been posting regular social media posts across various platforms to keep the community aware of library changes and increases in services, in addition to regular website updates and signage in our buildings." 
Athens Regional Library System
By the end of May, ARLS began its curbside pickup service. "I used LibraryAware a lot to get ready for this — flyers and web graphics — just so we could have a cohesive look," said Rhiannon. Staff were able to create graphics about masks and handwashing, social distancing, and new procedures for returning books. Once these graphics were created they could be uploaded to the Intranet and accessed from wherever they were working. 
The Athens Regional Library System staff used LibraryAware to create all of their libraries' signage and handouts listing service updates and hours and eventually welcoming patrons back into the library. Additionally, they've created and sent newsletters and information updates to their subscribers using LibraryAware. To promote their collection, they've created "virtual book displays" to share on social media, encouraging patrons to explore the collection based on various themes. "We've used this idea to celebrate legacies of deceased authors and notable people, showcase new materials and create engaging posts highlighting books related to fun themes, like 'National Bacon Day,'" said Rhiannon. As multiple staff work on these "virtual book displays," using LibraryAware has ensured the consistency of the visual brand and provided a simple way to keep items organized and easy to find for scheduling social media posts.
Successful communication in a pandemic
Athens Regional Library System started with a curbside service that was a completely contactless service beginning in May. In September, they moved to the next phase of reopening, which allowed patrons to enter the building with a set of strict guidelines. 
The curbside service was very popular with the community, to the point that some don't want the service to go away. One of the things that the library made available is a book concierge service. A patron or parent can call with a request such as, "my child likes dinosaurs" and later pick up a curated stack of books about dinosaurs selected by a librarian. 
Athens-Clarke County Library is an early voting location and election precinct. So this next phase of the reopening was crucial. This is in part what inspired Valerie to create a video. "I wanted us to do a video about opening. I wanted it to be fun. I wanted it to be positive. I didn't want it to be coronavirus-heavy. Everyone was dealing with this, and we needed it to be fun and to let people know that we were back open and providing our services in a different way."
Valerie wanted the focus on staff and their working and continuing to provide services. She knew they needed a way to communicate with patrons about the way things were changing while also providing a visual to show how things had changed in the library before patrons came in. A message of,  "We look forward to seeing you again. And we want to keep everyone safe. So here are the things you need to know before you come into the building." A video seemed to be a natural fit. Valerie and Rhianon worked with a team to write a script, film, and Communications Associate Caleb Guice edited. Rhiannon created signage using LibraryAware to note all of the changes in the space and new rules in place.
The video was well-received by the community. It was shared with the library system's board members, in the library newsletters, and on the newly updated website. It was posted and shared across social media. 
Today
Communication has remained a key focus for Athens Regional Library System. Now the staff listen for updates on vaccine information and where people can get vaccinated to get that information out into the community. Like everything else COVID-related, change is constant. 
"We recognize that our public gets their information from different sources, so we have been posting regular social media posts across various platforms to keep the community aware of library changes and increases in services, in addition to regular website updates and signage in our buildings," said Valerie. LibraryAware makes it easy to create social media images that are just the right size to share on different social media platforms.
Digital circulation is up over previous years, which is not entirely surprising but worth noting that expanded website offerings and digital promotion have proven effective. Each department of the library is also in the process of expanding their own webpages and using LibraryAware bookrivers to highlight new titles in the collection. LibraryAware allows the staff to update the new titles regularly without needing to have a webmaster update each department's webpage for each library.
Since the libraries of ARLS have reopened their doors, staff members are starting to create physical book displays once again, such as a Thanksgiving display that pulled a variety of cookbooks together for patrons to peruse. They have also kept up with virtual displays including highlighting some fun holidays like Homemade Bread Day or Parrot Day, and then some displays featuring all too familiar patron queries such as "The cover was red." All of these items are saved in a folder in LibraryAware called "Digital Readers' Advisory." Staff members at any location can make their own flyers and images to share on social media by simply saving the items in this folder.  
In the days to come Valerie and Rhianon will continue to keep their community informed with all COVID-19 updates. They're also working to keep their community engaged. With National Library Week approaching and creating promotions and materials in LibraryAware for DEAR (Drop Everything And Read), volunteer week, and encouraging community members to join the Friends of the Library and Board. "It's been and continues to be a really good, coordinated effort across all branches," said Rhiannon. "They've really pulled together to engage the community and each other."