As we approach the end of 2023, it's time to prepare for the new year by announcing the 2024 NoveList Reading Challenge. Many of us get into a reading rut and only realize it once we change up what we're reading. We're all about trying new things to broaden our reading habits. So, to help you easily add variety to your TBR, we're continuing our tradition of giving you a challenge prompt for each month of the year.   
If you need help figuring out where to start with these challenges, don't worry; we'll share suggestions monthly on our social media channels. Plus, just like we did this year, we'll create longer lists of title options via our 2024 NoveList Reading Challenge recommended reads lists, which you can find on the homepage of NoveList and NoveList Plus. For those participating in this year's challenge, our 2023 NoveList Reading Challenge lists will remain available until mid-December. 
Want to use our reading challenge to inspire a challenge specific to your library? If you're a LibraryAware customer, you'll find fully editable versions of the tracker and challenge prompts available. Use our challenge as-is or change it to fit your community's unique interests.   
You can even use the challenge to inspire displays or programs at your library. Create a display pairing movies and books for March or highlight your manga collection for May. Host a silent book club for April, where readers can come and read their book individually but in the same space as others. There are so many ways that you can make each month's challenge work for your library.  
Keep reading to see each month's prompt for next year's challenge. We can't wait to kick off another year of reading with you! 
JANUARY: Start off the year exploring new authors by reading a 2023 debut. NoveList tip: Search for the genre "Debut title" 
FEBRUARY: Read a romance or love story starring Asian characters.   
MARCH: Read a book from the last five years that's been adapted into a movie or TV series. NoveList tip: Search for the genre "Page to Screen"  
APRIL: Discover the joy of communal reading! Read to or in a group of two or more.   
MAY: Read a standalone manga or the first volume of a manga series.  
JUNE: Keep it quick by reading a novella.  
JULY: Read a book set in Australia or New Zealand.   
AUGUST: Enjoy a mix of magic and the macabre with a dark fantasy. 
SEPTEMBER: Get ready for the coziest season by reading a cozy mystery.  
OCTOBER: Embrace the scary by reading a creepy horror novel or ghost story.   
NOVEMBER: Read a novel by an Indigenous author.  
DECEMBER: Wrap up the year by reading an award-winning book from the last three years.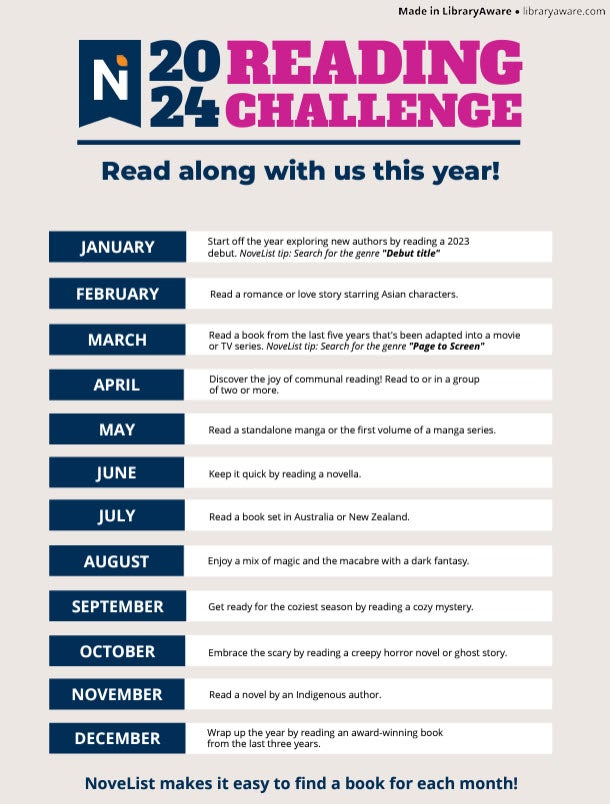 Happy Reading!
---
Yaika Sabat is the Manager of Reader Services at NoveList. She's currently reading Jackal by Erin E. Adams.