I love LibraryAware. Before joining NoveList as an Engagement Consultant in 2021, I was part of a communications team for a rural library system where I used LibraryAware daily. I created materials for both the system and our member libraries, and I couldn't have done it as quickly or created such beautiful materials without LibraryAware. So, when I came to work at NoveList to do product training, I was thrilled! I knew I would get to show library staff that LibraryAware makes their jobs easier and is just plain fun to use. 
Here are the seven things I get the most excited about showing library staff during LibraryAware training: 
1. Find inspiration for your next promotion. 
Do you need to create an enticing book display or a new program but are drawing a blank for the theme or topic? Don't panic! LibraryAware makes it easy to browse for inspiration. 
Check out our featured template carousels on the LibraryAware homepage. We've got New Releases, where you can browse 50 newly released templates. LibraryAware Staff Picks shows off 10 templates selected by our staff as timely and relevant. And my favorite carousel, Trending Now, features 40 templates being used the most at other libraries right now. These carousels are updated frequently, so be sure to check back often.

2. No design experience? No problem.
Do you inwardly cringe at having to create attractive promotional materials? While I've always enjoyed being creative and getting to flex my artistic muscle, I don't have a background in graphic design and often didn't feel confident about creating promotional materials. But with LibraryAware, that was never a problem! LibraryAware offers thousands of library-focused templates created by graphic designers with library experience who stay on top of library trends, pop culture, and what's hot in publishing, so your promotional materials are always relevant. We have something for every promotional need, including: 
your programs (from storytime to gardening to reading to dogs, and so much more)  
your collections (try a keyword search for "for fans of" for great pop-culture tie-ins)   
your services (book bundles, book delivery, personalized RA? Yes, please!) 
your value (try searching the Collection "Library Advocacy")

3. Layer and position elements with ease.
When moving around elements such as text, images, and shapes, do you wish it was easier to make sure you are aligning and layering them properly? It is when using positioning tools! While in the Drag & Drop Editor for print and widget slide templates, before moving an element, turn on the positioning guides by clicking the gear icon at the top right of the page and click to toggle on Grid Lines and Rulers. Click on an element to adjust the size and rotation with the Position tab and move elements in front of or behind each other using the Layer tab.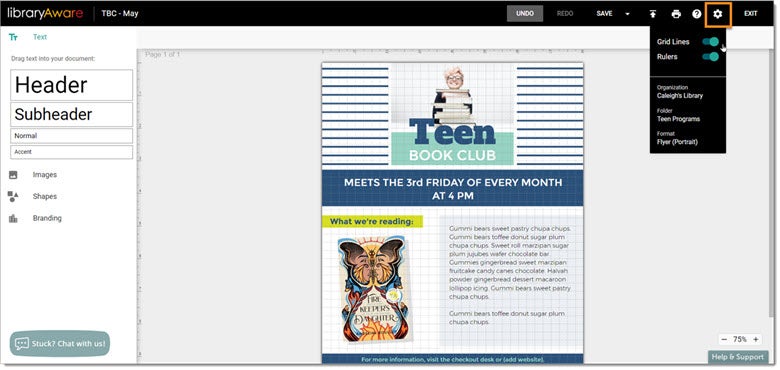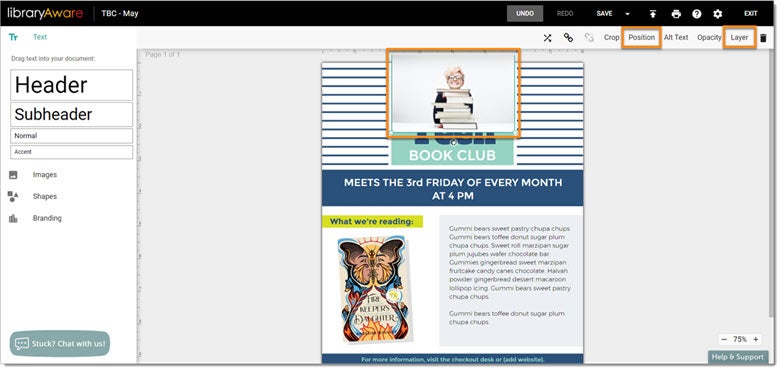 4. Save time by creating and scheduling social media posts.
Do you wish you could use a single program to create and schedule your social media posts? Great news — you can connect your library's Facebook and Twitter accounts to LibraryAware and post your LibraryAware items directly to those platforms. Even better? You can schedule future posts to save yourself time. Create and schedule all your holiday closing posts for the next six months or year ahead of time. Search for templates using the keyword "closing" and limit to a format of Widgets. Create, add your dates, save, and schedule — all from within LibraryAware.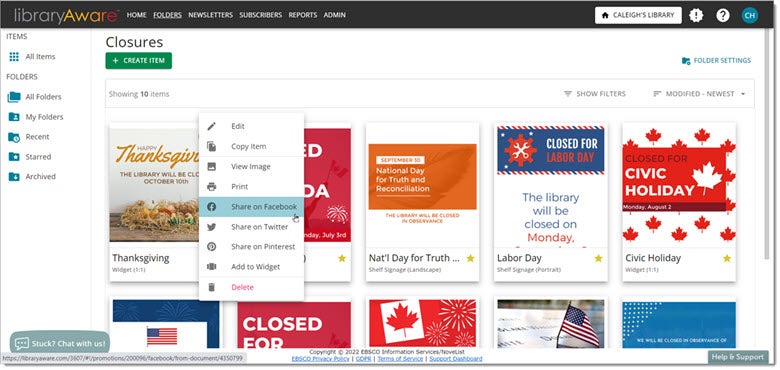 5. Help readers meet their next favorite book.
Do you long to send out curated reading recommendations directly to patron inboxes but don't have the time? It's no problem when you use NextReads newsletters in LibraryAware! There are more than 20 professionally written NextReads newsletters, each focused on a genre or topic, and each issue arrives finished and ready to go out to your patrons. You don't have to do anything (unless you want to!). 
 
The best part? They come with your library's subscription to LibraryAware. Just email our Support Team to request to have them enabled.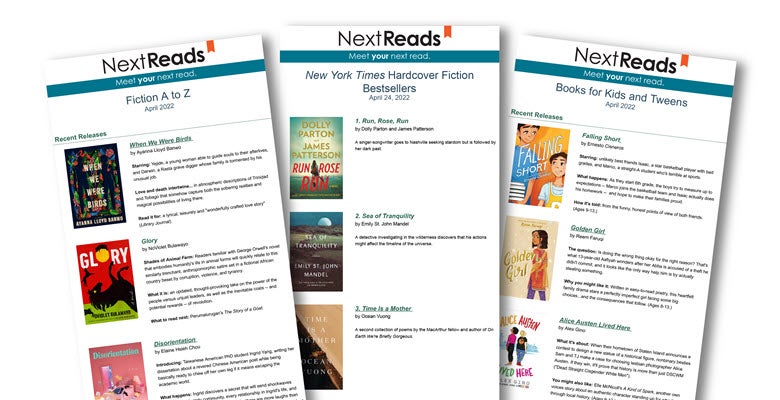 6. Get the most out of your marketing.
How do you know if you are getting a good return on investment on the promotional materials you create and your time making them?  Gather and analyze your metrics. Are you sending emails? Check out your Folder metrics (e-blasts) and Newsletter metrics. Track your open rates, click rates, bounces, and unsubscribes. Are you posting to social media from within LibraryAware? Track your total posts and clicks. Want to know how many items of each format were created in your account during a specific time period? Check out the Communication Summary. All this data is accessed easily through the Reports tab at the top of LibraryAware, and you can export the data in a spreadsheet with the click of a button.  
7. Ooooh. Check out our shiny new editor!
Did you see the announcement? LibraryAware has a new Drag & Drop Email Editor. I get to include it in LibraryAware training, and I'm so delighted I can't stop grinning. I know that when I show library staff the incredibly cool features (like including video), the absolutely gorgeous new templates (featuring social media icons, customizable CTA buttons, image editing, and more), and demonstrate the ease of editing, adding, copying, and moving, they're going to be eager to try it out right away.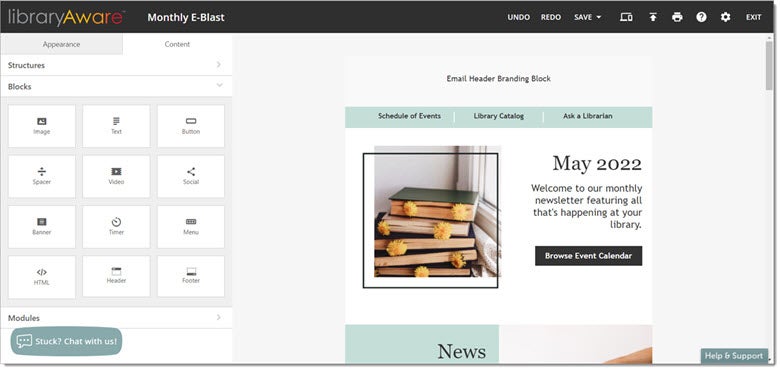 Are you excited? Not just for the new Drag & Drop Email Editor, but to use LibraryAware to make your job easier and have fun doing it? If you are on the edge of your seat and can't wait to learn more about using LibraryAware, sign up for one of the next live LibraryAware training webinars: 
Caleigh Haworth is an Engagement Consultant for NoveList. She is currently reading Upright Women Wanted by Sarah Gailey.