Whether you're an experienced children's librarian or just getting started, it's my firm belief that you can never have too many storytime ideas. For example, originally, this post was titled, "5 storytime tips for the uninitiated," but I couldn't contain the list to just five tips! There are just too many great features in NoveList products that can help you plan and promote storytimes, and I had to share as many as I could. So here they are!  
1. Use the NoveList Plus Appeals 
The appeal terms in NoveList Plus can help you find books to share based on a particular feeling, tone, or writing style. I really liked sharing books in storytime that encouraged engagement, invited kids to answer questions, or involved moving and dancing along to the story. If you do too, search AP participatory, or check out the Recommended Reads list, Participatory Books, for crowd-pleasers that invite kids to join in. Or try the appeal terms such as noisy, funny, silly, or gross for a high-energy, hilariously good time. Looking for something a little more low-key? Try more soothing appeal terms such as quiet, sweet, or whimsical. 
Single appeals are great, but things get even more fun when you combine them! In fact, our librarians do just that on the NoveList Plus homepage with our carousel of appeal combos. Updated regularly, they frequently feature appeal combos that would be excellent for storytime. Check it often for inspiration! Here are a few of my favorites: 
Big and bold and amusing titles are always fun for storytime. 
Noisy and funny books are my favorite kind of read-aloud. 
Silly and wordplay-filled titles are very punny — perfect, in my opinion, for a school-age program. 
Spunky and feel-good titles feature characters you'll cheer for. 
Darkly humorous and cartoony stories might make you go, "Ha ha! Ha?" 
Want to try out your own combination of appeals terms? Click on "Try our appeal mixer" below the carousel.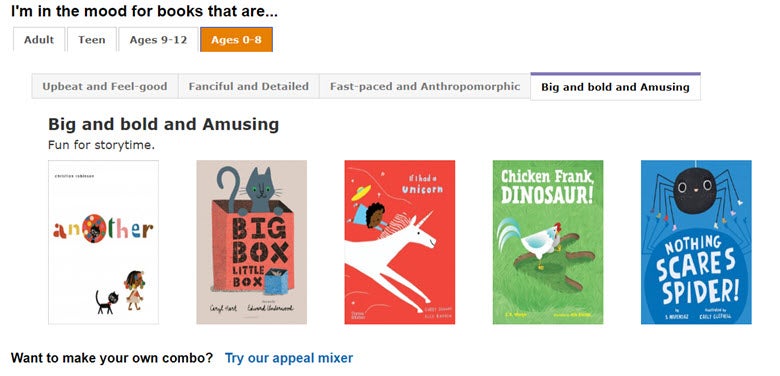 2. Find genres made *just* for storytime 
Genres are not just for adults! Our librarians have created the genre Storytime Standouts to highlight titles that beg to be read over and over and are exceptional for group sharing. Other helpful genres to peruse for storytime might be alphabet books, counting books, or cumulative tales. 
3. Grab a Recommended Reads list 
Need highly rated, well-reviewed titles fast? Grab one of our Recommended Reads lists. These lists are curated by NoveList librarians and are perfect go-tos for storytime inspiration – you'll find great titles to share during the program and to display after so caregivers can continue the fun at home. Here is just a small sampling of the Recommended Reads lists available: 
Social Justice: Try these books about changing things for the better with kids who are beginning to notice injustice and unfairness. 
Rainbow Reads: These LGBTQIA+-friendly picture books celebrate all the colors in the rainbow. 
Funny Storytime Standouts: Get the group giggling with these silly, wacky books that are great for sharing. 
Own Voices: Joyful Families: Elders, parents, and children love and celebrate one another in these own voices books. 
4. Themes for storytime themes 
Themes just might be my favorite feature in NoveList Plus, and when it comes to storytime, it's easy to see why. It seems many were created with storytime (forgive the repetition here) themes in mind! They're a super easy way to get creative with how you pull together storytimes. Themes like let's dance, artistic endeavors, emotions and feelings, celebrating identity, or music makers can all yield more than one program — I feel a month-long storytime series in the works! 
Combine themes with the genres picture books for children or stories in rhyme, or with appeals such as own voices to find exactly what you're looking for. 
5. Psst. Don't forget about the read-alikes! 
Have a favorite go-to storytime title? Look it up in NoveList Plus and check out the suggested read-alikes. NoveList suggestions are based on appeal factors such as similar tone, writing style, or illustrations, and springboarding from a title you love is a great way to find more titles that are your storytime style. 
6. Promote your programs with storytime templates from LibraryAware 
Now that you've found the perfect read-alouds, you need to promote those programs! LibraryAware has storytime and book flyer templates that you can use to promote your events AND the titles you share. LibraryAware has templates to print (flyers, bookmarks, handouts) as well as to share on social media, email to caregivers, or add to your website. Search storytime to see everything or narrow your search to seasonal storytime, sensory storytime, pajama storytime, bilingual storytime, social justice storytime, or other themes. Check out this sampling of the professionally designed storytime templates in LibraryAware.

7. Send an email 
Search storytime in LibraryAware and limit the editor type to Drag & Drop Email (NEW) for eblast templates designed specifically to promote your programs to patrons. LibraryAware makes it easy to set up subscriber interest groups for targeted emails, and with unlimited subscribers and unlimited sends, you can always get the word out. Register for our free "Get started with e-blasts in LibraryAware" in-depth training on the third Thursday of each month at 2 p.m. ET.   
8. Sign up for the Picture Books NextReads newsletter 
If your library subscribes to LibraryAware, make sure you sign up to receive the monthly Picture Books NextReads newsletter. You'll find books here that are sure to captivate the imaginations of kids ages 0-8, and it's an easy way to stay up-to-date with new titles for storytime and readers' advisory.  
I hope these tips inspire you and make it easy to find great titles to share and love in storytime!
Lauren Campbell is a NoveList Consultant. She worked in children's services for over 10 years and loved sharing titles in storytime that were amusing. She's currently reading The Girl From the Sea by Molly Knox Ostertag.