I came to libraries a bit backwards, spending much of my early career working in marketing for nonprofits and universities. As a lifelong library lover, I was thrilled to join a library marketing department as the publications coordinator. Yes, I was that person you avoided in hallways and emails – the indefatigable pest asking you for your program information months and months ahead of time.
Our department was well staffed and highly structured, something I would discover was a rarity when I later entered an MLS program and began working more closely with other library staff. We all had our separate duties and skill sets for the team. However, about a year into my time in the department, our graphic designer was pulled into an enormous project and wasn't able to work on her usual slate of website slides, newsletters, and flyers. I had dabbled in design, so volunteered to temporarily take over some of her responsibilities. It would be an understatement to say that this was an eye-opening, sometimes frustrating, and often exhausting experience.
Since coming to NoveList and talking with hundreds of librarians and library staff around the country, I've realized that my experience as an "accidental designer" is more common than one would hope. We know that marketing is still one area where libraries can struggle to have both dedicated staff and budget. Those libraries lucky enough to have marketing staff can still face daunting piles of work that far outpace possible work hours, requiring additional help from non-marketing staff members. It has become almost expected that librarians and library staff must add "book display designer," "social media maven," "website wrangler" to their already extensive list of daily duties.
Does this sound familiar for your library experience? Have you found yourself the unsuspecting designer for your department or library? Whether you volunteered or were voluntold, undertaking the creation of bookmarks, displays, program flyers, newsletters (print and email), and even website content can be overwhelming for those of any skill level.
Have no fear! Our team of librarians, marketing experts, and graphic designers have worked out some key concepts for helping the non-pro designer survive and thrive. I'm happy to share 5 tried and true tips to hopefully make your designing efforts a little easier.
Always consider your goal and your audience. 
What point are you trying to make? What do you want people to do when they see or pick up your creation? Who are you talking to? 
It's essential to ask yourself these questions before sitting down to design so that you can have a clear roadmap during your process. For example, a knitting group for seniors will probably have a different audience than a coding group for teens; your design should reflect that.
Keep the design simple, clean, and clear. 
The most important thing to remember in design is that your viewer's attention span is exceedingly short. You are competing with dozens of distractions per minute, which has been made even more challenging with the arrival of COVID-19. 
So, what does this mean exactly? You have a small amount of time to grab their attention and make them want to learn more; it is imperative to make every second of their gaze count. The best way to do this is to give your viewer all the information they need in the cleanest manner as possible. Some key considerations for this tip:
Arrange text so that the most important information is at the top. Think of the inverted pyramid method used in journalism, where the most newsworthy information – the who, what, when, where, why, and how – is prioritized over background information. If you only get 10 seconds of attention, you want your patron to see your program title, date, and location rather than focusing on the smaller, less important details. 
Leave enough white space or blank space around text and images. This tip is always challenging. Too much text or a cluttered design can drive away your time-strapped patron who want to be able to grab information and go. A well-ordered flyer with plenty of white space is far more approachable and memorable for your audience.
Make sure that your design is clear and makes sense from any distance or size they are viewed? Going one step further, if your design is in color, is it still as effective if viewed or printed in black and white?
Use the same layout for consistency. 
We've all heard about "building your brand." It's everywhere in TV shows and social media. Branding is not just a fad for glitzy influencers or large companies; it is an important part of sharing your identity with your community, from the bookmarks you stock at the entrance to the flyers posted in community hotspots to the tone of your website. It helps make your library memorable and reinforces your value with your patrons. 
A big part of branding is consistency. Find your look and then apply it to everything you create and share. The more you stick to it, the more easily the community will recognize you.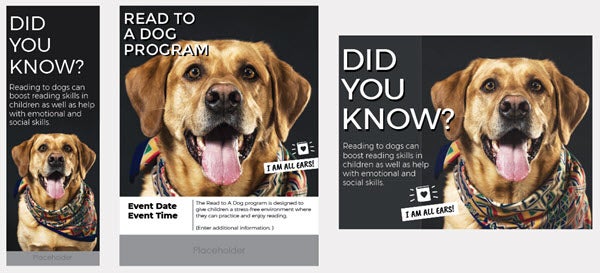 Drilling down, this extends to the layout of your materials, not just the look. As much as you might want to be creative and original with each design, you will be better served to establish a pattern for where you place information. This includes things like the date, logos, location, and contact information. Making the structure consistent ensures that people know where to look quickly for vital information. It also helps you out with proofing your finished draft; the more you know where things should be, the easier it will be to tell when they're not there.
Does your library have its brand established? Consider creating a branding guide, even if you're the only one using it. A guide will serve you well across multiple formats and will help keep you on track through numerous deadlines. It can also provide great guidance in the event someone must fill in for you or if numerous staff members are working on marketing efforts.
Choose your images wisely.
Adding images to your design can make all the difference in the world when trying to get your message out. Think about your own tendencies when browsing a bulletin board; do you head to the flyer full of text or are you drawn to those designs featuring intriguing or welcoming images?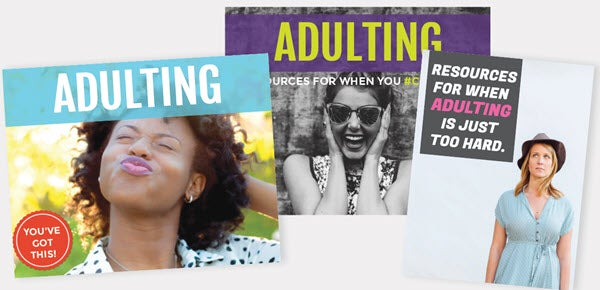 However, not all images are created and used equally. It is important to opt for fewer large, high quality, attractive images rather than a lot of smaller images. Make sure they match your audience and the feel of your program or project. As mentioned in the previous tip about clean design, you should also choose images that make sense from any distance or size they are viewed.
Images also present the opportunity to speak to the diversity of your community. Be sure to include people of different genders, ages, abilities, and ethnicities to appeal to a broader audience. 
Edit, Edit, Edit, and then Check it, Check it, Check it. 
Once you have a draft, take a careful and critical look at it. Is there a huge block of text that can be pared down? Is your eye drawn to the key components or is something pulling your attention away? Is it clear what the next step is for your patron?
Is it ready now? Not so fast! Before you print, hit send, or post that simplified and attractive piece, you must review it once (or twice!) more for accuracy because all of that effort is essentially useless if program or event information is missing or incorrect. Are the date, time, and location listed and accurate? Are the names of participants and organizations spelled correctly? Do they need to RSVP? Is there a phone number or website for them to visit? Think about everything your viewers need to make a decision, and then make sure that information is on your materials.
Even better, find a co-worker and have them review it. They'll be able to view your design with fresh eyes and potentially catch errors that you might be design-blind to. Are you all on your own? Read your flyer out loud. This trick gives your brain information in a new way and you may notice things you didn't see before.
So, that's it! Easy right? Don't worry, you've got this. And if you have a few more questions, we've got your back. Check out this guide to review all these tips and more.
However, if you still feel uneasy and prefer to have a bit more assistance with your design or marketing efforts, check out LibraryAware. This product was created by librarians, for librarians, and harnesses the expertise of graphic designers, marketers, and librarians to create templates and content so that you don't have to think about all of this (in addition to planning your next program and checking circ stats and staffing the curbside pick-up and…). Sign up for a demo today!
Do you feel comfortable with your design skills but want a bigger introduction to marketing your library? LibraryAware experts are available for virtual staff days, remote training sessions, and more. We can teach you strategies for reaching out to your community across multiple channels, regardless of your experience level. Check out professional development offerings here or email learnwithnovelist@ebsco.com for information and pricing.
---
Jen Heuer Scott is a NoveList Consultant and is taking a break from reading (gasp!) to focus on completing long-neglected cross-stitching projects.