My 17-year-old daughter has a tiny Roborovski hamster named Peanut. His favorite pastime is running on his exercise wheel. But he doesn't run like a normal hamster. He makes the wheel spin so fast that he flies off, rolling and tumbling in the air like a gymnast. And every time he does this, I think, "Oh, that's what it was like working in a library in 2020." 
Before the pandemic, we ran on our wheel, doing what we did best: providing support, books, and programs for our communities. But the unexpected nature of this disaster knocked us for a loop. And it's very likely that your work looks and feels different today than it did this time last year.  
Because of that life-altering world event, many librarians also now find themselves in charge of marketing and promotions, even though they have no experience. They're expected to do it quickly and effectively. It might feel like an impossible task, but you can do it! Here are the five most important things you need to know to be a successful accidental library marketer. 
#1: Tie your marketing to your library's strategy. The first goal of your library marketing must be to make sure your library's overall goals are accomplished. This approach will keep you focused. It helps you make decisions on what to promote. And it helps you define your audience. For instance, if one of your library's strategic goals is to make sure every elementary-age child has a library card, your target audience would be caregivers and teachers. It's also more efficient. It will help you with planning so you can be consistent with your promotions. You can set measurable goals that show the value of your work.  
#2: Repurpose messages to get the most mileage out of your marketing. Re-purposing content is taking one piece of content, say an email newsletter, and re-formatting it for different media like social media, a blog post, and a press release.  
Your community is diverse. Their preferred methods of receiving information are diverse. Some people like emails, some check your social media feeds regularly, some need a quarter-sheet flyer tucked into their holds. Re-purposing content gets your message to your whole audience. You can repurpose any piece of content by breaking it into pieces and spreading them across all your available platforms.  
#3: Promote your collection. Libraries' essential work is to connect books to readers. And I bet if you checked, you'd find that your library spends more on books, movies, music, and databases than on programs. Plus, if you ask your library patrons why they got a library card, most are going to tell you they are excited to check stuff out! So, it makes sense to channel your efforts on collection marketing.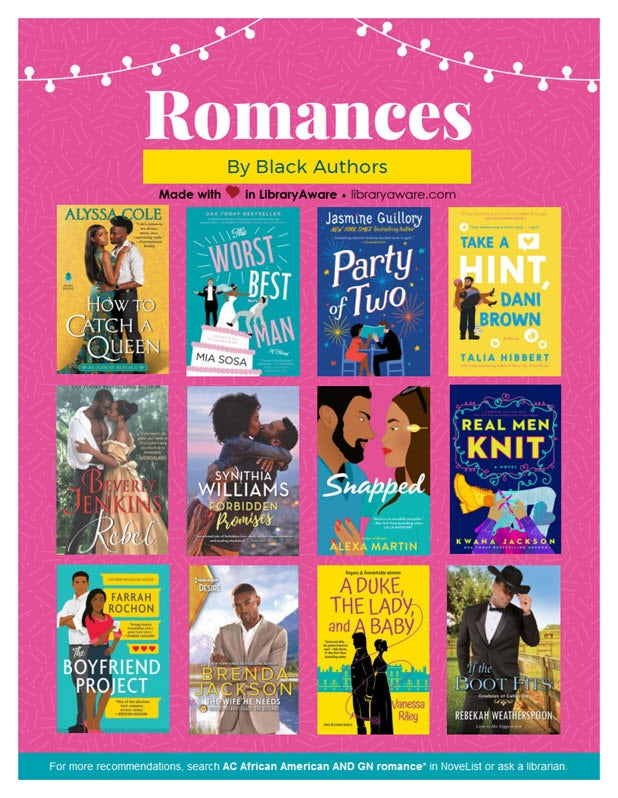 Book newsletters are an effective way to keep readers engaged. LibraryAware subscribers can use NextReads newsletters to excite their community with curated titles automatically sent every month to interested readers.  
If your library has a personalized readers' advisory service, promote this unique service to your community using email and social media. LibraryAware subscribers have access to templates that allow staff to fulfill those recommendation requests easily and quickly. Here's a great example from the Sherwood Public Library. Bonus: LibraryAware subscribers can learn more about promoting your personalized RA service at a microtraining on Tuesday, Feb. 23. Register now. 
NoveList Plus subscribers can use media mentions to track new titles that have garnered buzz on popular U.S. radio and television programs like CBS This Morning or The Daily Show. Those "buzzy" titles make engaging social media posts. Post the title with a link to your catalog and ask anyone who has already read the book to give you a two-sentence review in the comments. This will increase your social media engagement metrics and create a community of excited readers.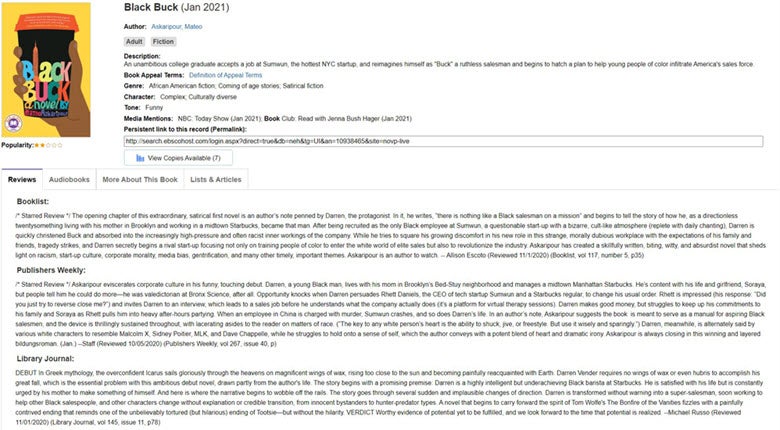 #4: Make time for data analysis. Start a spreadsheet to track metrics for your videos, emails, and social media. Measuring and analyzing your metrics will help you figure out what works and what doesn't. If you find that a promotion isn't working, you can stop doing it. And when you find that something is working, you can do it more often! 
For videos, you should track views and watch time. For emails, track open and click-thru rates, as well as holds and checkouts for physical items and usage for digital items. For social media, keep track of engagement on your posts, which includes how many likes, shares, comments, direct messages, and mentions you get.  
#5: Use your tools. I'm a big fan of using whatever tools are at hand to make my work easier and faster! Use your catalog as a place to promote your library. Remember, you want to be where the readers are, and never let your readers go away empty-handed — even virtually! NoveList Select will give reader recommendations, series information, book discussion guides, and more right in the catalog. And the Analytics Dashboard will provide a window into how your library patrons are viewing and interacting with items in your catalog. That data can help you make collection development decisions and can give you more ideas for collection marketing. 
Expert training is the best way to keep your skills sharp and relevant. You can hire a NoveList expert to lead staff training on marketing, readers' advisory, and advocating for your library. To request a free consultation catered to your library's specific needs, email novelistservices@ebsco.com.  
Angela Hursh is Senior Engagement Consultant for NoveList. She is listening to The Heiress: The Untold Story of Pride and Prejudice's Miss Anne de Bourgh by Molly Greeley and reading The Book of Two Ways by Jodi Picoult.