With the surge of the Omicron COVID-19 variant across the world, we at NoveList have noticed an uptick in libraries posting (hopefully very temporary) returns to curbside-only services. It is crucial to communicate clearly and effectively with your staff and community during these quick changes. Whether your doors are open, closed, or somewhere in between, we are here to help. 
Update your community.
How is your library getting the word out about changes in service availability, return to curbside only, or other updates in COVID-19 protocols? Print flyers to post on library entrances, post eye-catching widgets on your website, and harness the tried-and-true power of email and social media. LibraryAware customers can find professionally designed templates about service updates and library policy changes that are ready to edit and send, print or post! Just type covid or coronavirus in the LibraryAware homepage search bar.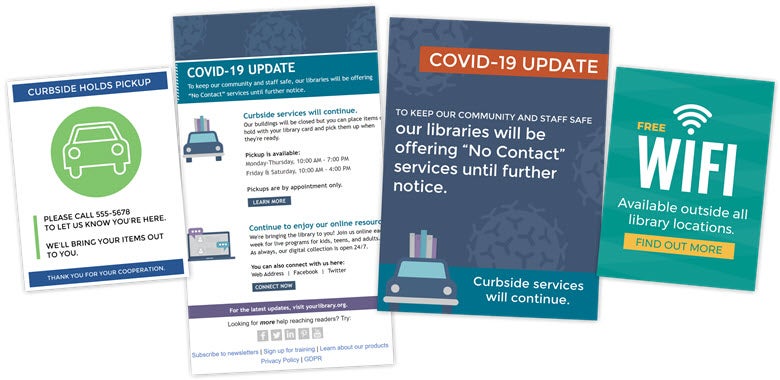 Communicate programming changes.
Perhaps your library is running in-person programs as usual (or close to it). Or maybe you are back to virtual programs only. You might also be offering hybrid programming that allows patrons to choose what format is best for them. LibraryAware users can search hybrid to find templates for e-blasts and flyers (you can even use a QR code!) to ensure programming success, regardless of the format.  
#ICYMI: Watch a replay of "We're not closed — We're live!" 
Promote your collection.
There are plenty of ways to engage with readers and promote your collection and resources even if your doors are closed. Consider online book displays or virtual browsing experiences. We collected some really great examples of libraries promoting their resources here.  
NextReads is another effective tool for promoting all kinds of resources. Email open rates have been up throughout the pandemic, so why not optimize those eyeballs and cross-promote?  
Don't forget – Social media is your friend! Show off your print books and physical media. Take advantage of your online audience and show off your library's digital collections and databases. Set up a regular time to recommend books on your library's Facebook page. Are you feeling extra bold and trendy? Start a TikTok and jump in on the #BookTok community.  
What else has your library been doing? Have any ideas to share? Let us know!  
Involve your staff.
Your staff and volunteers should be at the top of your list when communicating updates. Email newsletters are an effective way to make a meaningful connection with your library community, so why not start one for your staff?  LibraryAware subscribers can let staff know about upcoming changes, featured resources, and available training by sending an internal newsletter with one of our templates. Just type internal into the homepage search bar to find a variety of design options.   
Looking for more ideas on ways to keep your staff engaged and involved? NoveList webinars give library staff the basics on how to provide readers' advisory for a variety of genres. Sign up for the upcoming Crash Course in Narrative Nonfiction.  
Interested in more in-depth training? You can hire a NoveList expert to work directly with your staff to guide them in developing effective strategies and exciting ideas for inspiring your community of readers. We've designed interactive curriculums to help your library staff with readers' advisory and marketing. We're happy to discuss your library's needs and put together the right plan for you.   
Jen Heuer Scott is Marketing Specialist for NoveList. She is currently reading The 1619 Project by Nikole Hannah-Jones.