There's nothing we here at NoveList care about more than libraries. And we know that one of the biggest and most important programs of the year happens during the summer. Libraries spend an enormous amount of time, energy, and money to connect their communities with books, programs, and opportunities to learn during the warmer months. And many of them use LibraryAware to drive participation.  
But many libraries are recognizing a disturbing trend. Declines in math and reading levels and increases in anxiety and depression following the pandemic could have long-term implications for many communities. Many libraries are changing their summer reading programs to respond to this need. 
"Libraries are looking for ways to make their summer reading program more inclusive, particularly for reluctant readers and those who aren't using the library," said Kathy Lussier, Director of Engagement and Marketing at NoveList. "Libraries also want to be seen as key players in the education of the community, so many are shifting the language they use to describe their role and impact. One such language shift is calling their summer reading program 'Summer at the Library' instead, so that's what we're doing as well."   
What does this mean? Starting in 2023, we are proud to offer LibraryAware templates and graphics for a Summer at the Library program that can be used by libraries of all sizes. Watch for this year's templates by mid-January in the most popular formats, including a few new items you won't want to miss. Sign up for our free microtraining in March to learn how to make this summer your library's best yet! 
There will be themes each year. While the program name will always be the same — Summer at the Library — the theme will change every year. For our first-ever theme, we are excited to offer "Explore" with the slogan "Explore the Possibilities." Our templates will encourage people to explore all the ways libraries support learning for everyone, from book clubs to STEM activities, makerspaces to online courses, and more. As always, we'll provide book flyers with reading recommendations curated by NoveList librarians.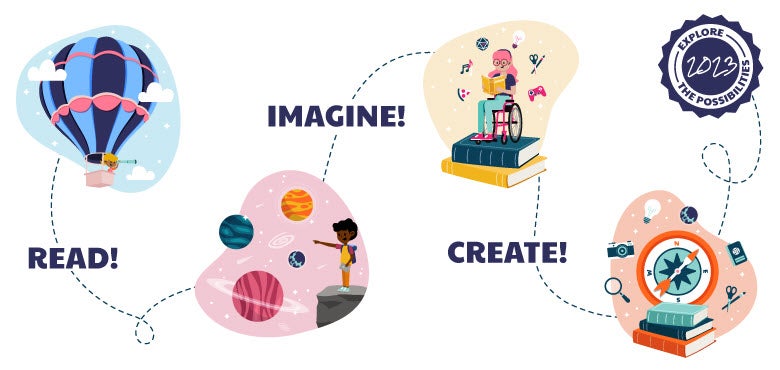 What about libraries that want templates and reading lists for the Collaborative Summer Library Program (CSLP) or iRead? One of the great features of LibraryAware is that all our templates are completely customizable. Libraries that want to use another vendor's program will find it easy to upload their artwork into LibraryAware and swap out our graphics for CSLP or iRead graphics. The NoveList database will include recommended reads lists for CSLP as usual, as well as search strategies that librarians can use to find books on the most popular alternate themes. 
"Summer at the Library" will continue to support our wonderful libraries and provide the enhanced flexibility needed as summer reading evolves. "Providing expert reading recommendations and encouraging a love of reading will remain a key part of our program," Lussier said. "The hope is that by getting more people familiar with the library, more people will discover the collection, programs, and services the library offers — and thus the incredible importance of the library."  
If you have any questions, contact us at libraryaware@ebsco.com. 
Get Ready for Summer at Your Library with LibraryAware
Join us for a 30-minute microtraining as she shows you how to quickly create emails, social media posts, posters, and more in LibraryAware using our new Summer at the Library templates. Bonus: get the scoop on our Campaign Guide with step-by-step tips for your most successful summer yet!
Leigh Gaddy is a Lead and Demand Generation Marketing Specialist at NoveList. She is currently reading Crying in H Mart: A Memoir by Michelle Zauner.