Do you remember the excitement leading up to summer break? The chatter of family trips, meeting up with friends, and, of course, no homework! But librarians and parents encourage our youth to continue reading during their vacation to avoid the "summer slide." Summer slide occurs when a child loses some of their educational progress made during the school year, which can create a difficult start in the fall. To avoid falling behind, teachers may assign books to read, and libraries create summer reading events loaded with programs and prizes to encourage reading. With the right tools, you can help your young readers find their next favorite book, by diving into what they love. NoveList Plus is that toolbox!  
Find read a-likes recommendations specifically for younger readers 
NoveList Plus can help suggest new titles, authors, or series based on the books that your young readers are currently enjoying. Taking a popular graphic novel like Ghosts by Raina Telgemeier (one of my favorites), search NoveList Plus and locate that book. On the book's detailed page, you will find "Read-alikes" on the right-hand side. Read-alikes are evaluated and written by our NoveList experts and include the "why" this book, author, or series is recommended for another. These suggested titles will have similar story elements found in Ghosts.  
NoveList's story elements help capture the different aspects of a book that catch the reader's attention. Story elements include appeal terms, themes, and genres. For Ghosts, we can see that the tone of the book is moving, with a storyline that is character-driven. The read-alikes suggested will share many of the same story elements and appeal terms listed for a title.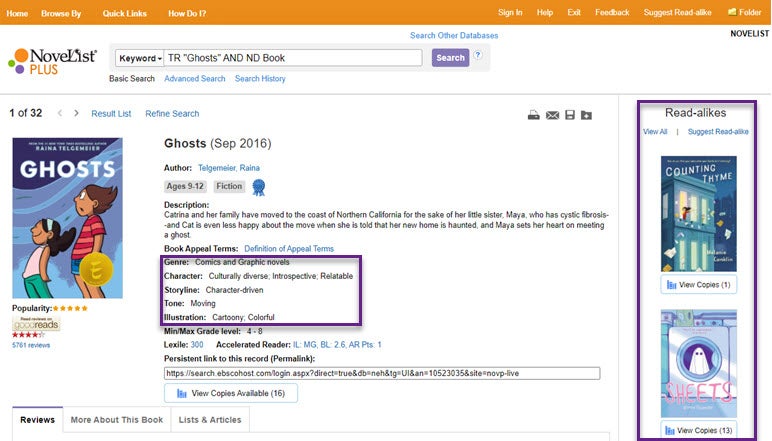 The "Search for More" area below the book description lists all the story elements and appeal terms in an interactive way, allowing users to click on different elements. Results will show a new list of recommended titles based on the story elements and appeal terms selected.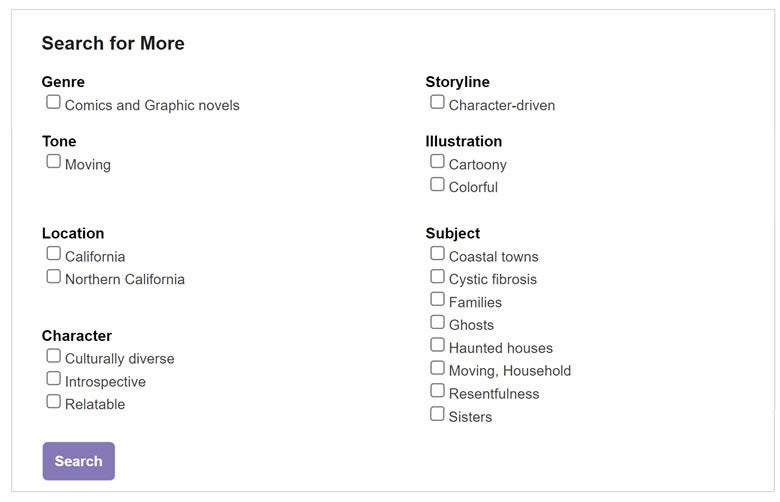 Find more great titles using NoveList's Recommended Reads lists   
Our Recommended Reads lists are another easy way to find titles based on a topic or genre that your readers enjoy. Organized by audience level and including hundreds of great books for all ages, you can find lists for graphic novels and manga, picture books, fantasy, sports stories, and more. The "For Fans Of" lists are some of the most popular, providing read-alikes for fans of Star Wars or Diary of a Wimpy Kid and even video games like Animal Crossing and Among Us.  
Unlock the perfect combo with our appeal mixer 
Another fun and engaging tool that you can use is the appeal mixer located on the home page. You can select the audience level using the tabs at the top and create your own mix of appeals by selecting terms from the drop-down menus. In the example below, we selected a character who is quirky, with an action-packed storyline and illustrations that are colorful. The results for those selections are displayed. Mixing and matching appeals will give you thousands of new titles to explore.  

Finding new titles for our young readers to enjoy should be easy and exciting for not only parents and librarians, but also our readers as well! Instead of relying on blanketed suggestions based on their favorite genre, you can help them dive deeper into the character personalities they love, a writing style that captures their imagination, and storylines that keep those pages turning (and the summer slide away).   
---
Maria Fonseca-Gonzalez is a NoveList Consultant. She is currently reading The Final Girl Support Group by Grady Hendrix.