In June of 2020, I had the privilege of attending a live author event featuring Dr. Ibram X. Kendi, author of How to Be an Antiracist. I had just finished the book and was eager to hear Dr. Kendi speak about the process of writing it and the impact his work had on the dialogue around race relations.  
It would have been amazing to see him in person. But the pandemic was raging, and the prospect of attending an author talk in person was not appealing. Fortunately, the event was live on YouTube, hosted by Prince George's County Memorial Library System. And the audience was huge. The live event reached more than 226,000 people around the world. More than 100,000 additional people watched the archived event video. 
The COVID-19 pandemic forced libraries to quickly pivot to provide virtual library programs. Now, with many libraries opening up to part or full in-person services, library staff are discovering that hybrid programs allow them to expand their programming audience. While many patrons can't wait to come back in person, some are hesitant to return to the in-person format out of safety concerns. Others have developed an appreciation for the accessibility and flexibility that online programs provide. Virtual programming also serves people who can't make it to a physical branch due to transportation, mobility, or scheduling issues. 
If your library offers hybrid programs, you face a challenge: promoting those programs. So here are four steps to create effective promotion for programs that offer both a live and virtual component. 
Start with email. 
Email is the most effective promotional tool you have. Your subscriber list includes people in both your hybrid and in-person audiences.  
Send an email promoting your hybrid program at least three weeks before the event. Your email doesn't need to be long and complicated. An image, a few lines of teaser text, and a link to your library calendar or registration platform is all you need. Add an enticing subject line (try playing with emojis for increased engagement) and you'll have a powerful promotional weapon that will catch the attention of anyone scrolling through their inbox.  
LibraryAware subscribers can reach an even wider email audience by adding a section at the top of their most popular NextReads newsletters to promote hybrid programs.  
Target on social media. 
If your community actively engages with your Facebook posts, use that to your advantage. Liberty Public Library knows that many older folks use Facebook, so they promote their hybrid programs on that platform. You might also consider creating events on Facebook for your programs so that potential attendees get a reminder as the day of your program draws near.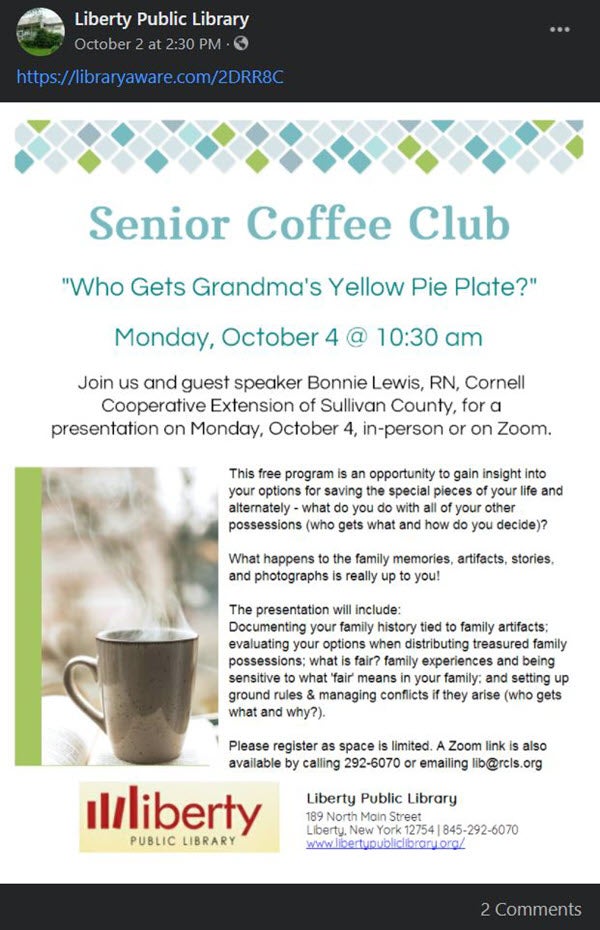 Instagram Stories are also a fantastic way to build excitement. A few weeks before the event, post a few slides and tell viewers you've "just scheduled this next exciting hybrid program!" Repost the slides a week before the event, the day before, and then hours before the event to build excitement. You can also buy Facebook or Instagram ads or boost your posts to target specific demographics, even if you have a small budget.  
Add a print piece promoting your hybrid program to every patron interaction. 
Create bookmarks and slip them into holds and curbside bags. Using context clues, try to match the program to the person. Are you doing a program on travel or adventure? Give a bookmark to anyone checking out travel books or anyone using your library's passport services or adventure passes. Have a crafting or DIY (Do it Yourself) hybrid program to promote? Hand a bookmark to anyone checking out crafting books or cookbooks or anyone using your library's Makerspace or Library of Things. 
The Houston Public Library uses LibraryAware to create flyers that promote their hybrid events. Savannah Dorsett, Librarian II, Virtual Content Team, recently celebrated the first hybrid meeting of her library's Classic Literature Book Club. "It went well," reports Savannah. "We had nine attendees, three virtual and six in person." 
Take advantage of your presenters. 
Your speaker or presenter has a ready-made audience who is likely to attend your event. Ideally, this kind of collaborative promotion should be a part of your agreement with each participant. You can make it easy on presenters by sending them a pre-written social media post or blurb for their email newsletter promoting their appearance. Supply them with copy, images, video, print assets, and anything else they need to help you spread the word. 
If your library has a blog, ask your speaker or presenter to write a short post. They can build excitement and drive attendance by writing a preview of what they will be presenting. Create a list of books, music, or movies that attendees can check out ahead of the event to help them get prepared and excited (and to drive your library's circulation numbers!) and add that to your post. Post a link to your preview blog post on social media and share it in your e-newsletters to build additional interest. 
Angela Hursh is Senior Engagement Consultant for NoveList. She is listening to Taste: My Life Through Food by Stanley Tucci and reading If It Bleeds by Stephen King.