UPDATED: We loved the first installment of season 4 and like Kate Bush, we "wait with bated breath" for the rest of the season to be released in July. We made some updates after watching the first seven episodes. How did we do? Let us know! 
If you're stateside this weekend you're likely in for some hotdogs (or notdogs for our plant-based friends), parades, BBQs, the unofficial kickoff to summer, and most importantly... the first installment of Stranger Things Season 4. Finally, we're back with our favorite roller-skating, spring-breaking, monster-killing teens and tweens and grown-ups (plus some new characters!), now spread across multiple locations and dimensions (cue Journey's "Separate Ways").  
So what would we recommend to these characters of Stranger Things, now battling forces of evil in the spring of 1986? We have got a list for you.  
Eleven: If Eleven can make it through freshman year, she's looking forward to It by Stephen King, out in September, a story which she will find extremely relatable. As someone who was raised in a lab and has some...freedom issues, you might also find her reading The Handmaid's Tale by Margaret Attwood.  
Joyce Byers: She's reading Slouching Toward Bethlehem by Joan Didion, to help her adjust to the dark side of California. Or Anagrams by Lorrie Moore (we imagine her chain-smoking while reading).  
Will Byers: The Chronicles of Thomas Covenant the Unbeliever by Stephen R. Donaldson is a complex, bleak epic fantasy about a damaged chosen hero who travels between parallel universes. 
Jonathan Byers: He is 100% reading You Get So Alone at Times That it Just Makes Sense by Charles Bukowski. Need we say more on this one?  
Argyle: Jonathan's new friend is a chill Californian pizza delivery guy and low-key trendsetter. We think he'd like Music for Mechanics by Los Bros Hernandez, the first Love and Rockets collection. 
Robin Buckley: She's reading Annie On My Mind by Nancy Garden or Rubyfruit Jungle by Rita Mae Brown, both hallmarks of lesbian literature. 
Steve Harrington: He's working at the video store with his pal Robin, reading Leonard Maltin's Movie Guide. 
Dustin Henderson: Radio astronomy is right up his alley so he's currently devouring Contact by Carl Sagan.
Mike Wheeler: Since he's writing lots of letters to Eleven, try searching GX Epistolary novels in NoveList.  
Nancy Wheeler: Nancy Wheeler is poring over her hero Linda Ellerbee's And So It Goes: Adventures in Television for inspiration for her budding journalism career. Try SU Women journalists AND NF Nonfiction for more books Nancy would love. 
Max Mayfield: Max is grieving her lost brother Billy and trying to do her best as a Hawkins High freshman. Search TH coping with death or GX Coming-of-age stories to find books for Max that will keep her, like Kate Bush, running up that hill.
Lucas Sinclair: Lucas, in an effort to fit in with his new jock friends, has been seen with a copy of Hoosiers: the Fabulous Basketball Life of Indiana by Phillip M. Hoose. Search SU Basketball stories in NoveList to find some fiction he might also like.  
Erica Sinclair: She's diving into the D&D book Dustin gave her and also checking out The Good Fight, Shirley Chisholm's book about her 1972 presidential campaign.
Eddie Munson: He's the D&D gamemaster at Hawkins High. This new character is really into Guitar Player Magazine. His favorite albums of 1986 are Master of Puppets by Metallica and Reign in Blood by Slayer. 
Murray Bauman: Murray definitely has some Loompanics books lying around that messy apartment of his, but what does he read to nurture his softer side? You might find him curled up with romantic suspense novel Above and Beyond by Sandra Brown. (He loves young love and an LDR after all.)
Suzie Bingham: Computer whiz Suzie Bingham is very happy about the mid-80s teen fantasy boom, and just finished Howl's Moving Castle by Diana Wynne Jones. Next up, as soon as she can get to Waldenbooks: Redwall by Brian Jacques.  
Vecna: Nobody knows if this evil force can read, but it might like Perfume by Patrick Suskind, the disturbing 1986 novel from the point of view of a serial killer. (Update: This evil force can *probably* read, and we stand by our original recommendation.)
Hopper: The Gulag Archipelago by Aleksandr Solzhenitsyn, if he could somehow get a copy. 
*Everyone* in Hawkins is reading The Amityville Horror by Jay Anson, a true-life account of a house spiritually plagued by the actions of a previous resident who claimed to be possessed. They are hoping to get some ideas on dealing with the unholy Creel House in their own town. 
Check out the For Fans of Stranger Things Recommended Read lists to assist all the fans in your community. Search UI 444377 for adult books; UI 451605 for teens.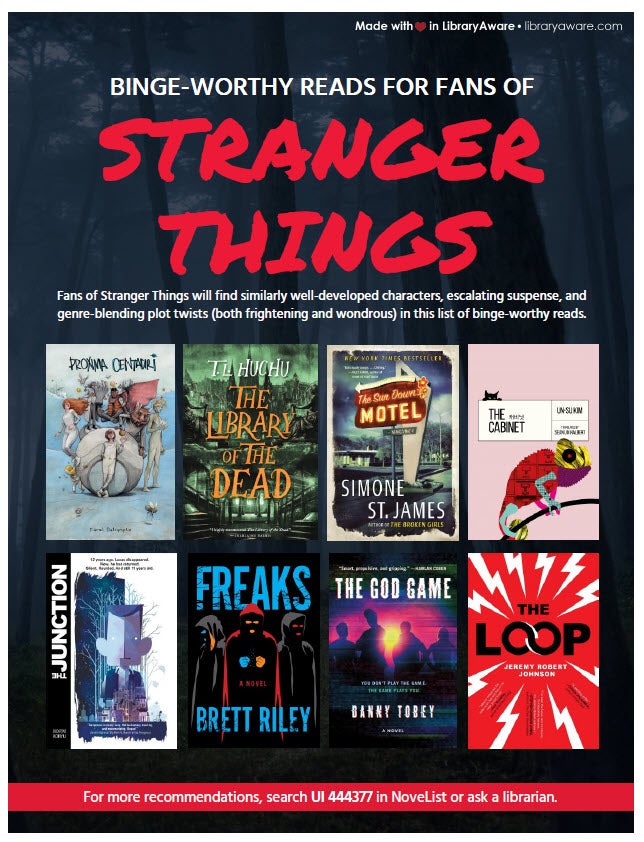 Did we miss any recs for these swashbucklers (or the ones in your community)? Let us know!  
And speaking of swashbucklers, check out our For Fans of Our Flag Means Death recommended reads list by searching UI 453488.
Autumn Winters is the Recommendations Lead at NoveList. She is currently reading Nightcrawling by Leila Motley. 
Molly Wyand is a Communications Specialist at NoveList. She is currently reading Lanark by Alasdair Gray.