July is Graphic Novels in Libraries Month and we're here to celebrate (this month and every month) this genre that has become a staple in libraries and classrooms. Books like New Kid by Jerry Craft or anything written by Raina Telgemeier fly off the shelves and maintain hold lists a mile long. The format can make tough topics a little easier to handle and feel less intimidating, but they can also be just plain fun (which many of us need after the past year spent mostly in solitude). 
As librarians we understand the value of graphic novels, but there are still plenty of teachers and parents who are skeptical of their worth in promoting literacy. While using graphic novels may seem counterproductive to promoting reading, they may be just the springboard you need to reach reluctant readers. For a concrete defense read this School Library Journal article, but here are a few specifics cited by Meryl Jaffe, an instructor at the Johns Hopkins University Center for Talented Youth, Online Division: 
Using illustrations to decode difficult words; 
Creating new memory associations based on image/language pairings; 
Demonstrating more concise language use. 
We all know the "visual" learners or those who are English Language Learners and illustrations are vital aids in understanding and interpreting the text. 
So what is the best way to select graphic novels that will be interesting to reluctant readers while providing valuable information to bring them more success? We've got some suggestions of topics with matching searches using field codes. You can use our searches or navigate to the advanced search page to choose different age levels, reading levels, and more. 
Graphic novels and the classics 
If readers are struggling with the classics, many have been adapted to the graphic novel format. To find those titles in NoveList, go to advanced search or try these field code searches. As a starting point, type GN Graphic novels AND GN Classics into the search box. GN searches a specific genre. You can learn more about NoveList genres in our downloadable The Secret Language of Books. 
Note that this search will also pull in books classified as Classics-inspired fiction; to remove those from your results, search (GN Graphic novels AND GN Classics) NOT GN Classics-inspired fiction.
Graphic novels by age and reading level 
If you want to be sure the books are appropriate for a specific age, there are several ways to search. First, you can search by audience level. To find graphic novels for younger kids using field codes, search GN Graphic novels AND RL 8. RL 8 is the field code to search for books for ages 0-8. 
You also have the ability to search by the Lexile or Accelerated Reader code. To find graphic novels within the Lexile range 400-600, search GN Graphic novels AND LX > 400 AND LX < 600. 
For books with an Accelerated Reader level of 2.5, search GN Graphic novels AND RD 2.5. 
Grade level searching is also available. Searching for books with a grade level of 3-5 in field codes looks like this: GN Graphic novels AND (MG 3 OR XG 5). 
For more information on how to search for graphic novels and "just right" books in NoveList, check out our list of search strategy handouts and our video of searching for "just right" books. 
Graphic novels and appeal terms 
Remember -- we add appeal to graphic novels, too! You can learn more about illustration appeal terms from our guide, The Secret Language of Books. For example, if you know your patron is attracted to simple illustrations, try searching GN Graphic novels AND Big and bold. 
Graphic novels by genre 
NoveList has also created specific genres for graphic novels to help librarians and readers. Historical comics, Biographical comics, and Humorous comics are just a few. (A full list can be found in The Secret Language of Books.) To find a specific genre limited to a specific age group, search GN Historical comics AND RL 4. 
If you are asked for manga (Japanese graphic novels, typically reading right to left), you can search for that format, but also consider introducing your teen (and adult!) patrons to Light novels. Light novels are short novels, usually of Japanese origin, that are interspersed with manga-style illustrations. Occasionally, light novels are adapted into manga, so that may pique your readers' interest. To find teen Light novels in NoveList, search GN Light novels AND RL 2. 
Looking for more information? Search NoveList to see all of our articles and lists that pertain to graphic novels. You may be surprised by your patrons' overall interest in reading once they've discovered the format.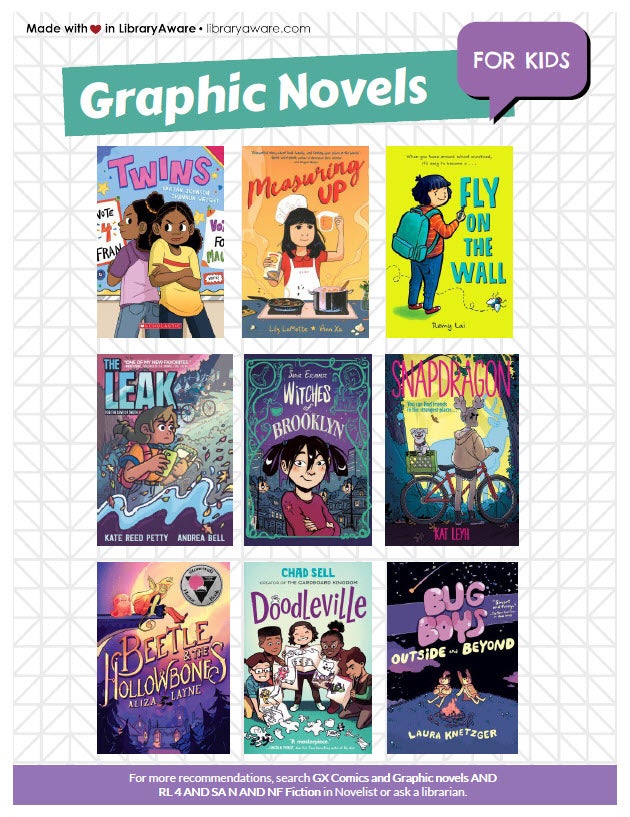 Suzanne Temple is a Metadata Librarian at NoveList. She is currently reading Forever Home by Jenna Ayoub.