Approximately 3% of school-age children were homeschooled in 2016 according to the National Center for Education Statistics. Here are some ways you can use NoveList and LibraryAware to reach out to and help homeschooling families in your community. 
Your first stop should be the Ideas for Educators page on the NoveList website. It is overflowing with information about using NoveList for curriculum support, finding just-right books, using popular culture to match kids with books, and finding diverse books. Share this page with homeschooling families so they can explore this wealth of resources.  
Within NoveList itself, we have a plethora of articles and lists to bolster home educators' efforts. Direct families to the Working with Youth page inside the Especially For section in NoveList will help you sort through common reading questions, find books at the right age level, and more. Get ideas for topical books with our Recommended Reads Lists, which include grade-level information as appropriate. Our NoveList for schools and students YouTube playlist is another great resource for homeschoolers. Guide families to these short, less than one minute, videos to get them familiar with using NoveList quickly. 
Libraries are known for their dedication to learning and student support. Early readers, homeschoolers, remote learners, and college students gain knowledge with the help of library resources. And teachers and parents get the support they need with grade-level appropriate reading material, research databases, homework help, and more. But first, we must make sure the learning community knows we are here to help them.  
LibraryAware subscribers can save time (and stress!) by using our Supporting Students and Teachers Campaign Guide. The guide walks you through the steps to spread the word with template suggestions for each communication tactic. It's simple to follow, doesn't require any marketing experience, and can be used by any size library. To find the guide, simply type Campaign Guide into the LibraryAware homepage search bar.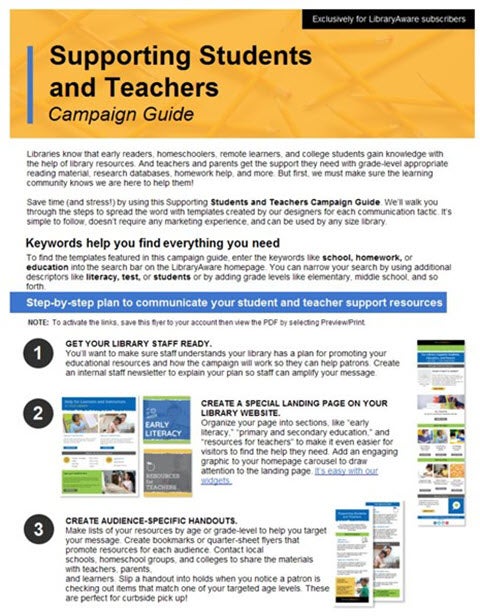 LibraryAware subscribers also have access to hundreds of templates for promoting education resources. To find the templates, enter the keywords like school, homework, or education into the search bar on the LibraryAware homepage. You can narrow your search by using additional descriptors like homework or homeschool or by adding grade levels like elementary, middle school, and so forth. 
Learn more about how you can promote your library's educational resources by watching our free microtraining. It will show you how to use the campaign guide and the templates to create amazing promotional materials in just a few minutes. You will need an EBSCO Connect account to access this training.   
Is there anything else we can do or create to help you support homeschooling families in your library? Let us know! 
Brierley Ash is a Metadata Librarian at NoveList.  She is currently listening to Skyhunter by Marie Lu.