Summer Reading at many libraries is jam-packed with programs and activities for kids, teens, and adults. Once it's over, trying to convey the impact of your Summer Reading Program can feel overwhelming. Make it easy to share your program's success and your library's value by creating an infographic. 
What is an infographic? 
An infographic takes complex text information and uses imagery to tell a story that is quick to read and easy to understand. Infographics can make statistics and outcomes come to life compared with a standard report.  
Why use an infographic? 
Infographics are an educational and useful tool. Done right, they are also fun and eye-catching. Most importantly, because these short visual snapshots are easily digested, they can be incredibly impactful.  
If you're looking for an effective advocacy tool for your library, consider an infographic. They're an easy way to make sure your community, local elected officials, board members, and other stakeholders know the impact of your Summer Reading Program. An infographic will make it clear that your program is much more than activities to keep kids busy while they are out of school. Use your data to show that Summer Reading programs are crucial to preventing "summer slide," the loss of literacy and other skills that can happen if kids don't keep learning over the summer.  
7 steps to an effective infographic 
As a graphic designer for LibraryAware, these are the steps I follow when designing infographics for our customers. Whether you use one of our templates or start from scratch, here are seven steps to follow:  
Create an outline to help you lay out the elements you want to include in your infographic. What are the essential elements of the story you want to tell? What do you want people to remember most?  
Add a title that clearly defines what your infographic is about. Use something short and catchy that is easy to understand and gets your audience's attention.  
Limit yourself to two fonts for the infographic – one for the title and header and one for the body of the infographic. You can use a more fun or decorative font for your title and header but keep the body font simple so it's easy to read and not overwhelming when skimmed at a glance. 
To keep your infographic easy to read and visually appealing, choose no more than three to four colors that work well together. You can use your library's branding colors, or you can create a new color palette. LibraryAware templates use professionally chosen color combinations that meet accessibility guidelines, or you can search online for free color palettes to help you choose your own. 
Keep it clean and simple. Your goal is to communicate a lot of data in a simple, easy-to-understand way. Leave plenty of space between each statistic and use minimal text. Your infographic should primarily use graphics and visual elements to communicate your data. 
Create an easy-to-follow layout. Organize your infographic in a way that flows and tells a visual story. The most essential information should be prominent, at the top, and typically read or viewed from left to right. 
Don't forget to add your library's branding, so readers know that you created it. LibraryAware's branding block feature makes this easy. Or, add your logo to the template and include your website URL. By adding your branding, you increase your brand recognition and drive visits to your website, social media, and in-person visits to the library, too! 
How LibraryAware can help you share your story 
LibraryAware offers two unique Summer Reading infographic designs in several formats, so whether you used the CSLP (Collaborative Summer Library Program™) or the iREAD® themed program, you can coordinate your infographic with the templates you used over the summer. We also have a wide range of designs for year-round use. Just type infographic into the LibraryAware homepage search bar to find them.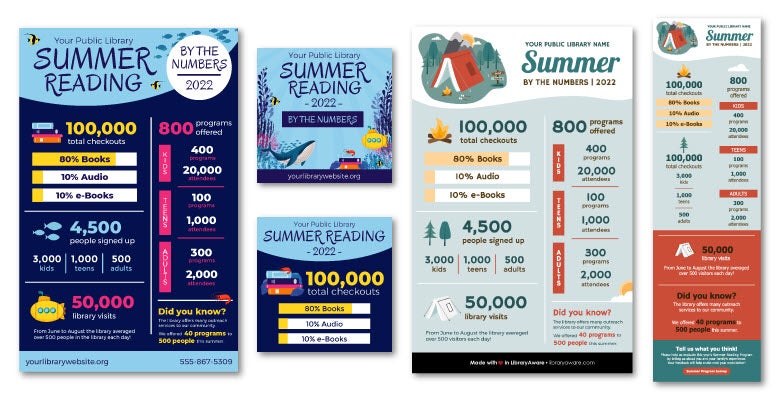 After you have created your infographic, share it with as many people as possible! LibraryAware has created graphics that highlight each section of the infographic that can be easily posted to your website and social media in short snippets.  
A great way to share your summer success is to send out an infographic e-blast. This is an easy way to reach your cardholders and show them how important the Summer Reading Program is for your community. If you are not collecting patron emails but offer NextReads newsletters, consider linking the infographic poster in any or all issues.  
Want to learn ways to tell your library story? Our NoveList experts offer a deep-dive, interactive course with fun activities that teach staff how to mesh storytelling and marketing.
Leah White is a graphic designer for NoveList. She is currently reading The Anthropocene Reviewed by John Green.