The core service of libraries is connecting readers with books. A great way to do this is through NextReads newsletters, included in your library's subscription to LibraryAware. NextReads newsletters automatically deliver curated reading recommendations from NoveList experts directly to patron inboxes and can be customized with your library's branding. They are the ideal solution for busy librarians because they save staff time and help build connections with readers.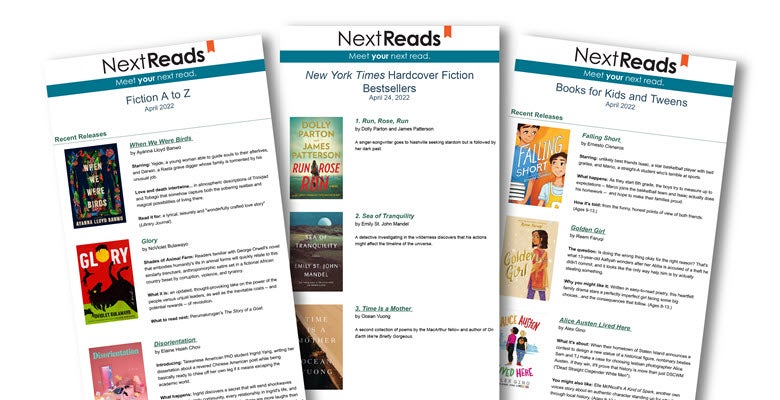 If you're new to NextReads, or maybe have been using them a while, now is the perfect time to energize your NextReads newsletter promotion. Our designers (with library experience!) have created fresh new templates and graphics that are sure to grab your readers' attention and grow your subscribers. Find all NextReads templates in LibraryAware by searching NextReads, then refine by the format of the piece you wish to create. 
Strategically target readers. 
Create a bookmark or quarter-sheet flyer to promote your NextReads newsletters. Then, slip your print promotion into holds, checkouts, and grab-and-go bags! Post flyers or posters throughout your library. Be sure to include the URL to your website and/or opt-in page so patrons can easily subscribe. 
Pro tip: Use a link shortener (such as bitly.com or tinyurl.com) to shorten your opt-in page URL to an easy-to-type length. 
Catch readers when they visit your website. 
Use an eye-catching graphic on your homepage to compel visitors to sign up for your NextReads newsletters. Add graphics and information to your readers' pages. Try featuring a different NextReads newsletter each month. Don't want to design your own graphics? Download one of our ready-to-go NextReads buttons. 
Pro tip: Put the link to sign up on at least five different places on your website. Don't forget your Kids, Teens, and Adults pages. Those are great places to feature newsletters targeted to each age range.

Spread the word on social media. 
Post NextReads promotions on each of your library's social media platforms. We have graphics (widget slides) sized right for social media (search social + NextReads) or use the flyers you create in LibraryAware. Link them to your opt-in page. Include the sign-up link whenever you promote a book recommendation on social media.  
Pro tip: Tweet or post daily reading recommendations pulled from NextReads newsletters.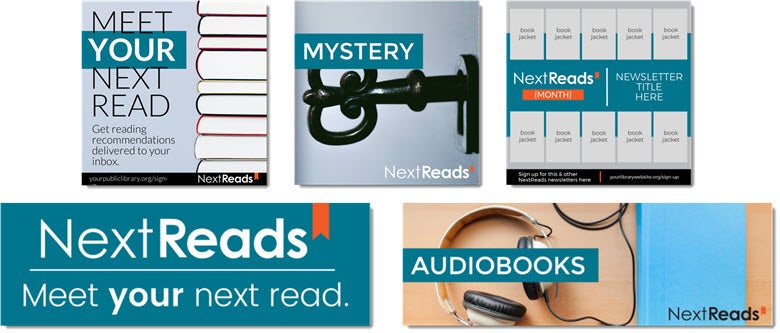 Use email to announce your NextReads newsletter service. 
Create a one-off e-blast to promote your NextReads newsletter service. Create additional e-blasts throughout the year to highlight specific newsletters. Determine which target audience would be most receptive to your messages. For example, to promote your Fiction A to Z NextReads newsletter, send an e-blast to your book club members. Or promote your Teen Scene NextReads newsletter to teens, parents, and educators. And remember to mention NextReads with your sign-up link in your monthly newsletter.  
Pro tip: Download our guide full of great tips for promoting your online services (like NextReads) via email.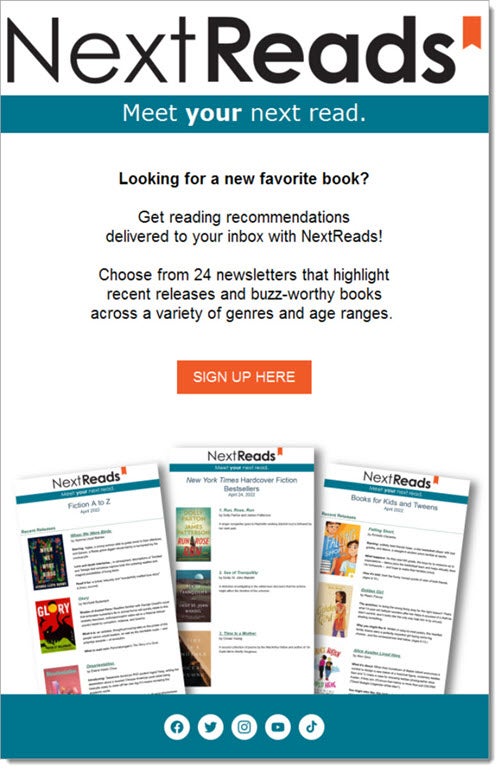 Caleigh Haworth is an Engagement Consultant for NoveList. She is currently reading One Way by S.J. Morden.