Ever wonder what library users worldwide are searching for in catalogs just like yours? At NoveList, we've got the data.
This month, we have three newcomers on this list: Welcome Ann Patchett, Lisa Jewell, and James McBride! Meanwhile, Colleen Hoover's 2016 and 2018 titles are still holding on to the last two spots on the list.
Here are August's top ten titles searched in library catalogs that include NoveList Select: 
Tom Lake by Ann Patchett
Fourth Wing by Rebecca Yarros
None of This Is True by Lisa Jewell
The Heaven & Earth Grocery Store by James McBride
Lessons in Chemistry by Bonnie Garmus
Demon Copperhead by Barbara Kingsolver
The Covenant of Water by Abraham Verghese
Happy Place by Emily Henry
It Ends With Us by Colleen Hoover
Verity by Colleen Hoover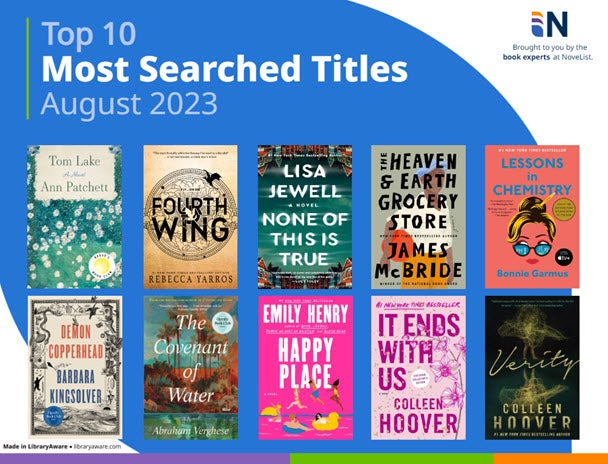 If we look at NoveList Select usage in Canada only, we see some variations on the list. Though there is a slightly different order, the same three titles appear at the top of both lists. And we can see Romance makes more appearances on this list (as well as two Canadian fiction titles).
Tom Lake  by Ann Patchett 
None of This Is True  by Lisa Jewell 
Fourth Wing  by Rebecca Yarros
Meet Me at the Lake  by Carley Fortune 
Happy Place  by Emily Henry 
Everyone Here Is Lying  by Shari Lapena 
It Ends with Us  by Colleen Hoover 
The Summer I Turned Pretty  by Jenny Han 
It Starts with Us  by Colleen Hoover 
Verity  by Colleen Hoover 
Libraries with NoveList Select can use our Analytics Dashboard to see their NoveList Select usage data from any web-enabled device, anywhere, at any time. This dashboard provides a window into how your library's patrons are viewing and interacting with information in the catalog. 
If you have questions about setup or your organization's dashboard, email us at novelistselectsupport@ebsco.com. 
---
Molly Wyand is the Communications Specialist for NoveList. She is currently reading Lessons by Ian McEwan.