Ever wonder what library users worldwide are searching for in catalogs just like yours? At NoveList, we've got the data. 
Here are December's top ten titles (with a bit of a shuffle at the top of the list, but three Colleen Hoover titles still in the top 5) searched in library catalogs that include NoveList Select: 
A World of Curiosities by Louise Penny
Lessons in Chemistry by Bonnie Garmus
It Starts With Us by Colleen Hoover
Verity by Colleen Hoover
It Ends With Us by Colleen Hoover
Demon Copperhead by Barbara Kingsolver
Tomorrow and Tomorrow and Tomorrow by Gabrielle Zevin
Desert Star by Michael Connelly
The Boys from Biloxi by John Grisham
Diary of a Wimpy Kid by Jeff Kinney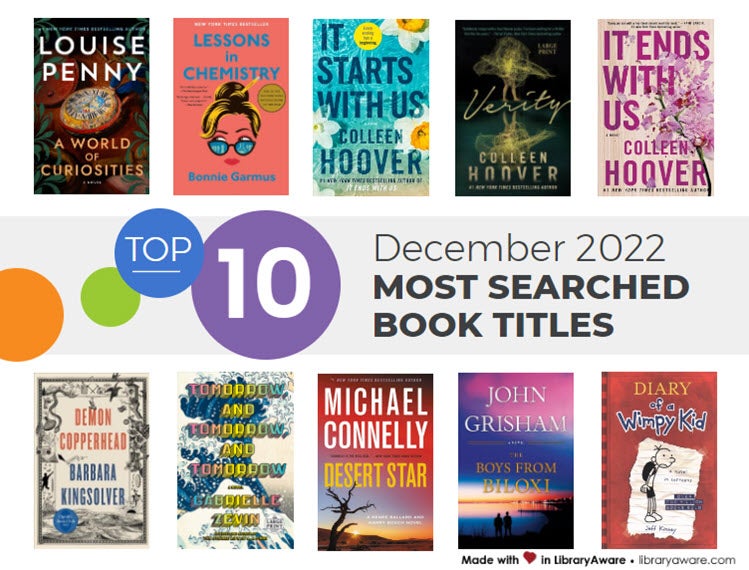 Libraries with NoveList Select can use our Analytics Dashboard to see their NoveList Select usage data from any web-enabled device, anywhere, any time. This dashboard provides a window into how your library's patrons are viewing and interacting with information in the catalog.
New to the NoveList Select Analytics Dashboard? Take a two-minute tour:
NoveList Training Hub
Looking to learn more about using NoveList Select and the Analytics Dashboard? Visit NoveList Training to find links to help pages, register for live training, or watch recorded training. Whether you're a new user or just looking for a refresher on key features, we have everything you need.
Molly Wyand is a Communications Specialist at NoveList. She is currently reading #7 on this month's list: Tomorrow and Tomorrow and Tomorrow by Gabrielle Zevin.