It's time to reflect on 2022, its highlights and milestones, and how we spent it with you! Take a look at this infographic (#MadeinLibraryAware, of course) — a snapshot of how you and your patrons used NoveList this year, including the most searched titles, product updates, top blog posts, and the most popular templates.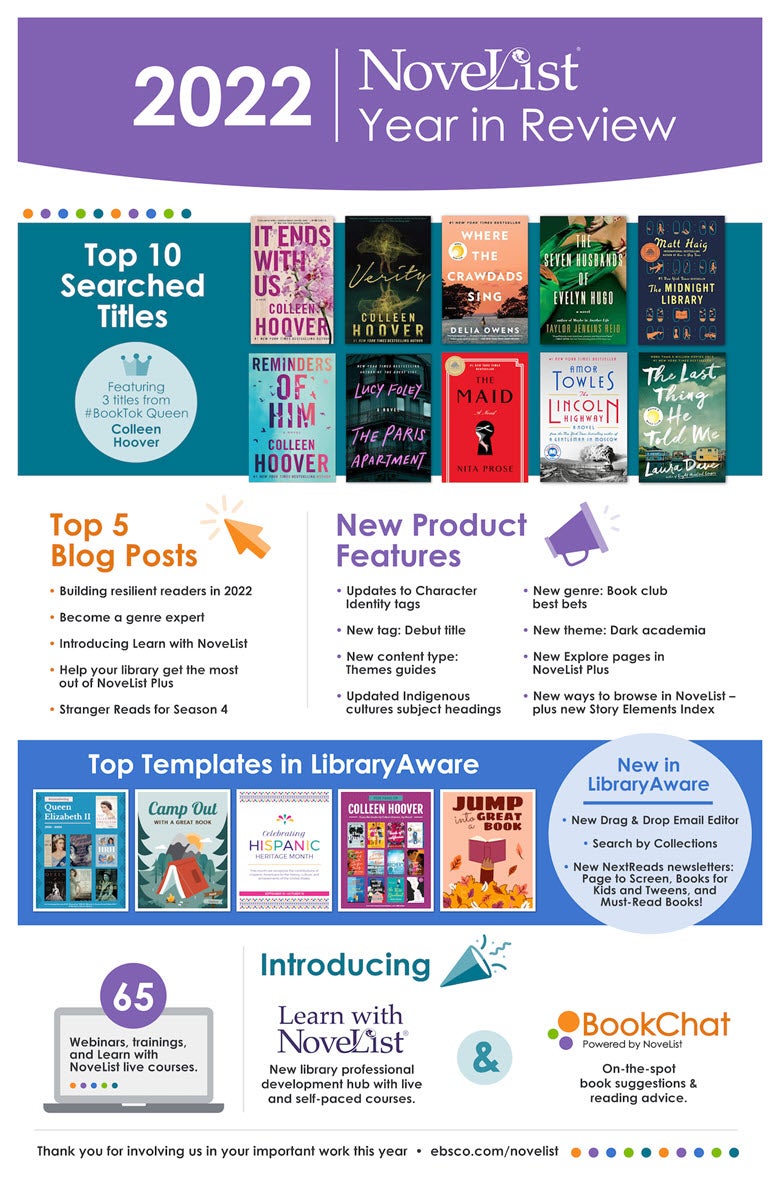 What's trending  
The most popular blog posts of the year were:    
And speaking of reading, did you participate in the 2022 NoveList Reading Challenge? How did you do? We'd love to hear about it! And be sure to join in the fun for the 2023 NoveList Reading Challenge.  
Class is in session  
Early this year, we launched the brand new Learn with NoveList platform for live and self-paced library professional development courses. Read the full announcement from VP of NoveList Danielle Borasky here.  
You attended SIXTY-FIVE webinars, trainings, and Learn with NoveList live courses this year, from genre training Crash Courses with LibraryReads to making-the-most-of-your-product-subscription microtrainings with the Engagement Team. Check out our events page and catch a replay — and keep an eye out for what's coming in 2023! 
New to Learn with NoveList? Check it out!   
So much to celebrate 
Lots to celebrate in 2022 at NoveList with the release of several new products and features including BookChat, themes guides, and Explore pages. We also updated Character Identity tags and improved subject headings relating to Indigenous cultures. We added debut titles tags and introduced the new genre book club best bets and the new theme dark academia. Read all about the new Story Elements Index here.  
In LibraryAware, we launched the new Drag & Drop Email Editor (to help you create emails that get noticed). We also added collections to LibraryAware and introduced three new NextReads Newsletters: Must-Read Books, Page to Screen, and Books for Kids and Tweens.  
Make your own 
Want to make a 2022 Year in Review for your library? LibraryAware customers can search year in review and create their own using these templates: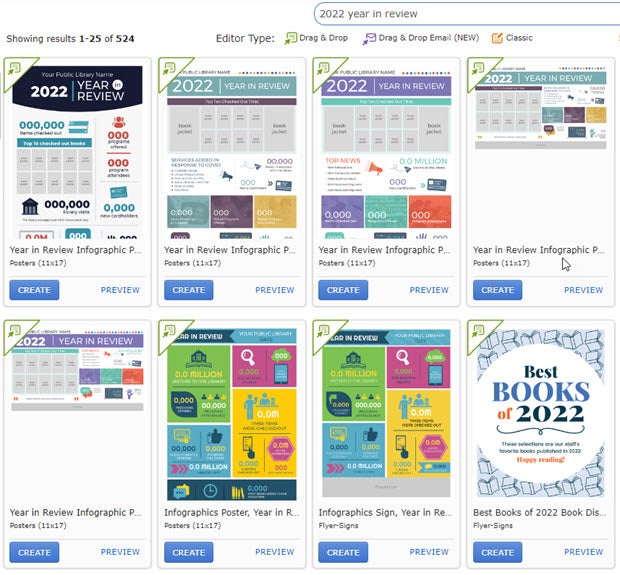 Need some more inspiration? Read up on these 10 tips for a great infographic.  
It's always a pleasure working with you, and we can't wait to see what's to come in 2023.
---
Molly Wyand is the Communications Specialist at NoveList. She is currently reading Dinosaurs by Lydia Millet.